Campaigning
Creating change: Christmas campaign seeks long-term solution to crew change crisis
16 December 2020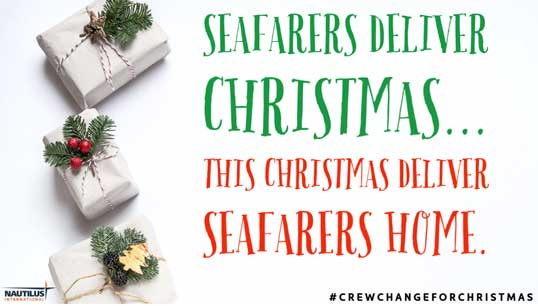 With many seafarers facing a second December away from home, Nautilus launched its campaign in late 2020 calling for government and industry to carry out as many crew changes as possible to 'deliver seafarers home for Christmas'.
400,000 seafarers were thought to be stranded on ships worldwide due to the failure of government to allow travel to and from vessels during the Covid-19 crisis. Research by the Union shows that almost all seafarers have been directly affected by the pandemic.
Nautilus has been inundated with requests for support from these seafarers, who have been dealing with issues such as exhaustion, redundancy, and cuts to pay and conditions. Many have either been stranded at sea, away from their loved ones, or trapped at home unable to earn a living.
The Union launched a petition urging governments and the United Nations to work together to ensure that seafarers are designated as key workers in every country, and to enable global crew changes.
Nautilus emphasised that the work is ongoing and must continue until seafarers can access their workplaces without unnecessary restrictions.
'Our members work hard to supply food, medicines and energy supplies to households. They often do so without much acknowledgement or public recognition,' Nautilus International general secretary Mark Dickinson said.
'During 2020, the coronavirus pandemic has given rise to unprecedented levels of stress, fatigue and safety concerns due to countries closing their borders and preventing them from seeing loved ones. Now many of our members are left reconsidering their very future in the industry.'
Campaign impact
Union crew change campaign makes waves in first week
The Union's Crew Change for Christmas campaign made waves in its first week, generating a surge in social media activity, making the headlines with national news coverage, and securing a large number of petition signatures
The campaign launch on 1 December 2020 was featured prominently on the BBC news pages
The tweet launching the campaign quickly became the Union's most popular tweet of the year and was seen by over 16,000 users of the platform in the first week of December, with 284 people engaging with the content in some way.
The #CrewChangeForChristmas hashtag was used 279 times, reaching up to 350,000 people.
On Facebook, posts about the campaign reached almost 14,000 users, an increase of 490% on the same period in 2019, with 573 likes, comments or shares. The strong performance was matched on LinkedIn and Instagram.
The Union's petition, was signed by more than 1,500 people in its first week and a significant number of people used the 'Tweet your MP' tool, leading to supportive comments and interventions from across the political spectrum.
Cross-party support for campaign
Messages of support for the Union's Crew Change for Christmas Campaign have come in from politicians from all the major UKparties.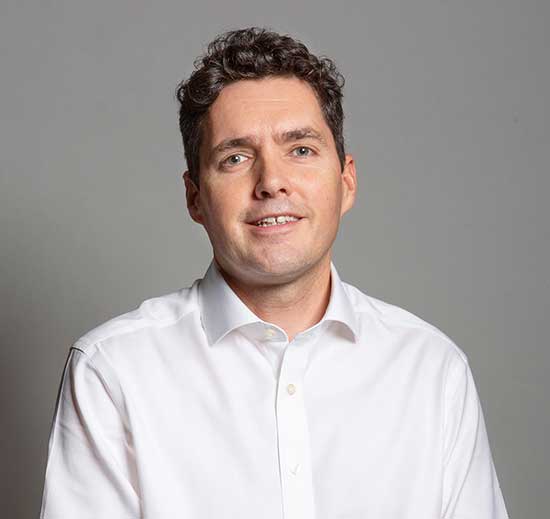 Transport Committee chair Huw Merriman MP (Con) said: 'As some seafarers now face their second Christmas away from home, the Transport Committee will continue to press for a global solution'.
Lilian Greenwood MP (Lab) said: 'We must do all that we can to ensure that as many seafarers as possible can return home to their families this December.'
Liz Saville Roberts MP (Plaid Cymru) said: 'Many seafarers have been separated from loved ones by thousands of miles for a year and more. Let's get them safely home for Christmas.'
Richard Thomson MP (SNP) said: 'I'm happy to support Nautilus International's campaign and to join calls for industry bosses to help bring seafarers home this month.'
Baroness Scott (Lib Dem) said: 'Governments should now work together urgently to create safe routes home for trapped crew members.'
Seafarers share their stories of the impact of Covid-19
'I was stuck at home for over seven months with no salary. I had to borrow money from my family and sell personal belongings to survive.'
'My husband is currently at sea, having done twice his contract time. He is now suffering with anxiety and I am extremely worried about him. '
'After a long time at sea I had finally returned home. The time away and the stress it brought has resulted in my decision to not return to my previous job.'
'I feel everyone's interest, concentration and productivity wanes noticeably after around the 3 to 4 month mark, so this concerns me a lot with regard to personal awareness and safety.'
'My normal contract is ten weeks on and ten weeks off. I got stranded onboard for seven months before crew change happened.'
'As a cadet, I was not able to join ship at the end of college, delaying me finishing my cadetship by a minimum of 6 months.'
'My vessel was stuck alongside the UAE for four months. In the middle of the lockdown the management company in a money grabbing exercise forced contract changes on all crew and officers.'
'Being a seafarer for 42 years does not prepare you for the mental stress of having a Covid susceptible partner completely isolated and alone for 5 months. I was expecting to be away for 8 weeks.'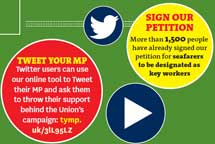 Take action
Twitter users can use our online tool to Tweet their MP and ask them to throw their support behind the Union's campaign.
More than 1,500 people have already signed our petition for seafarers to be designated as key workers.
Tweet your MP
Sign our petition
Share your experience
Complete our survey and tell us how the crisis has impacted you
You still have time, as the survey won't close until early 2021.
---
Tags