Members at work
Neil Nadkar on engine types, seeing the world, the Nautilus Professional and Technical Forum and training with Tenzing Norgay
23 August 2022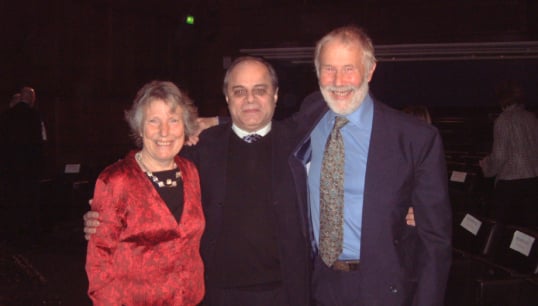 Recently-retired deepsea engineer Neil Nadkar has always had an adventurous spirit. As if being a trained Himalayan mountain guide in his native India wasn't enough, he chose a seafaring career in order to see the world
What is your job title, and what company do you work for?
Retired from deepsea after nearly 25 years with Shell/Nakilat.
What originally attracted you to a career in maritime?
My father, who was an army officer, encouraged me to do the Adventure, Basic and Advanced courses at the Himalayan Mountaineering Institute. But I was also eager to see other countries, and in the 60s and 70s the only way you could do this was by taking up a sea career.
Do you have any personal or family connections to the sea or inland waterways?
Two of my maternal uncles were at sea – one a master. Later, when I married, my wife had three cousins, all masters at sea, two of whom were on oil tankers, and an uncle who was a marine engineer and later project manager for new ship builds.
What did you do in your career and/or education before joining the maritime sector?
My family advised me that a sea career would mean long periods away from home and therefore not very conducive to family life. So I qualified as a teacher and did a short stint teaching, but I found myself restless and dissatisfied, so I underwent marine engineering training, which was a longer route as I was older, but finally made it to sea.
Tell us some of your career highlights
On the LNG carrier Al Kharaitiyat, one ME main engine unit had failed in the Mediterranean during passage. I managed to replace the unit at sea with the full assistance of the engineroom team while running at slow speed on one engine. Shell expressed their appreciation of the job completed successfully and safely.
What have been some of your biggest career challenges?
My early career was with a major Indian shipping company, till I moved to Europe and worked for a coastal company. Work practices were different, and I learnt not just to adapt but also to gain greater self-reliance. I returned back deepsea with Shell after a few years.
During the course of my career I have worked on Doxford double opposed, Bronz, MAK engines and others of that vintage which are rarely seen today, through to Sulzer, MAN & BMW and the latest ME engines. It has been a rewarding journey.
What are your plans for the future?
I have now spent nearly 47 years at sea! I have been very lucky in getting employment, and of my choosing - I can now spend time on my much neglected hobbies. Possibly to take a cruise every now and then to enjoy the sea, without the responsibilities!
Tell us about any voluntary positions you've held with Nautilus
I volunteered to join the Nautilus Professional and Technical Forum and have been a regular participant since February 2015. It is an excellent initiative of Nautilus as it enables members to share experiences, discuss pertinent issues that are currently of concern and suggest solutions.
What do you like doing in your free time?
Mountaineering was always my passion. I had the felicity to be instructed by Tenzing Norgay when in Darjeeling at the Himalayan Mountaineering Institute, and also to climb briefly with Sir Chris Bonnington in the Himalayas. My climbing days are long over but I keep abreast of mountaineering news.
What is your favourite place you have visited during your career?
The one place that has a special place in my memory is Ile Royale (next to Devil's Island), which a group of us on a rare day off, visited off the coast of French Guiana. I don't think many seafarers get the opportunity to see the former penal colony on the Iles du Salut, certainly not in 1989 when we went, which inspired the book, and later movie, Papillion.
It was incredibly moving seeing the dreadful conditions under which the prisoners were kept You didn't need much imagination to visualise conditions of the prisoners with the decaying buildings, dense vegetation and heat.
---
Tags