Members at work
Marine consultant Gareth Mathias on professional development, Union volunteering and maritime charities
25 April 2022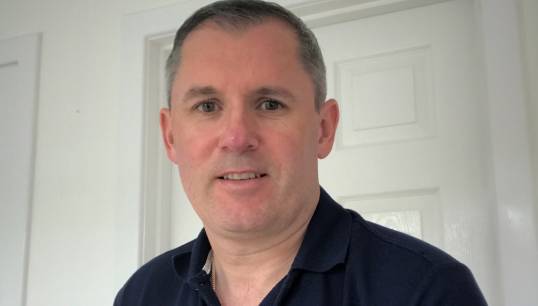 Glasgow-based Gareth Mathias is a former chief officer who now works as a self-employed marine consultant for Southside Marine. As someone who is all about 'getting involved', he volunteered as a Union lay representative while at sea and now regularly attends the Nautilus Professional and Technical Forum – while also playing a role at three maritime charities
What originally attracted you to a career in maritime?
I'm originally from Milford Haven in Wales, so grew up around the sea, ships, boats, water sports – I was in the Sea Scouts for many years.
Do you have any personal or family connections to the sea or inland waterways?
Yes, I have an uncle who was in the Royal Navy and Merchant Navy, plus my family goes back a few generations in fishing.
What did you do in your career and/or education before joining the maritime sector?
I started at sea once I left school at 18.
What does your current job involve?
Training, technical support, writing courses, maritime reviews, work with IAMI (the International Association of Maritime Institutions).
Tell us some of your career highlights so far – and career challenges
I was at sea on container ships for 15 years, from cadet to chief officer – I loved the job and travelled worldwide. For family reasons I moved into the offshore sector and served for three years as offshore installation manager/master until the oil price crashed around 2014. I then worked onshore in a maritime training centre, and it was interesting to see the training from a different side.
Who has helped you the most in your career, and why?
Some of the captains I was at sea with have been very influential, and I keep in touch with them. My father-in-law has been very influential to me since I came onshore. I must mention my wife also, as without her I wouldn't be where I am today – she keeps me grounded and reminds of what is most important in life.
What is the one change that would make the biggest positive difference to your job as a maritime professional?
Keep learning and developing personally, and make the most of memberships of professional bodies for this.
What are your plans for the future?
I'm still defining myself as a marine consultant, and balancing time with my family. I'm quite pleased with the progress so far. I'm also training in project management and other courses when I can.
How long have you been a member of Nautilus, and what made you join?
Since 1995; I joined when I started my cadetship. Luckily, I've never had to use Nautilus for any concerns when I was at sea, as the company recognised the Union. I did enquire about one or two things when I was offshore, and they were very helpful.
Tell us about any voluntary positions you've held with Nautilus
I was a Partnership at Work committee member many years ago when I was at sea. I did the first part of the lay representative training.
Tell us about why the Union is important to you
It's been vital to my career at sea protecting terms and conditions and my certificate of competency. It also ensured a partnership in relation to pay rises etc. There's more to the Union than members think, especially behind the scenes, and it's only as strong if members play their part. It still helps in my career now even onshore; I enjoy the networking and participation in the forums.
Are you a member of any Nautilus forums or committees, or have you attended a Union conference like the General Meeting?
I generally attend and enjoy the Professional & Technical Forum. I've never had the chance to go to a GM, but I would like to.
What do you like doing in your free time?
Golf, playing the guitar, watching rugby: club level Scarlets and international Wales. Spending time with my family, paddleboarding and walking the dog.
Are you involved with any maritime charities or volunteer organisations?
I'm a director of the Scottish Shipping Benevolent Association, a charity that helps those with a current or past link to the shoreside maritime sector in Scotland. For the past two years I have organised the annual golf day and raised money via the Kiltwalk. It's sad to see how some struggle, even to pay their heating bills, though it's rewarding to be able to help. It's a great charity with a great team of individuals, and the annual dinner in Glasgow is great event.
I'm also a trustee of the Glasgow Humane Society, which provides lifeboat and lifesaving services along the waterways of Glasgow, including advising and educating on water safety. I recently got involved to help raise funds and advise on the training for the officer and volunteers.
I recently became a volunteer Cub Scout leader as my youngest daughter is in the Cubs and they needed some help. It has been interesting, and I've been enjoying teaching knots and water safety.
What is your favourite place you have visited during your career?
Singapore, such an amazing collection of cultures. Great food and friendly people.
What is your favourite holiday destination?
Portugal. We go every year as a family and enjoy the weather, scenery, and culture.
What is your favourite film?
Enter the Dragon with Bruce Lee. When he tried to make a statement in Hollywood when he first came to the States he was laughed at, though he kept at it and changed the world in relation to martial arts/action movies before he unfortunately died. Whilst at sea, I made a point of researching what I could about him in Hong Kong, and I visited his grave in Seattle. He's a true hero and inspiration to me.
What are you watching on TV right now?
Gold Rush. I'd only watched in parts originally so I'm watching from start to finished. I'm just about to start season 6, and it's interesting to see all the teams working together and working things out in tough times.
What are you reading right now?
Dave Pelz Putting – trying to improve my golf. I should have read it years ago.
What's your favourite podcast / app / website and why?
BBC Sport Rugby, keeps me up to date with my favourite sport
Tell us one thing that people may not know about you.
I can speak basic Filipino (Tagalog), though a bit rusty after leaving the sea.
Is there anything else you'd like to talk about?
I would like the general public to understand how vital seafarers are to our daily lives, considering 90% of our global trade is by the sea. They are hardworking, spending long periods away from their families. I feel very privileged to have had a career at sea, and if I could do it all over again I would, but some of the stories I hear about the treatment of seafarers, especially during the pandemic, have really saddened me.
---
Tags