Members at work
Yacht captain Brendan O'Shannassy on the importance of a union for yacht crew
2 February 2022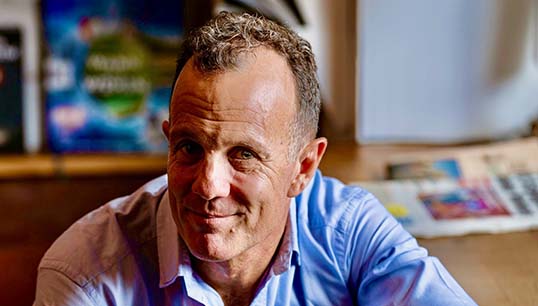 Brendan O'Shannassy is a captain working in the superyacht industry. He shares how his experiences working ashore have been essential to his career at sea and how receiving help from Nautilus confirmed his view that union membership matters for yacht crew.
What originally attracted you to a career in maritime?
Childhood in Western Australia was about 'messing about in boats' and sailing at the yacht club. When I was thinking about career choices, the America's Cup came to Fremantle, and I wanted to join a sail yacht.
It didn't happen, as I had applied to the Royal Australian Navy and won a scholarship to the newly opened Defence Academy. In the reverse of many of my classmates, I knew very little about the Navy, but loved being at sea, shiphandling and life in the maritime environment. I left the Navy after 10 years to begin in commercial maritime, tug, barge, and offshore. Some years later I joined my first private yacht and 20 years on I am still sailing.
Do you have any personal or family connections to the sea or inland waterways?
I have no family links, but I have a cultural connection to small craft from growing up in the port city of Freemantle.
What did you do in your career and/or education before joining the maritime sector?
I think it was 32 days from school to joining the Navy Midshipman programme. I was 17 years old when I first went to sea on the cadet training cruise from Sydney into the Pacific. The programme involved maritime training during the university breaks and then another year of more directed OOW training before being let loose to the fleet.
What does your current job involve?
I am writing from a large private yacht (+100m) which I am the captain of. This role is the same as all commercial sectors but with a little more management independence. The yachts are expected to undertake a lot more functions than a commercial ship that is backed by a large shipping company. Additionally, the vessels themselves are quite unique and each one independently owned.
I also consult with owners, their representatives and management companies in support of their yachts. An independent voice, at times translating between the maritime terminology that the yacht crew are speaking and the legal or financial language of the owning family or their offices.
I find that my crossover between yachting and commercial maritime does help. I apply more rigorous financial controls and look to efficiencies wherever possible. I would not be aware of this without the background of working for a profit-driven maritime environment in my past.
Tell us some of your career highlights so far – and challenges
Some of my career highlights are that I have been able to sail 'off the beaten track' time and time again with these incredible yachts. Many circumnavigations and time spent enjoying the highlights in the Pacific, Indian and Atlantic Oceans. This is not to discount the Mediterranean and the Asian archipelagos. Among many highlights, the Marshall Islands and Palau stand out.
Leadership and communications have been challenging every day. The yacht owners are the titans of the world's economic system and crew are diverse. It is a vessel packed with big and demanding personalities. I find communicating effectively upwards to the owners and across to the crews I lead a constant challenge.
Who has helped you the most in your career and why?
Very early on I had a naval captain who pointed out that my 'take it easy' approach to navigation was not acceptable. He told me this in robust, to the point of brutal, terms. It made me work hard for my right to be on the bridge. It took almost a year before I heard my first name said out loud by him, and I knew I could not ease off, but I had earnt my place.
Stepping across into a new sector, yachting, I had a captain who sought to share all his knowledge – maritime and wider industry – I still draw upon it.
A bosun, now a great captain, once said to me, 'You talk at me, not with me.' It came out of nowhere and was so confronting, I realised I was barking directions and not listening to his needs.
What is the one change that would make the biggest positive difference to your job as a maritime professional?
Understanding and investment by employers in continual development training. There is a sense that once a deck officer achieves their Master U/L the training is finished, aside from the bare bones STCW 2010 enforced short courses.
I would like to have more awareness that mentoring, coaching, leadership and communications training are as important as advanced fire – indeed more so.
What are your plans for the future?
Wow, I am not sure. I want to try and leave more of a legacy to a career that has supported my family and me. I think that captains' voices are important but too often they stay silent as they are fearful of losing their employment. I hope that speaking about my lived truth in the form of a published book might encourage others to do the same.
If you're working at sea now, would you like to take a job onshore in the future, and why?
I have moved between sea and shore throughout my career. I don't think I could have learned enough for captaincy without the two environments combining. I needed to learn business metrics, and through working in a shore management company, I had the chance to gain perspective and look at how other vessels were being run. A chance to leverage my learning.
Tell us about why the Union is important to you.
I have been a member of Nautilus for a while now, I joined because I wanted to be part of something and feel that I was supported and not just a mariner at the whim of an 'employment at will' SEA. The union is important to me as it really helped during a contractual incident. This was unexpected and not the reason for my membership. I share the story now with crew as it is too late to be thinking of joining when an incident like this has already happened.
What do you like to do in your free time?
I like keeping fit in whatever form that takes. When I am off ship and working from home I like to try and be good parent to my two teenage daughters. That sounds a bit cheesy, but I work hard at parenting to compensate a little for the absence periods at sea.
Are you involved with any maritime charities or volunteer organisations?
Yes, I have worked with ISWAN and their product Yacht Crew Help. It is a mental health support line tailored to yacht crew.
I am also chairman of the captain committee at the International Superyacht Society. This gives me a chance to communicate important issues affecting the community of seafarers within the yachting industry.
What is your favourite place you have visited in your career?
Three destinations and all for the same reason: Antarctica, Iceland, and New Zealand. They all bring home the greatness of nature and the humility we need to have as tenants of this great planet. To experience these places from sea doubles down on this experience, as you have to invest the time to reach them; I just don't think it has the same gravitas if you sit in the front of a long-haul jet for hours and not days or weeks.
What is your favourite holiday destination?
Lech, Austria. It just so contained and offers everything in a defined location. Everyone is there to enjoy each other's company – there is something magical about it.
What is your favourite film?
Probably Ferris Bueller's Day Off. It is just so whimsical and speaks to the possibility for all of us to achieve something magical, even if only for a day – maybe by breaking some of the rules that really should be broken.
What are you watching on TV right now?
My wife and I look for series to watch on one of the streaming platforms. I know it's quite old now, but I love Killing Eve – the characters are just so wonderful.
What are you reading right now?
The Sea Around Us by Rachel Carson. It is dated now, and it speaks of the nature of our oceans without the filter of modern 'greenwash'.
What's your favourite podcast / app / website?
Farnam Street/The Knowledge Project podcast: insights that help you think better, learn faster, and make smart decisions.
Tell us one thing that people may not know about you.
I love ocean swimming and I am always worried that a shark will hit me in my chest. I prefer to swim with a wetsuit or swim top; part of me knows that it wouldn't make a difference – but it makes me enjoy it.
Is there anything else you would like to talk about?
The role of seafarers in the future is interesting, not the inevitable onset of autonomous shipping in some sectors, but how do we attract and retain seafarers? When will western European countries seek to develop their maritime crew to support that long-term strategic goals? It flies in the face of history to let the development of seafarers fall out of fashion.
---
Tags