Health and safety
Keyworkers unforgotten: the Solent University pandemic research that gives a voice to seafarers
11 November 2021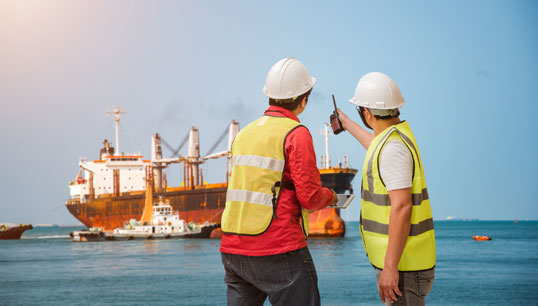 A major Solent University study on seafarer wellbeing in the Covid-19 pandemic came to a conclusion in autumn 2021. Dr Helen Devereux reports on the findings and how these could feed into policy-making at company, national and international level
In June 2020, researchers from Solent University – working in collaboration with the Merchant Navy Welfare Board and Nautilus International – began a research project called The Forgotten Keyworkers: Challenges faced by British seafarers as a result of the Covid-19 pandemic.
Data for the project was collected via an online questionnaire from June-August 2020 and from January-March 2021. The seafarers who took part answered questions about their health, safety and wellbeing, including the impact of the pandemic on their finances.
In this article we are focusing on the findings which are related to the ILO Maritime Labour Convention (MLC), including seafarers' access to medical care and the right to repatriation. We also consider the experiences of those British seafarers who remained at home waiting to join ships during the pandemic.
Who took part in the research project?
In total, 352 responses to the questionnaire were collected. The questionnaire targeted British seafarers, and participants included both officers and ratings from the various departments onboard. Respondents were employed across the various sectors of the seafaring industry, with the greatest number of responses coming from the cruise industry.
Those who participated included seafarers on permanent contracts as well as those on fixed-term/voyage contracts, cadets and the unemployed. Responses were predominantly from men, but the proportion of responses that came from women (16%) was broadly in line with the numbers of women in the UK seagoing workforce, as estimated by the Department for Transport in 2019.
Delayed repatriation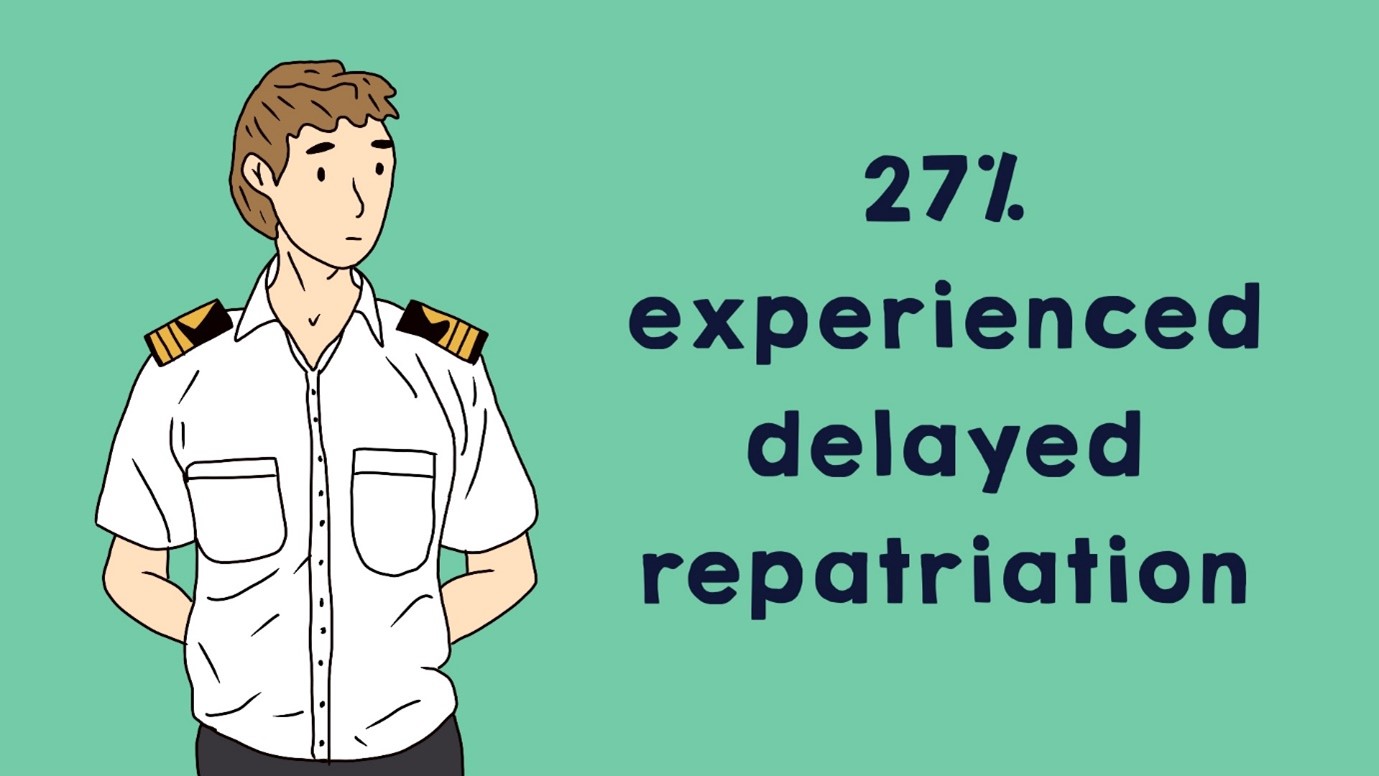 Over a quarter of our participants stated that they had experienced delayed repatriation and had worked beyond the end of their scheduled tour dates.
Whilst working beyond the expected end of a contract is nothing new in shipping, the number of seafarers experiencing delayed repatriations, and the durations of their extensions, is thought to be much greater than in was before the pandemic.
Pre-pandemic research on life at sea had already indicated that seafarers perceive delayed repatriation to have a detrimental impact on their wellbeing and their safety, so the greater number of individuals experiencing delayed repatriation during the pandemic is of particular concern.
Access to medical care
The Maritime Labour Convention states: 'Each member [state] shall ensure that all seafarers on ships that fly its flag are covered by adequate measures for the protection of their health and that they have access to prompt and adequate medical care whilst working onboard.'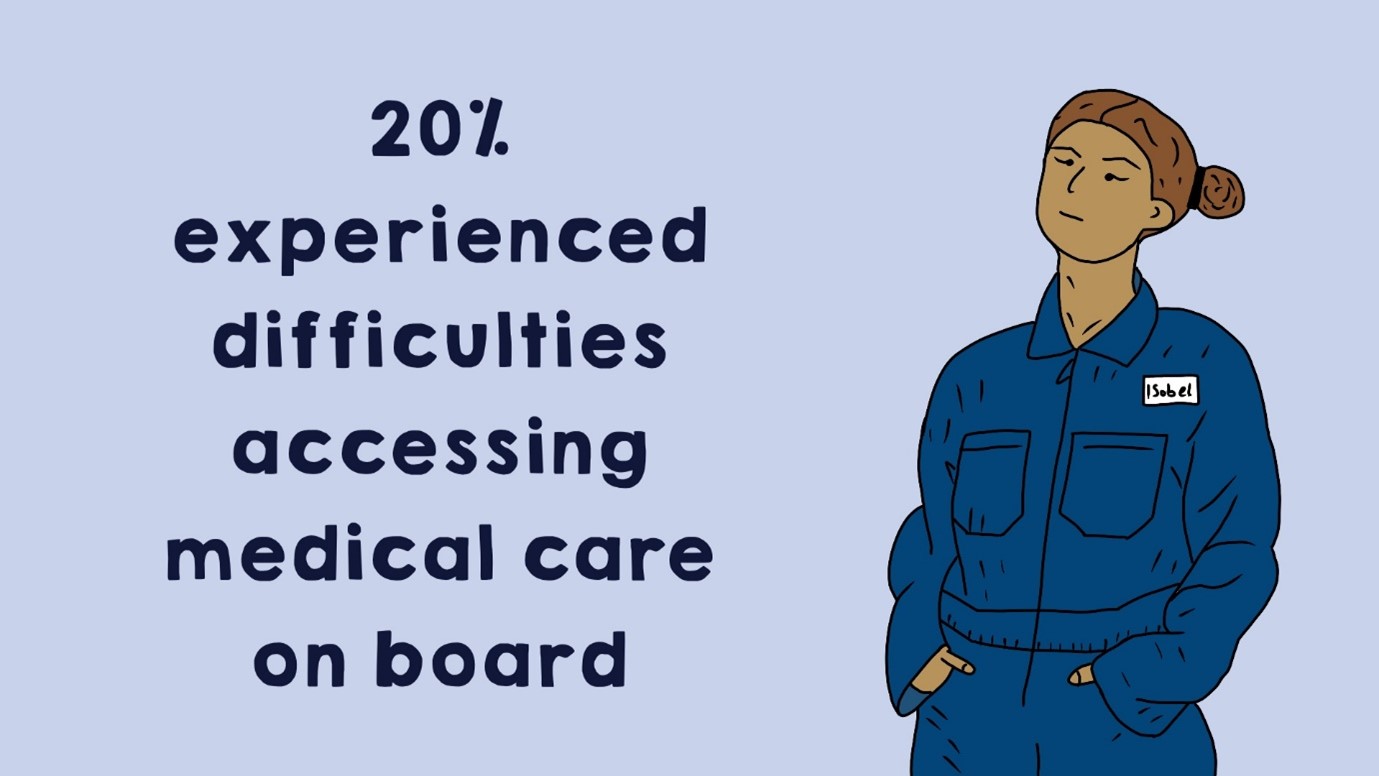 It also says: 'Each member [state] shall ensure that seafarers onboard ships in its territory who are in need of immediate medical care are given access to the member's medical facilities onshore.'
The fact that one-fifth of our respondents reported that they had experienced difficulties accessing medical care suggests that a number of flag states were failing to meet their legal obligations as signatories to the MLC.
Equally concerning is the fact that 12% of our respondents reported difficulties accessing prescribed medication. Individuals who experienced these difficulties were primarily those who experienced delayed repatriation.
Seafarers stuck at home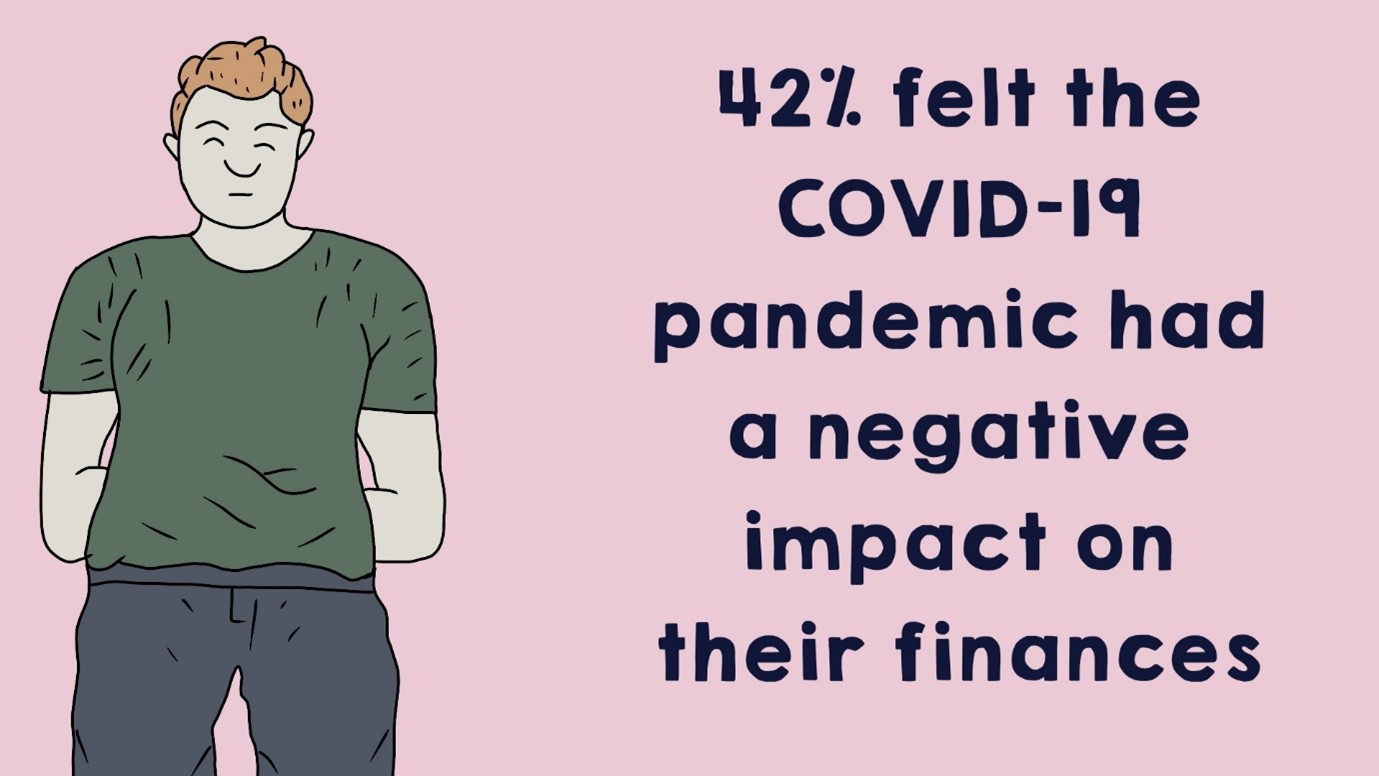 The research project was also interested in the experiences of British seafarers who had been unable to join ships during the pandemic. 6% of our respondents stated that they had not joined a ship despite being scheduled to do so and were not being paid, and a further 6% stated that they had been made redundant or not had their contract renewed.
In addition to the acute financial difficulties these seafarers faced whilst unemployed, some were also worried about the implications regarding their eligibility for the Seafarers Earnings Deduction scheme, given their inability to accrue 'tax days'.
Some seafarers who were onboard were also worried about tax days due to some ships – particularly cruiseships – remaining in UK ports or at anchor in UK waters. Given these findings, it is unsurprising that over 40% of our respondents felt that the Covid-19 pandemic had a negative impact on their finances.
What now?
Our research report recommends that port states ensure that all seafarers have prompt access to medical care, including dental care, should they need it. It also recommends that shipping companies and port states take steps to ensure that seafarers are repatriated on time. Finally, it recommends that the UK government consider the easing of the Seafarers Earnings Deduction qualifying days in order to assist those who have either been unable to join ships or who have spent extended periods of time in UK waters.
Getting the data and recommendations out to the decision-makers who need to see them is an ongoing process with help from our partners. So far, the findings from the project have been presented at a seminar hosted by the World Maritime University, and at a seminar held by the Centre of Governance and Human Rights at the University of Cambridge.
Evidence from the study has also been provided for a Nautilus submission regarding women's sanitary provisions, and the Union has also picked up on findings from the project on the Seafarers Earnings Deduction issue.
Other researchers and policy-makers who would like to cite the findings are invited to read the full project report or contact the authors via helen.devereux@solent.ac.uk
To find out more about this project, watch the short animation below presenting the findings.
Additional findings, including the impact of the pandemic on recruitment and retention, can be found in the full project report by Dr Helen Devereux and Professor Emma Wadsworth.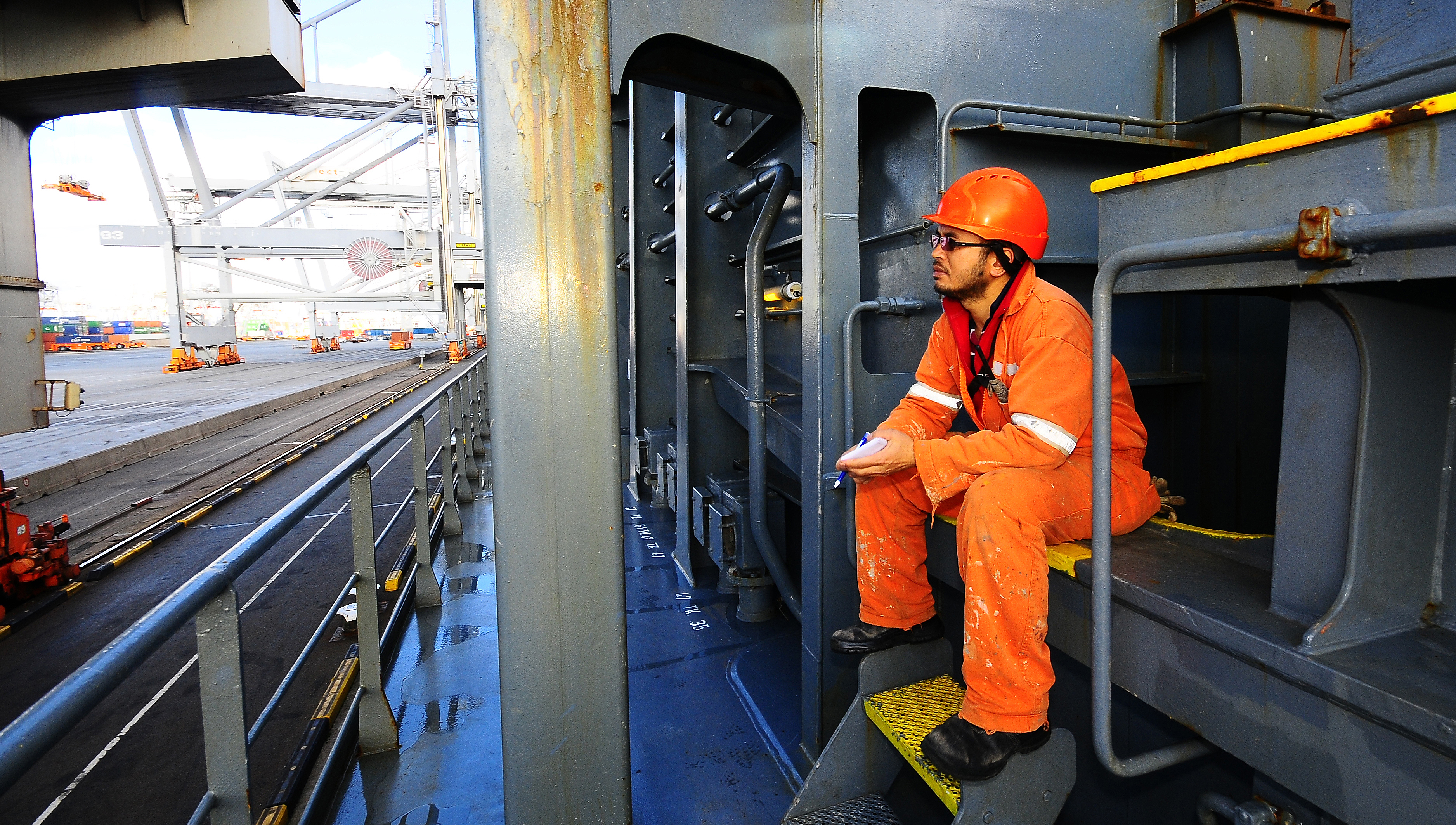 Mental health Covid study sparks interest outside maritime
Findings from another academic study perviously covered by the Nautilus Telegraph have recently been accepted for publication in the academic journal Safety Science, meaning the report will reach an audience in a range of safety-critical industries.
Effects of the Covid-19 pandemic on the mental health of seafarers is an international collaboration between maritime faculties in Sweden and Australia.
Dr Birgit Paukzstat of Uppsala University summarises the findings as follows:
'The article compares symptoms of depression and anxiety reported by seafarers before and during the pandemic. To do that, we combined the data collected in summer 2020 with data collected by Daniela Andrei, Michelle Grech and their team in 2015-16.
'The analyses show that self-reported symptoms of depression and anxiety were higher during the pandemic than before. Further analyses showed that seafarers with longer work periods, those who had been onboard longer than expected, and those working on vessels registered with 'flags of convenience' reported significantly higher levels of both depression and anxiety during the pandemic, but not prior to the pandemic. Taken together, these findings suggest that the impact of the Covid-19 pandemic led to a deterioration of working conditions and increased mental health risks for seafarers.'
Seafarer image: Getty Images
Read the full article in the journal Safety Science
---
Tags