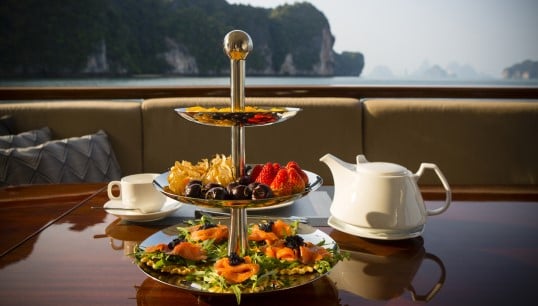 As with many of the roles aboard a yacht, working as a chef aboard can seem glamorous to those outside the sector. Selina Stansfield, founder of Yacht Souschef, explains that it comes with some truly unique challenges, as well as opportunities. Laura Molineux reports
Of all the jobs onboard a superyacht, 'chef' seems like one of the most desirable – preparing creative, picture-perfect meals to wow celebrities and the super-rich.
Yet as Selina Stansfield explains, this is often far from the reality. Herself a chef who worked aboard for many years, she has seen the best and worst that the career has to offer and now shares her knowledge with those looking for help via her website and business Galley Souschef.
The first things that many chefs don't realise is that, unless you're working on a very large superyacht, you are likely to be alone in the role. That means things that would be done for you elsewhere become your responsibility. 'If you've come from a restaurant background, then you're used to having someone that does all the dishes, someone that does all the prep, so that when you're cooking you just sear the meat and put the plate together, then it's done and it's off. On a superyacht you've got to work out when are you going to do all of that.'
And that's just the tip of the iceberg, as she explains that the chef is also frequently responsibly for procurement, keeping the galley in a sanitary condition, and storage of food (often all over the vessel) – and remembering where it is all kept.
Plus, the most important thing for other Nautilus yacht members: the chef not only looks after the culinary needs of the guests – often under intense time pressure – they simultaneously have to provide varied and tasty food for the crew, which is also nutritious enough that they can perform their own demanding jobs.
A restaurant can be impersonal, but on a yacht you get to actually communicate with the people you cook for and they appreciate it when you get things right.
The expectation that you will always be creating magnificent dishes is also not always the case, she says. 'If you're head chef in a Michelin star restaurant, you're creating the food that you love and people come to the restaurant for that whereas on a boat, people are paying a lot of money for you to cook them whatever they want to eat. So you might buy food to do all these amazing dishes but the guests might be on board for a long time, and might rather just have burgers or sandwiches. Normal food. That happens all the time.'
So why would anyone want to do such a challenging job? For Stansfield, it seems to be that it is a real masterclass in cooking.
'You get to travel, of course!' show laughs. 'I wanted to go to different places and experience different food even if it might be stressful or difficult. This is why I love being a chef aboard – I get to go ashore quite often when maybe other crew members don't get to do that, and see what different countries have in the way of produce and talk to people about how they cook and what they eat. For me that's amazing.
'I also love it because it's far more creative. You could go and work in a Michelin starred restaurant and you'll be peeling onions and potatoes for months on end, but on a yacht you get the freedom to make your mark.
'A restaurant can be impersonal, but on a yacht you get to actually communicate with the people you cook for and they appreciate it when you get things right. Okay, maybe it's challenging, but I cook because I get pleasure from the pleasure. If I crack the code on what the crew wants to eat, and they're happy, and the same with the guests, then I'm happy too. That's why I love it.'
Those who would like a little guidance on how to navigate the challenges of working as a chef aboard a yacht can visit the Galley Souschef website, sign up for the e-newsletter, or join the connected social media groups where chefs share their own advice.
---
Tags