Health and safety
Staying safe in an 'unreal' sector: H&S training must not be neglected aboard superyachts
1 November 2021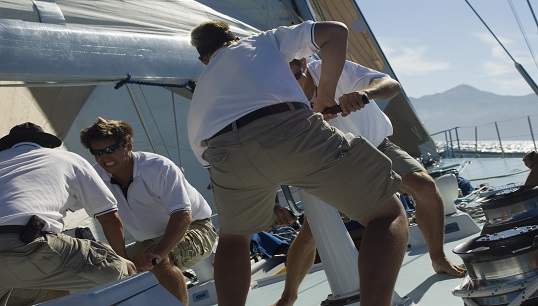 Ted Fitzgerald of Clear Blue Sky, a provider of training videos for superyacht crew, discusses the importance of health and safety for yacht crew and the difficulty of getting the sector to accept the necessity of safety training.
The maritime industry can be a difficult and dangerous environment to work in. Thankfully there are regulated procedures that have evolved to minimise this risk, but there's the word – minimise, not eliminate. Seafarers are still getting injured and in extreme cases they can die due to poor attitudes towards health and safety.
In the yachting sector, there is another dangerous factor – the suspension of reality.
A difficult position
The yachting industry is a totally unreal marine environment, it is one geared towards pleasure, fun, sunny skies, and calm seas. If the overriding drive is the satisfaction of guests – who have generally paid an eyewatering amount for their time on board and are determined to get their money's worth – and owners who expect to always have their way, it's not surprising that the uncomfortable realities of safety at sea and correct procedures come second.
This puts the crew in a difficult position when trying to prioritise safety onboard. Captains and crew are often torn between these priorities, with some losing their jobs because they insist on safety first.
Failure to assess
Another worrying aspect is 'tick box syndrome', where lip service is paid to the training standards required while failing to truly assess crew competency despite the massive paper trail so loved by auditors.
Senior crew responsible for training are frequently regurgitating the already old training methods they picked up from previous positions, with little idea about how to improve this for today's crew members. It's like telling a Tesla owner which end of the vehicle to put the coal in.
Liability for the safety of people in their care rests with senior crew and management companies. In a serious case of injury, difficult questions can be raised by lawyers as to whether the crew involved were as well-trained and competent as they could have been, and if they were not, then who is at fault and who is going to get sued for a lot of money.
Land-based companies and many commercial marine organisations have been using up-to-date technology and methods to administer, deliver and assess the training required for their operations. Common sense and a recognition of the risks associated with their environments have ushered in legislation to ensure that standards of training use all the tools in the box to make the workplace safer for all, and that includes using the right technology and the right mindset.
The superyacht industry has still not openly accepted this safety training scenario.
Despite the sometimes futuristic marvels of yacht design, the attitude to safety and training harks back to the Titanic. In an industry that spends millions on frivolous indulgence, is it not morally negligent to deny the commonly accepted benefits of technology to the areas of training and safety?
The cost of proper safety training must be assessed not just in terms of money, but in terms of the harm caused if it is not put in place.
---
Tags