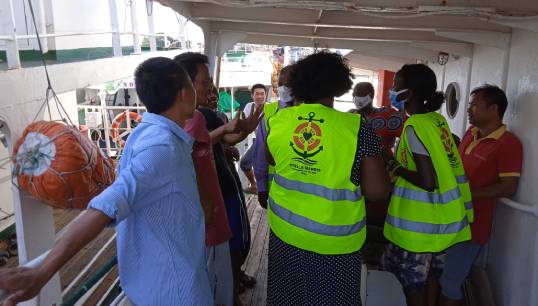 Maritime is facing a rising humanitarian crisis as cases of seafarer abandonment around the world are likely to reach record levels for a third year in a row, according to figures presented at a conference ahead of World Maritime Day. Deborah McPherson reports
A record 95 cases were reported last year to a global database according to statistics presented from the International Maritime Organization (IMO) during an online panel discussion. With 91 cases already reported so far this year, the 2021 figures are predicted be surpassed again by possibly 50%, heard the webinar organised by maritime charity Stella Maris.
The rise was attributed in part to the economic and logistical fallout of the Covid-19 pandemic and the crew change crisis, where crews were stranded without wages or basic necessities, far from home, for months on end – 17 of the 85 cases reported during 2020 related to consequences of the pandemic. But the rise was also likely to correlate in part to 2014 amendments to the Maritime Labour Convention (MLC) – which entered into force in 2017 to ensure better protection and working conditions for seafarers. This requires ship owners to have insurance cover for the abandonment of seafarers including costs for repatriation, as well as claims for death or long-term disability of seafarers.
IMO's senior legal officer Jan De Boer, presented the stark figures from a global Abandonment of Seafarers database which has tracked the recent but rapid rise of this humanitarian issue. The database was set up jointly in 2002 by the IMO and International Labour Organization (ILO) and started officially in 2005. During 2012 and 2016 between 12 to 19 incidents were reported annually.
After entry into force of the 2014 MLC amendments on 18 January 2017, there was a threefold rise in abandonment cases said Mr De Boer, with a spike of 55 in 2017, 44 in 2018 and up to 40 cases reported in 2019. During the first year of the pandemic in 2020, abandonment cases rose to 85, and peaked further at 95 last year. '
'As of today, there have been 91 new cases reported in 2022, thus alarmingly surpassing last year's record of reported cases of abandonment,' said Mr De Boer.
Stella Maris CEO Martin Foley said: 'The fact that abandonment statistics for this year are likely to exceed last year's record is deeply alarming when one considers the impact of abandonment on seafarers, fishers, and their families, something we at Stella Maris are encountering all too frequently.'
Chaplain lifelines
Stella Maris chaplains provided dramatic windows into various episodes where the charity had supported abandoned seafarers and fishers in the past two years including at the height of the Covid-19 pandemic.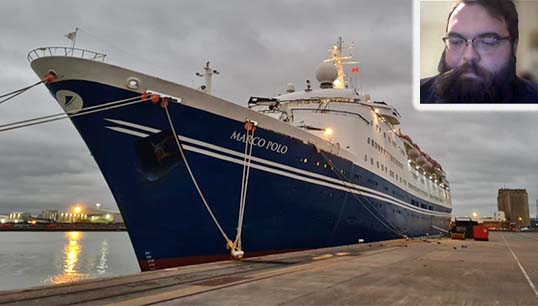 Abandoned in the UK
Stella Maris UK port chaplain for Bristol Peter Morgan described his experiences supporting 200 cruise crew from around the world stranded on the Marco Polo for nine months in Avonmouth during the start of the pandemic in March 2020.
The vessel had arrived in Avonmouth Docks in March 2020. Not long after that, its owners went out of business and the ship was detained by the Maritime and Coastguard Agency, which found a number of expired and invalid Seafarers Employment Agreements, late payment of wages and seafarers who had been on board for over 12 months.
At the start of the pandemic ship visiting was limited, but Mr Morgan would run errands or do shopping. He initially discovered there were three tonnes of noodles onboard but no fresh fruit. Later he visited nearly every day and often spent eight or nine hours onboard when allowed under the restrictions.
Image: The Marco Polo with Stella Maris UK port chaplain for Bristol Peter Morgan (Insert)
Read more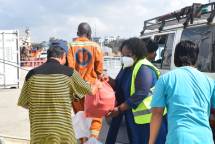 Abandoned in Kenya
Stella Maris port chaplain in Mombasa, Kenya, Margaret Masibo provided insights in how she became a lifeline for crew during an incident in September 2021, when 10 seafarers from the RA-Horakhty fishing vessel, abandoned for nine months in Mombasa, Kenya and were aided by the charity.
'It was inhumane, what I saw when I boarded the FV RA-Horakhty,' she said. 'Men were crying, others were shouting, some had withdrawn into silence. For several days, they'd had no food or fresh water. They were starving to death. Since the ship had been abandoned, not a single person had stepped on board to help - until I did.
'The men had no money and couldn't disembark because they didn't have papers to be in Kenya. It was a terrible, heart-breaking sight to see people abandoned so carelessly.'
Ms Masibo cooked for the crew and brought them WiFi cards for internet connections so they could call families. She also put pressure on the shipping company to provide support for the crew, helped find legal representation for the men, and liaised with relevant embassies to get them home.'
A handful of men remain on the FV RA-Horakhty, she said. They are waiting for the vessel to be sold so they can be paid and go home.
Image: Stella Maris port chaplain in Mombasa, Kenya, Margaret Masibo delivering supplies.
Read more
New guidelines on responsibilities
Mr De Boer drew attention to planned new, but non-binding guidelines for flag States and port states,on how to deal with seafarer abandonment cases. These will cover port States and flag States responsibilities in resolving cases. One of the current political sticking points was financial issues related to repatriation of crews where no replacement crew was available, he said.
'The new joint ILO-IMO guidelines for flag States and port States are welcome,' said Mr Foley. We look forward to them being fully implemented and to playing our part in industry-wide initiatives to reduce and, thereafter, eliminate, seafarer abandonment.'
Mr Foley added that Stella Maris is often the first responder in cases of seafarer abandonment and show that its presence in ports and ability to work closely with other agencies, including the International Transport Workers' Federation (ITF) are 'vital in ensuring abandoned seafarers are supported and their rights are upheld'.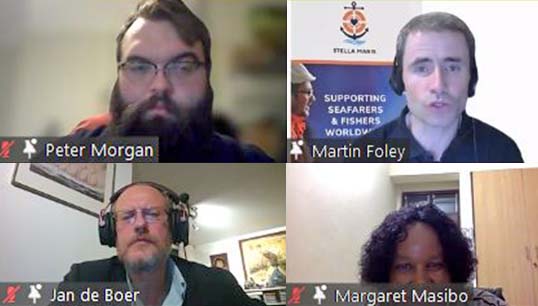 The ITF recently revealed that its inspectors recovered more than US$37 million in unpaid wages and entitlements from shipowners in 2021. Concerningly, the ITF was seeing a rise in the number of seafarers reporting non-payment of wages for periods of two months or longer, which meets the ILO's definition of abandonment.
The webinar also heard Stella Maris in the UK had set up a 'common reporting platform' for all its welfare activity with seafarers, fishers, and their families which it would like to roll out across the entire global network.
'The database enables us to capture, in a strictly confidential manner, all the key data about the ships we visit, plus the services and support we provide to the seafarers and fishers on board. We believe it will enhance both our internal and external communication', said Mr Foley. This could include using the data, suitably anonymised without compromising anyone's privacy, to highlight trends and issues.
---
Tags