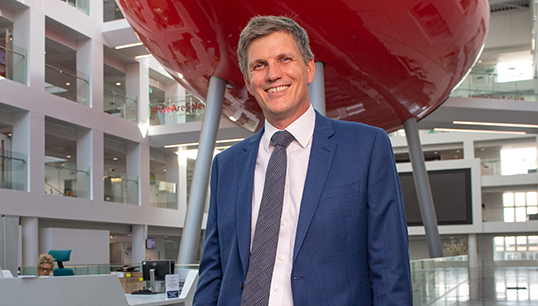 After nearly 10 years at Warsash Maritime School in various management roles, Lars Lippuner took over as director last year during a daunting period for the Solent University faculty. He talks to Sarah Robinson about his first few months in post and his ambitions for the years to come
Given everything that's happened over the last 12 months, it's probably just as well that Solent University chose to appoint an internal candidate as the new director of Warsash Maritime School. Lars Lippuner was already in the thick of the faculty's emergency pandemic teaching arrangements when he took over the top job in August 2020, and the crisis has dominated his time in post.
'It all happened very suddenly in March 2020,' he reflects. 'We had to send students home and take learning online, but we were fortunate that we already had much of the necessary infrastructure in place. We were recording lectures anyway, and had an excellent virtual learning environment set up.'
The rapid pivot to fully online learning was 'incredibly intense', but Mr Lippuner gives the UK Maritime & Coastguard Agency (MCA) credit for being available and helpful with the transition.
When the time came for him to take the helm as director, there were fresh challenges facing the faculty. 'As soon as we could after the first lockdown, we reopened our practical facilities such as our safety training centre, simulators, engineering workshops, and our manned model ship-handling lake. Because of social distancing we had to reduce numbers in classes, so we had to offer more sessions to cover all the students. I'm so proud of our staff for this – they reacted like true seafarers, with resourcefulness and flexibility.'
Later came the added safeguard of checking all staff and students regularly for Covid-19 at Solent University's test centre. To Mr Lippuner's relief, the 10,000-plus tests carried out since November 2020 have not resulted (at the time of writing) in any recorded cases of transmission linked to on-campus activity.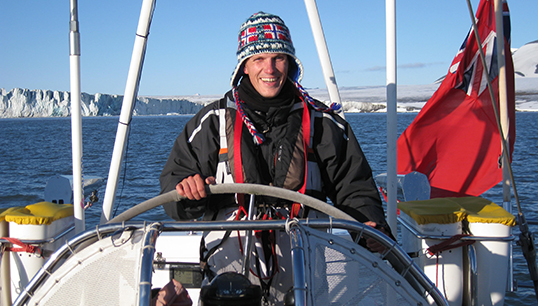 The call of the sea
Half Danish and half Swiss, Lars Lippuner says the sea has always been his passion. Initially, sailing was a leisure pursuit while he carried out extended academic studies, gaining degrees in environmental science and applied physics as well as an MBA (master's degree in business administration). But after pursuing a shore-based career for nearly a decade, the call of the sea became too strong to ignore, and he decided to become a professional seafarer in the superyacht sector.
He chose UKSA on the Isle of Wight for STCW training, and he still lives on the island. As he rose through the ranks on superyachts, he also studied at Warsash Maritime Academy (as the faculty was then known) and Fleetwood Nautical Campus.
As a master, the highlight of his seagoing career was taking a small expedition yacht up into Arctic waters. But like many seafarers, he felt that this kind of long-distance work could not continue indefinitely, especially with a young family, and he decided to build on both his academic and seafaring experience with a move into maritime education and training.
Having first gone back to UKSA as a tutor, he then moved to Warsash with the specific brief of setting up the Warsash Superyacht Academy. 'It was really exciting seeing that come to life in 2012, joining in with the increasing professionalisation of the superyacht sector. And now we're getting many of the people who took that route into seafaring coming back to upgrade their certification to the "unlimited" qualification, as it gives them more opportunities.'
At the moment there are numerous returners from all parts of the industry. Some are seeking courses that will help them move to another sector, and others – particularly in the cruise sector – are biding their time until the industry recovers by upgrading the Foundation Degree they took as part of their cadet training to a BSc Honours degree.
One eye to the future
Many seafarers' mental health has taken a knock during the pandemic, and Mr Lippuner is keen to see support resources further developed and extended, both for students/cadets at Solent University and for people working at sea. 'I think the idea of training mental health first aiders is very good – it helps identify people who are struggling by spotting signs like not engaging with their lectures.'
Some of the research in this field is taking place among maritime academics at Solent University, and Mr Lippuner wants to see the university continue to build its reputation as a world-class maritime research institution – as covered recently in the Nautilus Telegraph with features on research by Dr Helen Devereux and Dr Emma Wadsworth.
In general, he says, he would like seafaring to be given more credit as a highly-skilled – even academic – profession, with increasing numbers of officer-of-the-watch candidates given the option to study for a BSc Hons degree as part of their time at university. This doesn't mean saying goodbye to the HNC, HND and Foundation Degree routes, he stresses, but these apparently lower-level qualifications are challenging in their own right – and should be acknowledged as such throughout the UK education system when maritime applicants for any higher education course are looking to take their studies to the next level.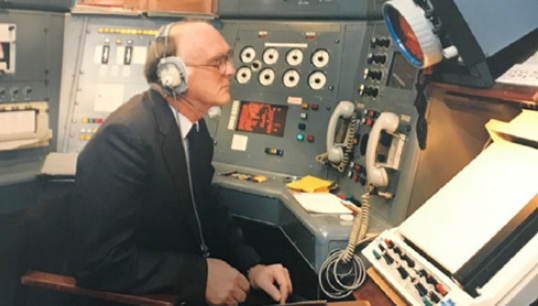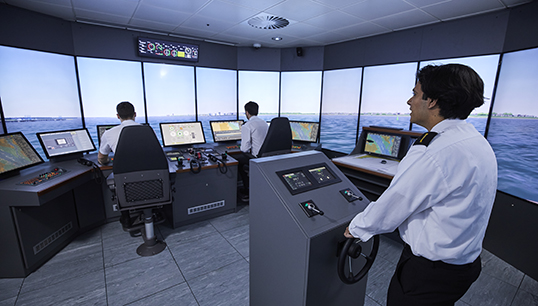 Also on Mr Lippuner's horizons are ever-more sophisticated and imaginative uses of simulators, and he is pleased that Warsash cadets have been engaging with other stakeholders on whether to allow simulators to be used as part of a cadet's accredited sea time – as seen in a Nautilus Telegraph letter to the editor.
'There's a very proud tradition of simulators at Warsash,' he says. 'We were the first place in the world to get a maritime simulator in the 1970s, and now we have a phenomenal facility. There are nine full mission bridge simulators, an engine room simulator and liquid cargo simulators – and you can link them all together, so it's like the students are working on the bridge and engine room of the same vessel. We've also done exercises linking together maritime simulators all over Europe.
'I take the view that simulators offer the opportunity to bring balance to training, 'allowing a cadet to experience handling different vessels and tackling emergency situations they would rarely experience during their usual sea phases. But simulators should never replace real-world sea time altogether, and the other thing we should be working towards is to improve cadets' experience of onboard mentoring and find a way to keep the standards consistently high across all vessels with training berths.
'Being in charge of educating seafarers at Warsash is a great privilege but also comes with a great responsibility; we should always unapologetically strive to achieve the highest standards for UK CoC holders.'
---
Tags