Education and training
Keeping cadets on course: how one company helped them to get their required seatime during the pandemic
2 March 2021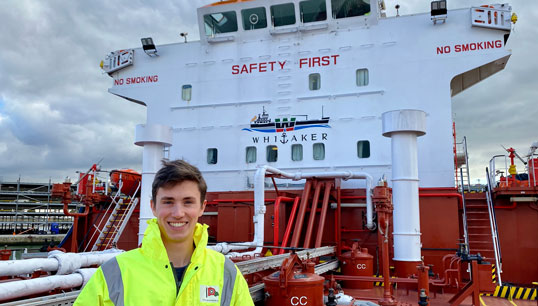 Last month, Telegraph reported on the case of several cadets who struggled after being terminated by their sponsoring company. Fortunately, not all cadets have faced the same challenge. As cruise ships commenced their voluntary operational pause because of the Covid-19 pandemic, a Princess Cruises cadet received a novel helping hand to complete his seatime during his final year, gaining an extra qualification along the way. He talks to Deborah McPherson about his experiences
Alexander Morrison – who is nearing the end of a three-year deck cadetship programme with Princess Cruises at the City of Glasgow College – has spent the last of two sea phases in an unusual berth: onboard a coastal tanker owned by John H Whitaker (Tankers) Limited.
Alexander is studying towards a professional diploma in maritime operations at the City of Glasgow college in the cadetship, which is usually undertaken over three years and split into five phases: phase one and three learning the theory at college. These are sandwiched in between phases two and four – known as the seatime berths, where the practical aspects of seafaring are learned, culminating in the final phase theory work.
In his first seatime (known as phase two) he was onboard a 'state of the art' cruiseship, the Majestic Princess, with just over 1,200 crew. On one occasion he spent a week with engineers on that vessel learning what was involved in receiving fuel from a bunker barge. Little did he realise that his last sea phase would be spent working the other side onboard a 3,000-tonne, 85m coastal tanker, helping supply the marine gas oil and heavy fuel oil which is used by cruise ships, ferries, car carriers and offshore vessels in various UK ports from Southampton to Aberdeenshire.
The Linlithgow-born cadet is the first in his family to forge a career at sea, crediting positive experiences in his local Sea Scouts programme. He is one of about 60 cadets sponsored by Princess Cruises, who are all at different phases of their training. The provision of seatime during the pandemic has become a challenge for shipping companies, none more so than cruise ship operators.
His phase four started in June 2020 and runs until March 2021. During this period Alexander was to complete a total of six months of seatime. He was looking forward to joining the Regal Princess in September, but this appointment was withdrawn due to the pandemic.
Luckily Alex's fleet HR manager at Princess Cruises, James Hallé, was able to make use of his 25 years' experience in the maritime industry and contacted one of his own former employers, John H Whitaker (Tankers) Limited, to ask if there were any berthing opportunities for his group of cadets.
Happily, the answer was yes, and Alexander continued his seatime on 9 December 2020 and is due to be onboard until 10 March 2021. He spent the first eight weeks on the coastal tanker Whitchallenger, before moving to the bunker tanker Whitonia for his final five weeks. After completing his sea phase, Alexander will start back on his final phase five theory work at college on 29 March 2021.
A different experience
Alexander said: 'I am very grateful to Whitakers for allowing me to carry on with my sea time and to be sponsored by an amazing company [Princess Cruises] which has treated their cadets so well during this difficult time.
'It was really interesting seeing another industry and being on the other side of refuelling practices. I went from a cruiseship of 1,200 crew to an oil tanker with about 9 to 12 crew, so you get to know everyone quite well. On the Whitchallenger I also got good experience of single watchkeeping which is not something you would normally experience on a cruiseship placement, and I got to steer into all the ports and frequently used the VHF radio.'
Not only has Alexander been given more responsibility than he might expect during cruiseship seatime – his training in another sector towards his junior watchkeeping rank, has also given him an unexpected string to his bow – being able to apply for an Advance Dangerous Cargo Endorsement, a certificate for which you need three months of experience on an oil tanker. Such a licence opens the door to working in the oil sector.
Another side benefit of helping out on all the different rotas was that his cooking skills improved: 'Everyone has to have a go at making dinner,' he said.
Mr Halle added: 'We are such a small industry and it is heart-warming that other companies are trying to help out cadets.'
Ashley Jenkins, director John H Whitaker (Tankers) Limited commented: 'The pandemic has of course placed tremendous strain on every sector of the travel industry, with an impact on passenger shipping particularly. The cruise lines are a hugely important provider of training for youngsters to enter the Merchant Navy, and this vital element has itself been constrained these last 12 months.
'There are better times ahead and the cruise sector will need these young officers; it has been a privilege for numerous ship operators – even small family-owned concerns such as Whitakers – to "do our bit" and help find shipboard spaces for these affected cadets to continue their sea time.
'We learn from them too. Alex is a case in point; an exemplary trainee officer and a credit to Princess Cruises. As he mentions, life aboard a coastal tanker with a crew of 12 is rather different to that on a 100,000-tonne cruise ship, and I am sure he will take some useful experience from his time with us. As ever, in adversity the Merchant Navy pulls together and forges ahead.'
Unique skills
Alexander would have been due to qualify in August, and in spite of the tanker experience there will still be a slight delay, up until Christmas 2021, in accruing his final three months of the required 12 months seatime, but Mr Halle said he would aim to get Alexander back away to sea on a cruise ship after phase five.
Other cadets in his class had been back phased due to lack of sea time, but this depended on the sponsoring company.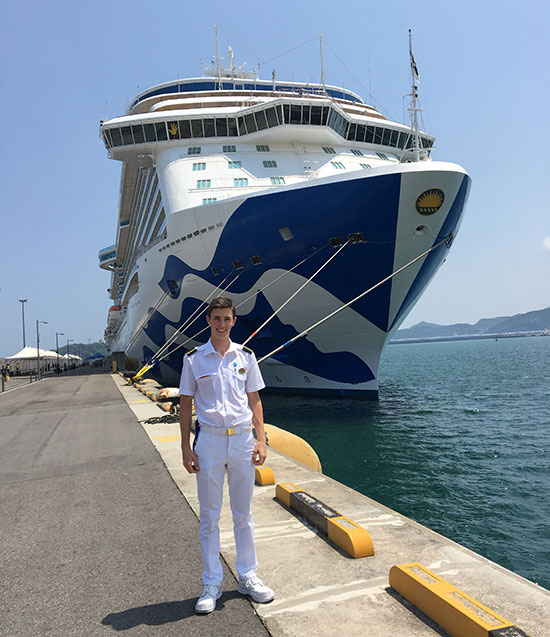 Mr Halle said Princess Cruises would continue to sponsor cadets. 'Our general practice is to take cadets on because we want a continuous flow of qualified Junior Officers. It's impossible for anyone to foresee what may happen in our industry and how it may recover, but in general our intention will always be to offer progression to our cadets into Junior Officer positions.'
Princess Cruises has also helped place a couple of other deck cadets and an engine cadet with John H Whitaker Tankers, and secured places for three engine cadets and another deck cadet to complete their seatime in another completely different type of vessel – a tall ships training ship, Pelican of London.
As for Alexander, he hopes to stay with Princess Cruises and further his dreams to travel the world more widely and experience a clear career progression up the officer ranks. But he will be forever grateful for his unique skills learnt on coastal tankers.
---
Tags