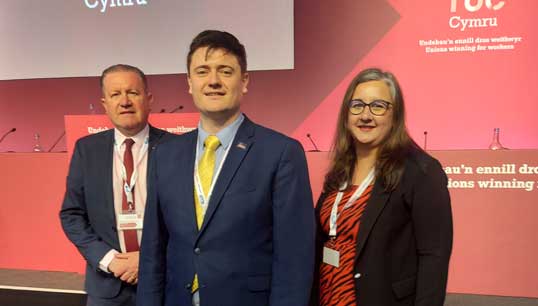 Nautilus International received unanimous support for its motions on green shipping corridors and maritime education from affiliates and trades union councils, at the Wales Trades Union Congress (TUC Cymru).
The biennial event, which was held at Venue Cymru in Llandudno from 24-26 May, showcased and the increasing trade union influence in Wales, as workers' organisations continue to drive policy and support working people in the country.
Nautilus was represented by head of industrial Micky Smyth, executive officer Martyn Gray and strategic organiser Jennifer McKechnie at the first in-person Congress since the Covid-19 pandemic.
In seeking support for the motion on maritime education, Nautilus explained that the maritime sector makes an enormous economic contribution to the UK as a whole but highlighted that Wales receives a shockingly low proportion of these benefits. Mr Smyth explained that the establishment of a dedicated Welsh maritime training centre would improve growth and support high quality, sustainable employment in Wales.
Mr Gray, putting forward the motion on green shipping corridors, said that the ambitions of government and industry regarding decarbonisation must be cemented into clear commitments that lead to high quality employment opportunities in the emerging low- and zero-carbon sub-sectors of maritime transport.
---
Tags