Nautilus news
Nautilus motions on green shipping, decarbonisation and fatigue win support at STUC 2022
27 April 2022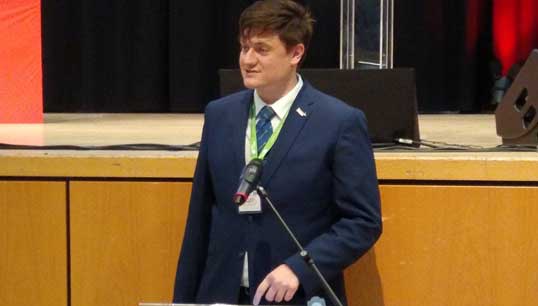 Three Nautilus motions supporting efforts to ensure equitable green shipping, a just transition in decarbonisation for maritime workers, and improving fatigue issues facing seafarers were unanimously accepted at the Scottish Trades Union Congress (STUC).
The Union's executive officer Martyn Gray moved two motions: one on green shipping corridors in the Scottish maritime transport sector, and another supporting a 'Just Transition' for decarbonisation efforts in Scotland's transport sector.
Nautilus head of industrial Micky Smyth also addressed the need to reduce fatigue for seafarers in the Union's third unanimously supported motion.
The Nautilus green shipping corridors motion called for a 'just decarbonisation in maritime' - recalling 'the ambitious Clydebank Declaration' made as a part of the COP26 summit held in Glasgow in 2021.
The motion called on the Scottish government to review and establish viable green lanes in domestic shipping routes, urged support for infrastructure that removes barriers to zero-emission tonnage, and provide training for workers. It also urged operators to drive sustainable investment in low- and zero-carbon operations.
Mr Gray said Scotland was 'unique' and 'well placed to lead the way in establishing green shipping corridors – having its electrical demand almost entirely met from renewable and low carbon sources'. Success in decarbonisation meant, however, that 'training is needed, infrastructure is needed, an ambitious government seeking a socially just sustainable economy is needed.'
In addressing the decarbonisation motion, Mr Gray said it was disappointing that the response of the Scottish Government to the Just Transition Commission made little reference to the transport sector – a sector responsible for about 40% of Scotland's greenhouse gas emissions. The Just Transition Guidelines were established in 2015 by the International Labour Organization.
'What is needed is government support and resourcing to build the low carbon infrastructure that supports improvements in sustainability of shipping, aviation, buses and trains.'
The Union's motion on fatigue highlighted concerns over safety in a growing trend for lengthy tours of duty in the ferry sector. It urged ferry operators in Scotland to work with maritime trade unions in 'developing fatigue-minimising working patterns, schedules and levels of employment that support sufficient rest and safe vessel operations'.
Maritime unions are particularly concerned that working beyond three weeks is unacceptable and dangerous and will lead to accidents.
'Fatigue is commonly reported by Nautilus members as one of the most pressing issues they face on a day-to-day basis,' said Mr Smyth. He pointed to the 'plethora of evidence' available which demonstrates the detrimental effect that seafarer fatigue has on safety – such as the Union's contribution to EU-sponsored Project Horizon research on fatigue, and a subsequent Martha Project finding regarding the detrimental long-term physical and mental health issues for seafarers of long tours of duty. A Cardiff University 2012 report also found that the number of port visits and the speed of port turnarounds was a major factor in increasing fatigue.
Mr Smyth said the Union was concerned to find some ferry operations where seafarers are working up to eight weeks on and four weeks off, such as the Northlink Serco freight services between Aberdeen, Orkney and Shetland.
'Seafarers have been working these shift patterns and longer rosters around our coasts and indeed, non-domiciled agency ratings have been working these rosters of eight weeks on and four weeks off at P&O Ferries on the Cairnryan-Larne route for years – long before P&O Ferries sacked the remaining British and Irish officers and Onboard services ratings to be replaced by more Agency workers,' he said.
---
Tags