Education and training
Southampton marine engineering graduate wins UK 2020 Maritime Masters programme
16 October 2020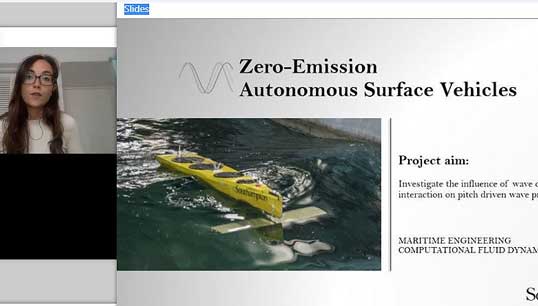 Marine engineering graduate at Southampton University Andrea Chipolina has bagged the 2020 UK Maritime Masters Programme prize for her research into fuel efficiency on autonomous vessels.
She beat masters' student researchers presenting virtually from nine participating universities voted on by an audience poll.
The annual Maritime Masters Programme is organised by Maritime UK to foster collaboration between academia and industry.
Ms Chipolina's her research into 'flapping foil on a wave-powered autonomous vehicle' was found to be 'compelling and relevant'.
Maritime Minister Robert Court paid tribute to the collaborative research programme. 'It is more important than ever to be able to come together as a sector to celebrate progress, and look to the future research and innovation for our leading academic institutions will be vital to the recovery and future growth of the UK as a maritime nation.'
Video presentations can be viewed a virtual stand.
---
Tags