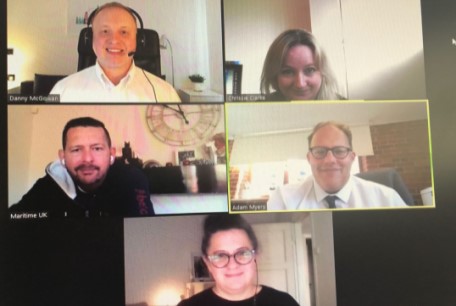 Panelists on the latest Maritime UK Week diversity webinar have pointed out remarkable changes to the industry's view of LGBT+ seafarers over the past five years, while noting that there is still some way to go.
The comments were made during an 'in conversation with' discussion held by the Pride in Maritime Network to talk about making the industry welcoming for LGBT+ people.
Nautilus's international organiser Danny McGowan hosted the event as chair of the Pride in Maritime Network. Panellists included Chrissie Clark from Maritime UK, Stellamar's Adam Myers and International Transport Workers' Federation maritime coordinator Jacqueline Smith.
The panel discussed changes to the industry's views towards LGBT+ matters over the past five years, with Ms Clark stating that while maritime is not yet in the position of other industries, it is making all the right steps.
Mr Myers agreed with suggestions that trade unions and crewing agents can work together to continue making improvements for LGBT+ people and for all diversity groups.
Ms Smith recalled the LGBT+ motion discussed at the ITF Congress in 2018 and the subsequent work undertaken by the Council of Global Unions in support of LGBT+ equality.
She also remarked on the opportunities that ITF and unions such as Nautilus must make to further progress for LGBT+ seafarers. 'Looking at incorporating sexuality and gender identity within ITF collective bargaining agreements would be a positive step,' she said.
Mr McGowan said: 'When I think back to joining the maritime industry and Nautilus in 2015, I would never have envisaged being able to have the conversation that we had in this event. It is great to see how the industry has progressed, but we cannot afford to rest on our laurels. Many organisations will have LGBT+ inclusive policies, but we need to see that organisational cultures – and the culture of maritime as a whole – allow for conversations surrounding sexuality and gender identity to take place.'
He added: 'We hope to see more LGBT+ maritime professionals, whether they work at sea or ashore, take part in the Pride in Maritime Network and be a part of that positive change for our industry.'
The next Pride in Maritime Network will be held on 13 January 2021.
---
Tags