International
Singapore crew changes cancelled as airlines demand negative Covid tests
15 January 2021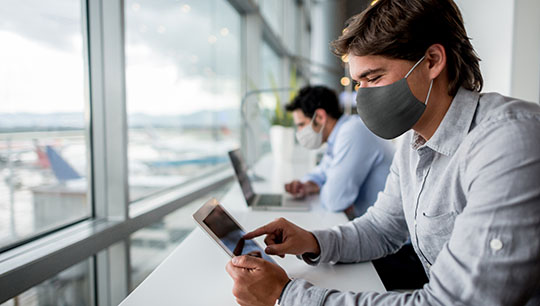 Crew changes through Singapore have been thrown into disarray as airlines demand proof of negative Covid-19 tests, despite seafarers being exempted from the new rules.
Several countries are now demanding proof of negative Covid tests prior to travelers arriving at their borders following the emergence of mutant strains in the UK, South Africa and Brazil. Some countries require PCR tests up to 72 hours prior to arrival, others such as the Netherlands, also require a rapid test taken immediately before departure.
Airlines have been threatened with swinging fines for every passenger they admit onboard without proof of a negative test. Many are demanding PCR tests which can take between 24-48 hours for results.
Seafarers report that access to PCR tests in Singapore is difficult unless employers are willing to pay for medical professionals to come onboard while in port.
'The requirement for a PCR test in Singapore is impossible so the British officers and myself are effectively stuck onboard until this requirement is lifted,' one member told Nautilus under condition of anonymity.
'Singapore is our only crew change port so we are stuck onboard for a further four months until we are back in early April.'
Another member reported cancelling off-singing in Singapore due to difficulty accessing a PCR test for crew, while a third member reported their employer had cancelled all crew changes through Singapore.
KLM, British Airways, Qatar Airways and Turkish Airlines are all reported to be demanding negative PCR tests.
'Fit to Fly' medical certificates issued by a doctor and previously valid for all nationalities to take flights home are being rejected by Qatar Airways and Turkish Airlines.
Nautilus has raised members' concerns with the UK Shipping Minister and officials at the Department for Transport.
Nautilus and the UK Chamber of Shipping released an updated exemption certificate for UK arrivals, which can be shown to airline and border force officials. Members can download a copy here.
On January 13 the UK confirmed seafarers were exempt from mandatory pre-arrival negative test rules.
The Netherlands has exempted seafarers from pre-arrival rapid tests, but still require PCR tests. Dutch exemptions do not include seafarers on commercial yachts and pleasure craft.
Members experiencing any difficulties related to this subject should first contact their industrial official: industrial@nautilusint.org or the Nautilus 24/7 helpline.
Keep up to date with our Coronavirus FAQs.
---
Tags