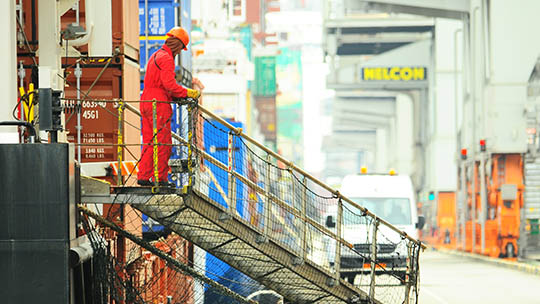 Seafarers are increasingly frustrated and challenged by ongoing issues with extended periods onboard due to lack of shore leave and sign-off procedures being delayed even moving out of the Covid-19 pandemic – according to a regular survey monitoring their wellbeing.
The Mission to Seafarers latest Seafarers Happiness Index (SHI) report for Q1 2023 reveals a fall in recorded levels of happiness from 7.69 to 7.1 out of 10, compared to Q4 2022,particularly in ten key questions that provide insights into the challenges and opportunities facing seafarers. The latest report identifies a return to growing frustrations among respondents, following a period of rising happiness towards the end of 2022. Now nine out of ten areas surveyed showed a decrease in happiness levels in an indication of the slow pace of industry-wide improvement in these areas.
Challenges continue
Lack of shore leave and a desire to access welfare services ashore resurfaced as key areas for concern. Seafarers also reported growing frustration with owners who attempt to make them sign on for longer periods than desired, and with the delays in sign-off procedures. Concerningly, they say the challenges of coping with extended periods on board have been made harder due to inadequate food provisions, as well as bureaucratic and unnecessary paperwork demands, ineffective shipboard leadership, and a sense of social isolation adding to the stress of life onboard.
Seafarers also report a growing awareness of disparity in access to the internet at sea with differing levels of connectivity reported across different companies, as well as concerns about data allowances, internet speed, and connectivity limitations.
The SHI report also identified several other challenges facing seafarers, including a growing wellness gap between companies that provide health and well-being programs and those that do not; access to dental care in some ports but not others; and limited access to mental health support, medical advisory services, and physical well-being consultations. Seafarers also expressed concerns about salaries, the cost of living, and potential obstacles to career advancement. There is also a need for improved social activities and shared spaces to encourage crew members to interact.
Secretary general of The Mission to Seafarers the Revd Canon Andrew Wright said the latest report 'illustrates how important it is to maintain momentum on seafarer welfare and why there can be zero complacency over the conditions in which our seafarers find themselves.'
Accelerating action
In response to the survey, an Executive Roundtable on Crew Welfare held during Singapore Maritime Week 2023 agreed to develop an approach to improve the well-being of seafarers by creating 'real-world shipboard solutions that challenge the status quo and redefine how things are done'.
---
Tags