International
Nautilus Federation affiliates applaud new US president's maritime Executive Order
27 January 2021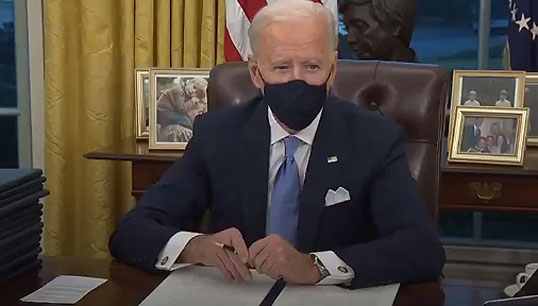 Nautilus Federation affiliates in the USA have supported an Executive Order in support of maritime cabotage signed by newly-elected President Joe Biden.
The International Organization of Masters, Mates & Pilots (MM&P) and Marine Engineers' Beneficial Association (MEBA) have joined the American Maritime Partnership (AMP) – the body representing the USA's domestic maritime industry – in applauding the Order.
The Executive Order, titled: 'Strengthening Buy American Provisions, Ensuring [the] Future of America is Made in America by All of America's Workers.' is said to confirm the Biden Administration's policy to strongly support American maritime workers and businesses serving domestic trades under the Jones Act. It is also considered a significant example to other governments considering national-flagged shipping issues.
The Jones Act requires transportation of merchandise between two U.S. points to be carried out by American built, owned, and crewed vessels. With broad bipartisan support in the US government, the law promotes the maintenance of a maritime industrial base, ensuring that American jobs are not shipped overseas and that defence capabilities are not outsourced to foreign nations. It is also considered an opportunity for investment in offshore renewable energy in line with environmental clean energy goals.
The Jones Act fleet of 40,000 vessels moves nearly one billion tons of cargo annually – or roughly a quarter of the nation's freight – along U.S. internal waterways, across the Great Lakes, and over the oceans to Hawaii, Alaska, Puerto Rico, and the U.S. territories.
AMP president Mike Roberts said: 'This Order is an extremely important and timely statement of the Administration's policy.
'With this Order, American maritime will have greater confidence for the next several years to make investments in American vessels and maritime infrastructure while furthering environmental stewardship, efficiency and support of our homeland and national security objectives. We are very grateful for the Administration's support.'
MM&P president Captain Don Marcus agreed: 'We enthusiastically applaud this decision by President Biden ...His expression of support sends a clear message that the domestic maritime industry and the thousands of union men and women who build and operate these vessels are critical to the economic and military security of our nation.'
MEBA president Adam Vokac added: 'We applaud these early efforts and look forward to working with the President on creating future opportunities to support and grow the domestic maritime industry that generates numerous middle class, union jobs for the United States Merchant Marine.'
Nautilus Federation director Mark Dickinson, has also previously referred to national priorities on national-flagged shipping: 'Nations and society need to relearn and understand the importance of shipping and seafarers to the global economy... Direct intervention by governments is essential. Either by regulating the conditions upon which shipowners can enter the market or by providing fiscal support. These interventions are not mutually exclusive, but they must be strictly focused on goals in the national interest.'
---
Tags