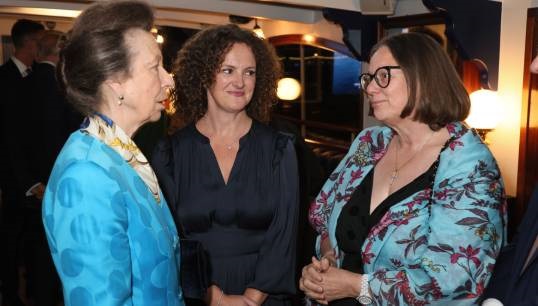 HRH The Princess Royal, patron of Mercy Ships International, attended a 45th-anniversary dinner aboard the paddle steamer The Elizabethan, on London's River Thames, celebrating the role of volunteers in delivering the charity's life changing work on its two hospital ships.
At the event in September 2023, the charity also introduced its new Volunteer Support Fund, designed to encourage more volunteers from developing nations to participate in the organization's life-saving endeavours.
Mercy Ships operates hospital ships that offer free, safe surgeries and life-changing healthcare to people in Sub-Saharan Africa, where nine out of ten people lack access to safe surgical care. Annually, more than 3,000 volunteers from over 60 countries serve onboard the world's two largest civilian hospital ships, the Africa Mercy and the Global Mercy. This diverse team includes surgeons, dentists, nurses, health trainers, cooks, and engineers, all committed to increasing access to safe surgical, obstetric, and anaesthetic care.
HRH The Princess Royal, a long-term supporter of Mercy Ships, highlighted the critical role of volunteers in transforming lives, and the potential of the new Fund for breaking down barriers for a new generation of volunteers, including those from developing nations.
The Fund aims to alleviate the financial burdens that often deter volunteers, especially those from developing nations, from participating in Mercy Ships' life-transforming work. Currently, the Global Mercy has docked in Freetown, Sierra Leone, for a 10-month mission, welcoming volunteers from the UK and across the globe.
CEO of Mercy Ships UK, Joanne Balaam, expressed gratitude for its royal patron's support and recognition of the volunteers' efforts: 'There are so many open-hearted professionals who would love to give their time and effort to serve with Mercy Ships and transform lives, but sacrificing their income to do so can prove impossible for many volunteers, especially those from developing nations.
'We hope this will make a transformational difference to our patients and the legacy of Mercy Ships in Sub-Saharan Africa.'
---
Tags