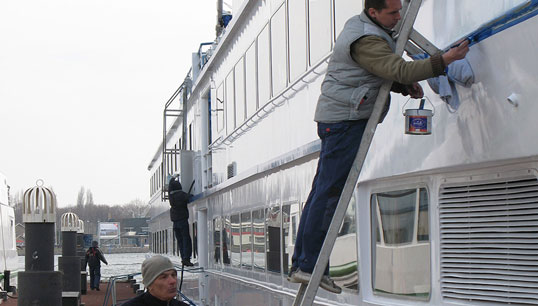 Nautilus has put pressure on the European Commission and the Swiss Federal Council to protect rivercrew from discrimination and unprotected dismissals during Covid-19.
Covid-19 has caused a slump at European rivercruise companies and highlighted employment issues in the sector, the Union's Swiss national organiser Holger Schatz said.
'A milestone inland waterways treaty signed between Nautilus and the Swiss River Advice Group has gone some way to protect inland waterway workers there, and some other companies have continued to pay wages above the statutory level,' he said. 'Others have dismissed employees even though [furlough] would have been possible. These companies have shied away from the administrative and financial burden at the expense of employees.'
'This is just as unacceptable as the many individual cases of undignified circumstances in connection with short-term dismissals we are aware of. For example, final salary accounts were often incorrect and leave was not included in redundancy calculations.'
Two further issues have been highlighted during the crisis: the lack of social rights in the EU and Switzerland, leading to discrimination against Eastern European employees, and the lack of protection against dismissal in Switzerland.
'In cases of unemployment, most Eastern European employees receive only the low rate applicable in their home country, even though they had also contributed to their respective Western European unemployment insurance scheme.'
'Switzerland has also been blacklisted by the ILO [International Labour Organisation] and urged to introduce legal improvements for dismissal protection. We support the efforts of the Swiss Federation of Trade Unions to correct this course.'
The Union has also urged all its European social partners across all sectors to exert pressure on the European Commission to bring about a pan-European reform of structural discrimination.
---
Tags