Members at work
Impact of Covid crisis on seafarers raised in speech at TUC Congress
14 September 2020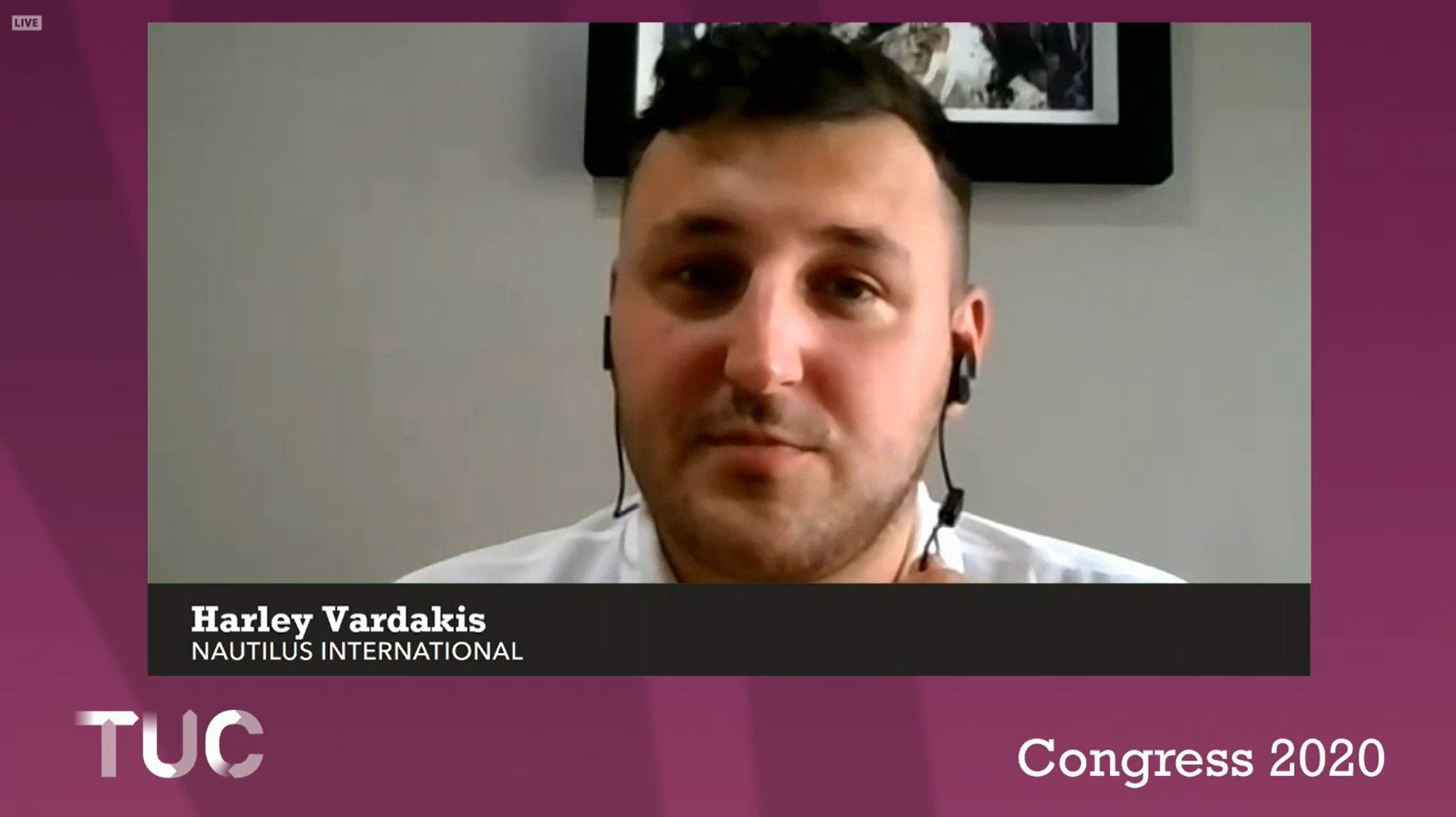 The plight of seafarers impacted by the response to Covid-19 was raised at the first ever digital TUC Congress in a speech by Nautilus International member, Harley Vardakis, who warned that many maritime professionals and their families 'now face a triple whammy of no work, no financial support and an unbudgeted tax bill'.
The speech was part of a debate on the safety of working people on the frontline of Covid-19, during which delegates from across the trade union movement spoke of the ongoing impact of the virus on physical and mental health.
Mr Vardakis, a Nautilus Champion began his speech by contrasting the lockdown measures experienced by the general public with the working life of a seafarer: 'During the Coronavirus pandemic, many people went into lockdown, their homes also became their workplace and they were unable to see family and friends for many months. Welcome to the life of a seafarer!'
He went on to raise the ongoing crew change crisis, by referring to his own situation: 'My three-month contract turned into a five-month contract while both my parents were at home with the virus. Seafarers work every day for up to 12 hours per day, and as much as we love our jobs, it can be extremely difficult when you believe you are going home to be told you are not'.
The ongoing crisis is estimated to have left 300,000 seafarers globally unable to return home, with a further 300,000 unable to relieve their colleagues and start earning wages again. 'The risk to safe working and mental health as a result of this is hopefully obvious,' Mr Vardakis added.
After describing the impact of the crisis on wellbeing, he set out the ongoing financial impact for many seafarers. A Nautilus survey of members revealed that up to 11,000 UK seafarers were at risk of missing out on the financial support offered to other workers because their employers do not operate UK PAYE for tax and national insurance purposes.
Many seafarers will also miss out on securing qualifying days for their Seafarers' Earning Deduction, which grants seafarers who have spent 183 days or more outside the UK the right to claim 100% tax exemption on their earnings.
Mr Vardakis concluded by calling on delegates and attendees to 'think back to their own time in lockdown and spare a thought for seafarers for whom this is our life every day. And to support those working to get our seafarers home'.
---
Tags