Welfare
New Stella Maris report shows importance of human contact for seafarers in crisis
9 August 2021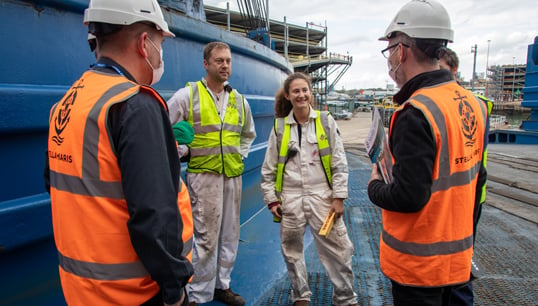 Global maritime charity Stella Maris has released its latest 'Life at Sea' Report, which confirms the 'vital need' for seafarers to have 'personal human contact in a world operating amid the Covid-19 pandemic'.
Life at Sea: a world in lockdown examines the response by Stella Maris, now in its centenary year, to many of the enduring crises faced by seafarers. It shows how the charity has adapted its services during the pandemic to ensure that seafarers continue to be supported.
Stella Maris CEO Martin Foley said: 'Our latest Life at Sea Report observes that, in a maritime world of increased digitalisation and automation, smaller crews and faster port turnaround times, the need for basic human contact remains paramount.'
In the face of the 'world's collective failure to provide timely repatriation for seafarers, and the continued absence of a global vaccination or keyworker policy for seafarers', the humanitarian crisis facing 'hundreds of thousands of seafarers' remains. It shows their need for all kinds of support, said Mr Foley.
The need for the personal touch is reflected in many touching stories in the report which illustrate the impact on seafarer mental health caused by both the pandemic and the wider issues of abandonment, human rights abuses, exploitation, piracy, unexpected deaths at sea, and contractual issues such as wages and shore leave. It also shows the length to which chaplains go to ensure seafarers are supported.
In one typical story illustrating the pandemic's impact, a Samoan seafarer reached out to the charity for help after becoming exhausted during two years at sea without seeing his family after joining a ship as a deckhand in 2019 on a nine-month contract. Twenty-four seafarers from two vessels, abandoned for four months in an Italian port, were supported and repatriated with the help of Stella Maris. One of its chaplains in Uruguay also ensured crew were well supported in hospital before being repatriated when a coronavirus outbreak hit the cruiseship Greg Mortimer, and around 60% of the crew and passengers were struck down with illness.
---
Tags