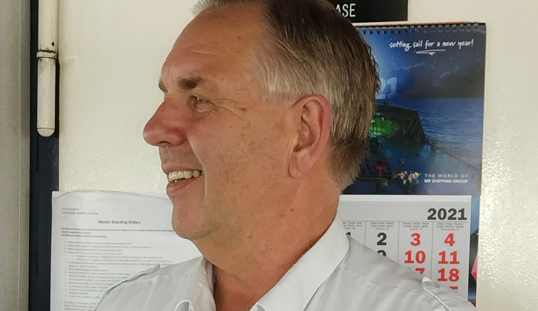 A Dutch institution which has provided an income safety net for seafarers is heading out of the pandemic with its finances intact and looking forward to celebrating its 200th anniversary.
The Koninklijk College Zeemanshoop (The Royal College Zeemanshoop), which provides funds for seafarers based on need and runs a library of nautical resources based in Amsterdam, had to close its Muntplein 10 location during most of the pandemic.
Nautilus member Captain Constant Herfst is chair of the Koninklijk College Zeemanshoop and a serving master. He said the organisation had reopened its premises in July 2021 and that most of the organisation's members were also now vaccinated.
Zeemanshoop is run by a board of six volunteer members, said Capt Herfst. During the pandemic its volunteer librarian, himself a retired engineer and writer of nautical books, took on the task of checking the mailbox and looking in on the physical location a few times a week.
Capt Herfst said it is 'an honorary job to represent Zeemanshoop. We work on a supervisory board, and the books are checked by an accountant.'
The organisation has escaped unscathed by funding issues during the pandemic because 'Zeemanshoop has funds of it is own and we make funds available for people or organisations in the seafaring world who need it or who request it,' said Capt Herfst.
'Fundraising is not really an issue for Zeemanshoop. Among the so-called maritime funds we are a smaller one, but we have enough to cover our budget, and we make a substantial amount available for others. All in line with the Dutch government rules,' he explained.
'We are an entirely Dutch organisation and that's laid down in the rules of the organisation. We support organisations based in the Netherlands. This has a historical reason, our government never had much interest in our seafarers, so you have to do it yourself.'
Zeemanshoop's library has about 1,200 books on nautical, technical, and historical topics as well as magazines, said Capt Herfst. 'Everybody can visit. You can become a member of Zeemanshoop for as little as €20 a year. We give loans to nautical students, and we support nautical research projects.'
The charity also supports the Dutch equivalent of 'boy scouts at sea', known as Zeeverkenners, and has a close relationship with the Amsterdam Shipping Museum (Het Scheepvaart Museum), which it helped found.
In the next year Zeemanshoop plans to upgrade its premises at Muntplein with better furniture, ship models and not least, improved computers and presentation equipment, but members can also looking forward to a special anniversary.
'We will celebrate our 200 year anniversary in Het Scheepvaart Museum in Amsterdam,' added Capt Herfst. 'One hundred years ago Zeemanshoop paid for a lifeboat, but this year it will be another sort of lifeline for the seafarer.'
---
Tags