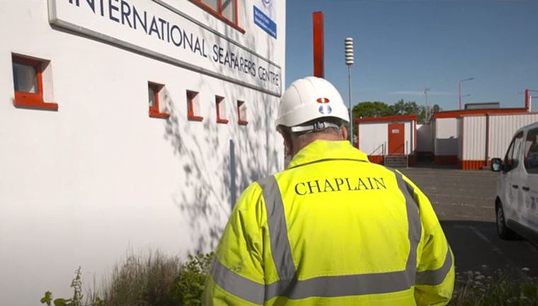 Ground-breaking new research has confirmed that seafarers of faith and no faith draw vital support from port chaplains around the world. The findings on the work of chaplains, volunteers and paid staff at seafarers' centres raise challenging questions over who should fund these services, as well shedding light on the nature of faith and welfare at sea. Deborah McPherson reports
A new study led by the Seafarers International Research Centre (SIRC) has been published at a watershed moment for maritime welfare services.
It has not only revealed the ways in which religious seafarers construct their own set of beliefs to cope better with living and working conditions, but also provided insights into how those with no faith want to use seafarers' centres and their services.
The study was led by the Seafarers International Research Centre (SIRC) at Cardiff University and funded by the Economic and Social Research Council (ESRC) as part of UK Research and Innovation (UKRI). Researchers investigated the faiths and welfare of 55 seafarers on board two cargo vessels carrying multinational crews.
It is believed to be the first study of its kind to combine in-depth research with seafarers (on their beliefs, spiritual and welfare needs, and how these are negotiated/managed on board and ashore), with detailed and rigorous fieldwork in ports looking at the work of chaplains, volunteers and paid staff at seafarers' centres and interviewing them.
The research also involved an interdisciplinary team from the UK and a co-investigator from the USA, reflecting the international scope of the project − the voyages were also with ships in different parts of the world with multinational crews and run by companies in Asia and the Pacific.
In confirming the value of chaplains and seafarer services to seafarers, the study showed the huge range of tasks carried out by chaplains and services provided by seafarer centres, and the amount of fundraising the chaplains had to do to support their work. Researchers also found evidence that the voluntary sector is under financial pressure and therefore unable to provide enough support, so welfare might need a far more systematic and widespread funding approach.
A 'superhuman effort'
SIRC director and principal investigator Professor Helen Sampson explained that some of the most revealing findings included the amount of effort that port chaplains go to on behalf of all seafarers, and in particular the 'emotional labour' that was involved, as well the huge amount of fundraising they do.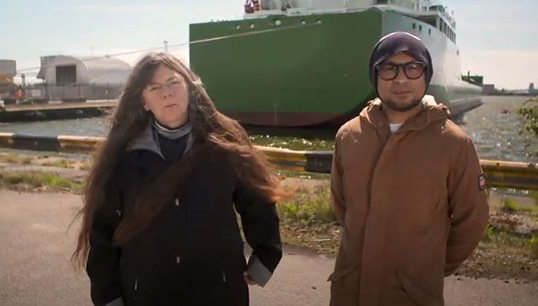 'It isn't necessarily the case that seafarers onboard every ship will welcome chaplains onboard; sometimes at the gangway, a seafarer is under instruction from the captain not to allow port chaplains on board. I think it's a real credit to port chaplains, the way in which they simply pick themselves up, dust themselves off, and get back out there again to support and help seafarers of all different faiths and all different nationalities regardless of the circumstances,' Professor Sampson said.
Research associate Dr Nelson Turgo of Cardiff University, who conducted most of the fieldwork agreed: 'Sometimes the seafarers were sharing some stories, for instance, about how they weren't able to attend the funeral of a loved one, or they weren't able to attend milestones in their children's lives - such as a graduation, birthday party - normal stuff, but people who work in the seafarer centres do this on a daily basis. The amount of emotional work that they do is quite revealing of the superhuman effort that many of those who work in centres perform.'
Seafarer welfare funding
The results of the SIRC study have now been made into a film.
The film heard from two knowledgeable stakeholder representatives on maritime welfare services: Andrew Linington, a senior policy advisor at Nautilus International UK; and Reverend Ijeoma Ajibade, regional director Europe for The Mission to Seafarers UK.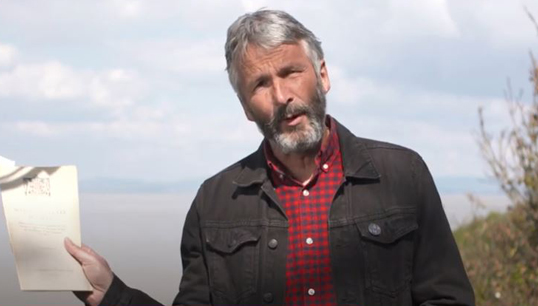 Mr Linington says in the film: 'This research is critically important because it comes at something like a watershed moment for seafarer welfare. Over the last few years, we've seen a much greater awareness of psychological needs as the industry has changed dramatically and the complexity of needs along with it.
'By tapping into those changes, highlighting the need for a restructuring of services and for a reappraisal of what seafarers need by asking the questions of the seafarers themselves, then we have the basis for what could deliver a quantum shift in seafarer welfare.'
The Mission to Seafarers did not help sponsor the study, but Rev Ajibade, a member of the study advisory board, commented: 'The study shows that the organisations involved in providing maritime welfare face challenges of fundraising and sustainability.
'The onus of fundraising has largely been left to the voluntary sector, with many chaplains having to focus on fundraising instead of being able to provide welfare. This is clearly unsustainable and inefficient. Many shipping organisations do provide funds for maritime welfare but a much greater understanding of the importance of welfare is needed from both industry and government.'
In the UK, some ports operate a voluntary levy to provide funds but this has not generally been found to be effective, the researchers agreed.
Professor Sampson commented: 'My own view is that there should be a seafarers' centre available to all seafarers in every port (funded by port levies, government, port corporations etc.), and we are a million million miles from that.'
Her views were echoed by Mr Linington: 'I think there's a feeling that we almost need to be moving, again, to what was recommended in the 1943 compulsory levies proposal.'
The reference is to a 1943 report called Seamen's Welfare In Port, which was published by a special committee appointed by the UK government and suggested that ships pay a compulsory levy which specifically goes towards funding seafarer welfare services.
The report's recommendations led to the formation of the Merchant Navy Welfare Board (MNWB), and funding did come partly from such levies on British shipowners, but was withdrawn in the 1970s.
New Zealand's government has just set an international precedent by updating its Maritime Transport Act 1994 to allow for such maritime levies to fund seafarer welfare services in its ports, a move welcomed by the MNWB.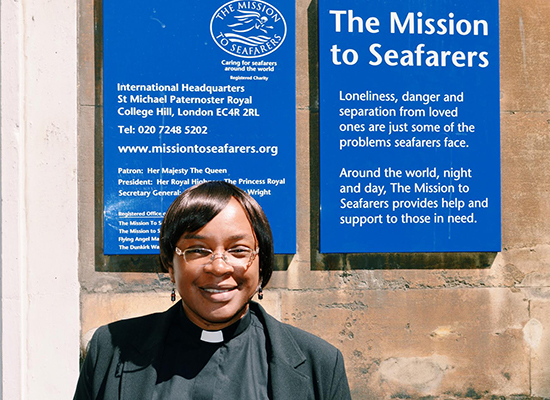 Rev Ajibade, who is also on the council for the MNWB, said: 'Under the Maritime Labour Convention 2006 (MLC) the Government must promote the development of welfare facilities in designated ports and provide access to adequate welfare facilities and services. However, it would be highly beneficial for the UK government to explore how it might support the future development of these facilities. This should not be left to the voluntary sector alone.'
She said seafarers' and fishers' welfare had also been boosted by the recent Maritime & Coastguard recognition of the MNWB as the UK's National Seafarers' Welfare Board.
'The Merchant Navy Welfare Board and Port Welfare Committees are doing a very good job of bringing stakeholders together but investment from Government would be very helpful and enable maritime welfare organisations to extend their outreach and care of seafarers,' added Rev Ajibade.
Importance of faith to seafarers
Professor Sampson said: 'Seafaring is an extremely dangerous occupation, relatively speaking, and we found a lot of seafarers who had experience of being very afraid on board a ship at some point in their career. When they felt particularly hopeless, many turned to their gods for assistance, which isn't that surprising. However, when they were able to positively help themselves and their colleagues, [we found] many had not thought about god at all, but only focused on dealing with the situation at hand. That idea of calling on your god when you feel helpless, but not in other circumstances when you can do something to help yourself was something that I wasn't expecting.'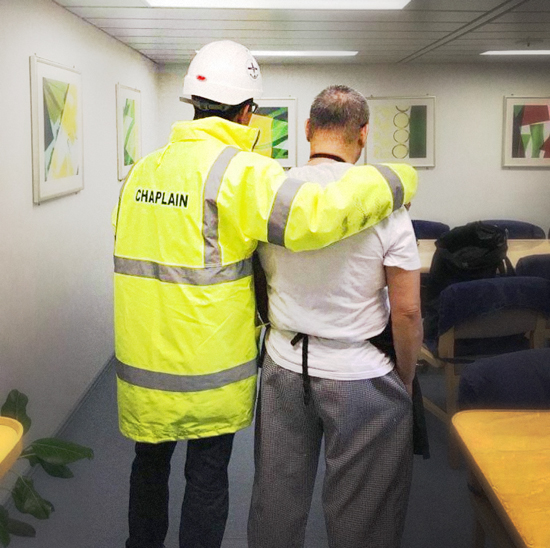 Co-investigator Professor Graeme Smith of the University of Chichester describes the way seafarers construct their beliefs as a 'popular theology' – one constructed by ordinary people, rather than given to ordinary people by religious professionals like clergy or academic theologians. It was also a private construct rarely spoken about before now.
'What's very interesting about the way [seafarers of faith] construct their beliefs is that it's very functional,' he says. 'So they're not concerned with philosophical questions, rather they're concerned with how God can help them as seafarers.'
Professor Sampson said this also meant seafarers 'felt released in some way from observing some of the practices that would indicate piety ashore.' This led the researchers to consider some difficult issues.
Rev Ajibade explained: 'Seafarers might do things that they don't normally do like drink alcohol or seek commercial sex [after spending time in a tough and dangerous environment]. The fact that some seafarers seek out commercial sex or intimacy or comfort, and the risks that go with that, presents a challenge for the Mission.' One way in which a northern UK Mission centre responded practically to these risks was to partner with the Terence Higgins trust to provide free condoms to seafarers, but Rev Ajibade acknowledged such an approach was liable to 'spark a huge debate' about the role of the Mission.'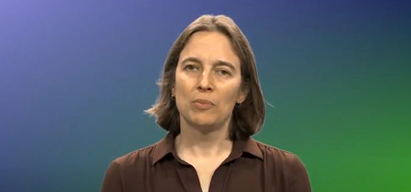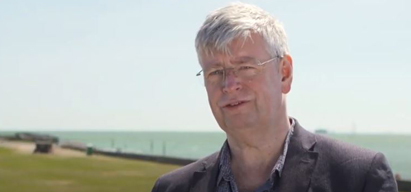 The value of chaplaincy
Co-investigator Professor Wendy Cadge of Brandeis University in the USA pointed out that in the UK, as well as in the US, the majority of port chaplains are Christians but 'over time, they've shifted from really primarily serving Christian seafarers to serving seafarers from a range of backgrounds, and seeing their work as much more social service oriented.'
Services provided by chaplains in ports globally include taking seafarers shopping, or to worship at mosques, and the welcome provisions of wifi. The provision of seafarer centres staffed with friendly volunteers and chaplains is particularly significant, agreed the researchers.
Professor Sampson summed up: 'By drawing on the perspectives of serving seafarers of all faiths and none, chaplains, and volunteers and paid staff in seafarers' centres, we were able to arrive at a very comprehensive understanding of the current need for, and provision of, welfare services in the cargo sector. Sadly, the research revealed the enormous pressure that existing welfare services are operating under in the context of inadequate funding. It also indicated that there are very many ports where no welfare provision is made for seafarers at all. This is a situation which needs urgent attention and comprehensive reform.'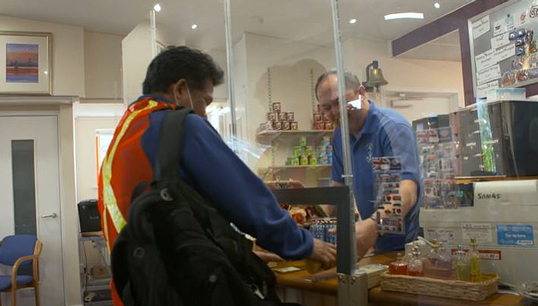 Where can I get help in port?
Various charities work internationally to provide services for seafarers in port. These include:
The Mission to Seafarers works in over 200 ports in 50 countries, offering a range of support services:
Ship visits
SIM cards to connect with loved ones
Help with transport while on land
Referrals to other organisations
Emergency support
Seafarers' centres
Advocacy
Spiritual support. Connect to a Mission chaplain using the contact a chaplain form
Help on a welfare or justice issue, via crewhelp@mtsmail.org (Nautilus members needing emergency help can also access our Nautilus 24/7 helpline, or contact their industry organiser)
Stella Maris − has an extensive global ship-visiting network helping seafarers and fishing crew in 316 ports across 54 countries.
Sailors' Society – also has a global network of chaplains. They visit 400 ships every week in more than 90 ports around the world, and can also be found in seafarers' centres.
Seafarers' Welfare Rotterdam (Stichting Welzijn Zeevarenden Rotterdam) − is a non-profit social welfare foundation set up for seafarers who are in the port of Rotterdam. The foundation strives for cooperation with all parties involved in seafaring welfare work in the Rotterdam port area, as well as with the Port Welfare Committee (PWC).
Its aims include:
providing financial support;
maintaining contacts with maritime related organizations and institutes;
recruitment and management of financial resources.
Image: SIRC film. Bristol Seafarers Centre
---
Tags