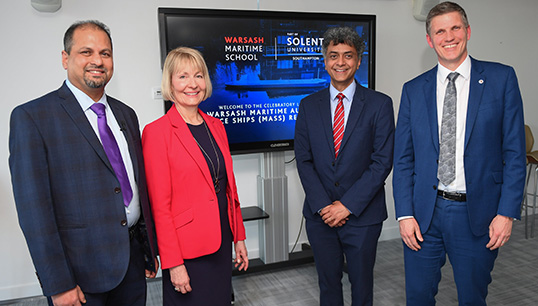 Solent University has established a new Warsash MASS Research Centre (WMRC) in a bid to become a centre of excellence in the field of maritime automation.
Speaking to industry leaders and maritime academics at the 22 March launch event, Solent pro-vice chancellor Professor Syamantak Bhattacharya said: 'Our overarching aim is to drive forward maritime education, training, research and innovation to support this challenging technology – in practical ways, in real terms and above all with the safety of people and the industry in mind.'
The UK government's Maritime 2050 Technology and Innovation Route Map identifies the role of people in the future of maritime and stresses the importance of retaining the valuable experience of existing seafarers. To support this, the new research centre will be exploring the education and training requirements to create a 'future-ready workforce' to operate with these technologies.
Associate Professor Zakirul Bhuiyan is the director of WMRC, and he gave a presentation on the history of Warsash Maritime School and MASS [Maritime Autonomous Surface Ships} – looking also to the future.
'The centre will offer a much-needed platform from which to provide collaborative research with like-minded researchers, industry, academia and government organisations,' he said.
---
Tags