Community
Jubilee Sailing Trust launches urgent public appeal to save charity from closure
11 April 2022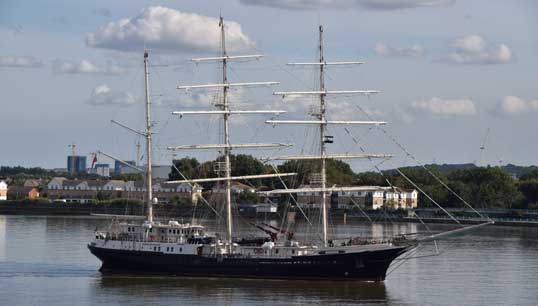 A pandemic-induced cashflow crisis is threatening to end a UK tallship charity's 40 year history of maritime training for a mixed ability crew.
The Jubilee Sailing Trust (JST) will be forced into ceasing operations unless it can urgently raise a minimum of £500K by Thursday 14 April and a total of £1.2 million by the end of September 2022.
The charity's tallship Tenacious is key to delivering its mission, which is to enable disabled and non-disabled people to learn how to operate a sailing ship together. Tenacious is the only tall ship in the world that is fully accessible to disabled crew members.
Numerous Nautilus members have worked for the JST over the decades as professional STCW-qualified crew members who train the visiting 'voyage crew' in maritime skills. To operate as an employer and maintain the seaworthiness of its vessel, the charity relies entirely on fundraising and the fees paid for their working holiday by voyage crew members – which were of course not paid when the vessel could not operate during the pandemic. Despite its best efforts, the charity has been unable to secure financial support through the UK government's Covid Recovery Loan scheme and other institutional sources.
A new voyage programme has now been released, with trips planned through to the end of April 2023. This has attracted an unprecedented level of bookings and interest, but will not be able to take place unless the charity can raise the necessary funds to keep going over the next few weeks and months.
JST CEO Patrick Fleming said: 'We are in a desperately difficult situation and have to face the harsh reality that we may not be able to continue.
'The JST was founded in 1978 through the extraordinary vision and foresight of a dedicated group of people working against the odds to make their dream a reality.
'Our co-founder, Christopher Rudd, believed that if disabled and non-disabled people were to sail alongside each other, it would help break down the prejudices and misunderstandings between different social groups. His vision was to use thoughtful design and equipment to create a fully accessible ship to be crewed by a mixed ability crew.
'Our historic journey started with the generous support of the Queen's Jubilee Fund and the Royal Household. It is incredibly sad that we face closure, particularly in this, the Queen's Platinum Jubilee Year.'
Donate to the appeal on the JST website
Find out more about the JST Covid recovery campaign where there are answers to frequently asked questions about the fundraising, and ways to submit more questions
---
Tags