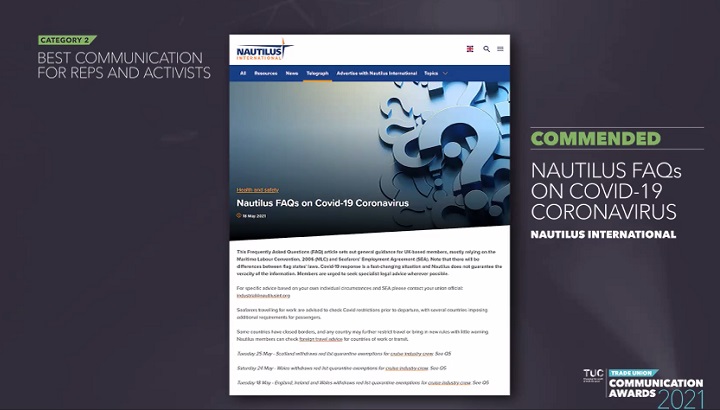 The widely-used Nautilus FAQs on Covid-19 drew praise at the prestigious Trades Union Congress (TUC) Communication Awards.
In a strong field of entries from across the UK trade union movement, the Union's Covid resources were singled out for the significant and consistent level of engagement that they drew from members. While narrowly missing out on the prize for 'best communication for reps and activists', the FAQs were 'Commended' at the high-profile event, which took place online.
The Covid-19 pandemic created a significant degree of uncertainty for seafarers who travel daily across international borders with different infection control regimes. The Union's FAQs have been regularly updated throughout the pandemic to ensure that reps and activists have access to the latest information, enabling them to be more effective in their roles and react to rapidly changing information.
The FAQs continue to be an essential resource for members and have been accessed more than 35,000 times, with an average time on page of 4 minutes and 11 seconds. The page quickly become one of the website's most visited resources ever.
---
Tags