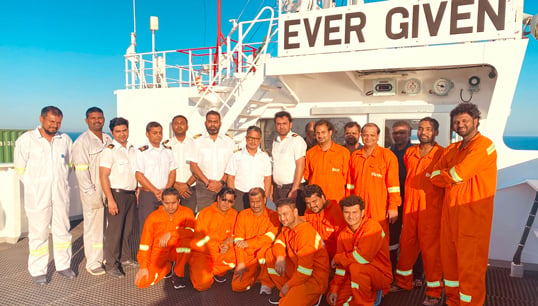 Panama-flagged containership Ever Given − which blocked the Suez Canal in March − is now on its way with its crew to the Port of Rotterdam in the Netherlands.
National Union of Seafarers of India (NUSI) confirmed the direction of the vessel, which resumed sailing on 7 July more than 100 days after its grounding.
General secretary of NUSI Abdulgani Serang paid tribute to all the unions, government, shipping and other maritime organisations who have supported the crew, saying the final release 'proved the power of international solidarity'.
'The Ever Given, which was stuck in the Suez Canal has finally resumed sailing towards Rotterdam. The 25 seafarers onboard are very happy. They were not alone in their fight for justice. They had the support of individuals, NUSI, MUI, Bernard Schulte, the maritime administration, the Government of India, the Indian High Commission, the ITF, Egyptian unions, maritime associations, press and many more.'
Secretary general of the International Chamber of Shipping (ICS) Guy Platten indicated in July that the ICS had been involved in the vessel's release after it was impounded by the Suez Canal Authority (SCA): 'I am proud of the way that ICS has been able to work quietly behind the scenes to bring the parties [the SCA and Shoei Kisen Kaisha Ltd., owner of the Ever Given] together and reach a mutually agreeable settlement. This is good news for the Egyptian authorities, good news for the owners and importantly good news for the crew.'
The ICS said an official contract was signed at a ceremony in the Suez town of Ismailia in early July, permitting the ship to leave the Great Bitter Lake section of the canal, where it had been impounded by the SCA after being refloated on 29 March.
The International Transport Workers' Federation have also drawn attention to importance of being unionised for the crew in this particular case.
---
Tags