Industrial
Dutch police inspect rivercruise ships operated by global hospitality providers and find falsified timesheets and excessive unpaid overtime
15 November 2021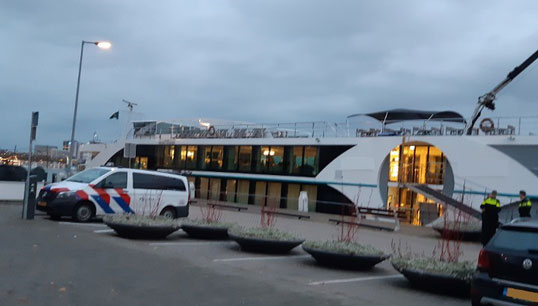 Inspections conducted by Dutch river police Aquapol and social services in the final week of October 2021 have revealed gross negligence onboard hotel ships in both Rotterdam and Amsterdam, said Nautilus national organiser Holger Schatz.
'Several hotel crew members were obliged to work for up to 100 hours per week without being compensated for overtime. Consequently, a hotel manager has been detained, fines have been imposed and prosecuting authorities are now investigating the responsible managements on land,' said Mr Schatz.
'These incidents repeatedly illustrate that hotel workers on rivercruise ships experience injustices across the board, especially with regards to working hours and leisure regulations.'
Tour operators tolerating dire conditions
Mr Schatz added that in the face of repeated publication of systematic exploitation of hotel employees onboard rivercruise ships, 'the question arises of how much longer renowned tour operators will tolerate (or can afford). such practices. Tolerating these deceptive practices on chartered ships for purely financial reasons is hardly reconcilable with the reputation of tour operators.'
A duty of care cannot be solely delegated to inspection authorities, he said.
Trust, but verify
For years many hospitality providers have professed to correctly record working hours and compensate overtime where applicable, said Mr Schatz. 'However, the unique constellation of multinational staff on board hotel ships and ever-changing workplaces on the European waterways network necessitates external monitoring.
Since inspections such as the ones in the Netherlands, are still rarely seen, agreements between parties and trade unions such as Nautilus are even more important, said Mr Schatz.
In 2019, Nautilus, together with the River Advice Group from Basel (UNITED RIVERS) agreed a ground-breaking collective bargaining agreement for about 3,000 employees.
'This agreement specifically allows us to access and review time sheets,' said Mr Schatz. 'So far, spot checks have demonstrated reliable accounting and remuneration of working hours. We hope for possible future agreements with other companies and to bestow our planned Fair Crew Work label on them.'
Fair Crew Work is a campaign project planned by the Nautilus Swiss branch in 2022.
Beyond that Nautilus would intensify its on-site conversations with employees, added Mr Schatz.
In this context a current announcement by the Amsterdam harbour authority, Port of Amsterdam, is leading the way. In October 2021, the authority publicly declared to all visitors that the harbour area is an 'exploitation-free zone'.
Mr Schatz said the Port of Amsterdam had also agreed to support Nautilus International's efforts to undertake ship visits around the passenger terminals in Amsterdam.
---
Tags