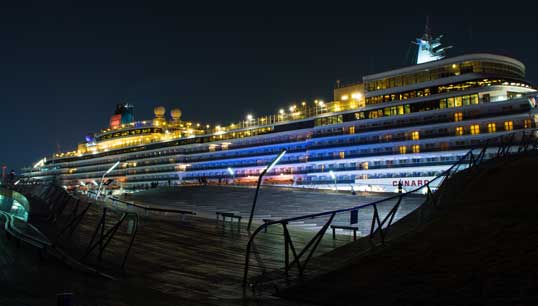 Nautilus national organiser Steve Doran has reported that two of the three main measures suggested by members to support Carnival UK during the pandemic have been rejected by the company.
The negotiations relate to the collective bargaining agreement (CBA) for members employed by Fleet Maritime Services (Bermuda) who serve on Carnival UK's Cunard and P&O Cruises vessels. The latest meeting between the company and the Nautilus Partnership at Work (PAW) committee took place on 8 September 2020.
'Previously, I had reported that we were hopeful that we can come to a mutual agreement,' said Mr Doran. 'This was based primarily on feedback from members, who overwhelmingly indicated an understanding of the situation and willingness to do something on a temporary basis in order to assist towards job retention and a return to successful trading post-pandemic.
'The PAW and I have since engaged with Carnival UK, presenting various proposals, such as:
15% reduction in days
extended tour bonus (ETB) to be honoured
zero underutilised days
'Disappointingly, although the ETB proposal has been approved, the other two have been rejected.'
A response is still awaited to other suggestions and questions previously forwarded on behalf of members and delays in communications are starting to make it difficult to consult 'meaningfully' – an obligation in law.
Mr Doran said he is therefore now less confident of a positive outcome, and has formally requested that the management reconsider their decisions. 'I also supported a suggestion to defer the next planned meeting to allow more time for meaningful consultation; however, this has also been rejected.
'We will continue to do all possible to achieve a fair temporary adjustment that supports the business through these difficult times, and members are welcome to continue forwarding suggestions and opinions.'
---
Tags