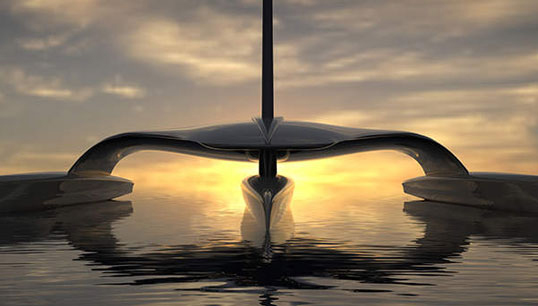 Seafarers on transatlantic crossings may want to keep a lookout for a new unmanned robotic ship called the Mayflower which will mark the 400th anniversary of its namesake's famous journey this month.
The original Mayflower was a wooden sailing ship that transported the first English puritans from England to America in 1620.
The new Mayflower Autonomous Research Ship (MARS) will rely to some extent on favourable weather to complete its crossing as it will be powered by state-of-the-art renewable energy technology.
MARS will have a maximum speed of 20 knots as opposed to the ancient mariners' 2.5 knots, and is half the size at 15m, but it also uses a wind propulsion system, although a hybrid of wind/solar power with a diesel generator back up instead of three masts.
MARS will carry a research pod, featuring sensors and other equipment which scientists hope will pave the way for ground-breaking research into ocean conditions, marine pollution and conservation, and autonomous navigation.
The project was first conceived in 2014, since when the partners – all with roots in Plymouth – have been refining designs to ensure it can survive whatever conditions the Atlantic Ocean has to offer. It includes a special IBM hazard control.
MARS is being coordinated through a partnership headed by ProMare, a non-profit corporation and public charity established to promote marine research and exploration. The research pod is coordinated by the University of Plymouth, while MSubs, which specialises in crewed and uncrewed submersibles has constructed the vessel, which underwent testing in July 2020.
In a blog, founding board member of ProMare and managing director of the MARS Brett Phaneuf said as there was no crew onboard, it was 'built with its own "brain" to help make its own decisions at sea.'
Its mission control system is built on IBM power systems servers, and real data was used to 'train the automated technology to recognise ships, debris, whales and other hazards which come into view on MARS's onboard video cameras'. Patchy connectivity in the Atlantic was being overcome by edge devices onboard MAS to store and process data locally and resync systems once back in contact with the IBM Cloud.
• A new report from a European Union-funded SkillSea project, which Nautilus is involved with, has produced a blueprint for future maritime training which says the way technology is transforming maritime operations, such as the continued development of autonomous and advanced support systems onboard, 'will cause increasingly challenging interactions between complex autonomous systems and the crew. Maritime professionals (both seagoing and shore-based) need in-depth understanding of the complex systems onboard to be able to serve the needed redundancy of all systems.'
---
Tags