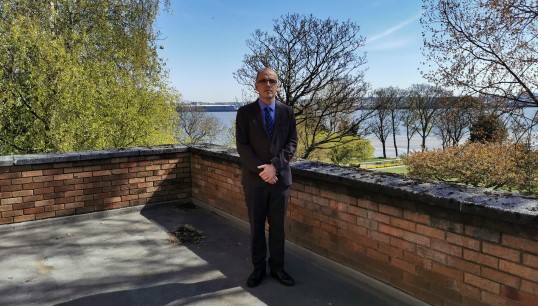 On 31 March Marc Williams took his place as the new Nautilus liaison officer at the Royal Fleet Auxiliary (RFA), following the retirement of David Gatenby. He talks to Rob Coston about why he decided to run for the office, and his plans while in the role.
What is your background in maritime?
I'd always lived by the sea, and it seemed a natural progression to move into a sea-related role. Where I'm from, there wasn't much in terms of jobs; people worked in either the ferries or the fishing fleet.
I started out with HM Coastguard, now the Maritime and Coastguard Agency, as a watch assistant. It was interesting but when the opportunity came along to apply for the RFA I did – there was the opportunity for travel, the chance for a career and a civil service pension too.
After joining in the RFA in 1999 I carried on in communications, but after two years I moved into a logistics role, basically a ships storekeeper. I worked on several ships, was promoted to Petty Officer, and worked on HMS Raleigh for five years as dangerous goods and supply chain officer – that was an RFA post seconded to the Royal Navy.
I was selected for officer training in 2014, I went to Britannia Royal Naval College Dartmouth, and then to sea as a Logistics Supply officer. After my first trips as deputy logistics officer I was finally promoted to second officer in 2018.
What experience did you have with Nautilus before becoming liaison officer?
Previously to 2014, because of the way the collective bargaining agreement (CBA) works, I was a member of RMT. Since I became an officer I've been a Nautilus member and I joined the Nautilus Partnership at Work committee at the RFA. I enjoy looking at documentation and providing feedback on whether I think it's right or wrong, and what elements need looking at again.
It's not always easy to get to the quarterly meetings, being at sea, but video conferencing has made that a lot easier. When I went to Nautilus HQ at Wallasey the team were really receptive about this and keen to use technology. We're on Teams now and have our first virtual union meeting planned with me, [Nautilus national organiser] Steve Doran and RFA members.
Why did you decide to run for election to the liaison officer role?
Over the years, I've seen jobs like this done well and done poorly. It's clear to me the difference having the right personality in the post can make. If you're dynamic, proactive, and listen to people's concerns you can achieve a great deal.
Before this, I've assisted friends at disciplinaries because they weren't union members. When you're faced with a disciplinary it's an emotional time; people don't always think straight and they don't always argue the valid points they have effectively. The benefit of having an advocate fighting your corner – which is what you get with union membership – cannot be understated.
I also wanted to continue Dave [Gatenby]'s good work after his six and a half years in the job.
How have you found your first month in the job?
I really enjoy the fact that people come to me with all kinds of things. You never know what the next call is going to be about.
I get emails saying 'This will probably just sound like a whinge, it isn't a massive issue,' but I treat everything the same. What sounds like just a moan to one person is massively important to another.
I do whatever I can – addressing even the smallest issues makes the job more enjoyable. For example, somebody gave me what they thought not a massively important issue. The following day I told a senior and it was immediately being put in the process of being changed, because the member had made a really good point.
There have been issues with leave, and issues with seafarers who reside abroad who are struggling to join their ship. Quarantines bring up a whole set of difficulties.
The RFA is going completely smoke-free on 1 June too, so we're involved in working groups with a business partner, a medical team and the safety team at RFA HQ.
What are your plans as the new liaison officer?
I'm obviously cognisant we need to reach out to members and non-members and drive up our numbers to effect change – not only in the RFA but as a collective. Historically, union membership has been decreasing over the years, and the benefits far outweigh any costs.
Generally seafarers are reluctant to speak up for a lot of different reasons. Maybe they don't want to draw attention to themselves. But I can take their issue forward without mentioning any names.
We have quarterly meetings, I also have monthly sit-down discussions with the RFA Commodore and Business Partner. I've had a number of those already – the senior management team are really receptive and keen to engage with the Unions.
I'd also like to improve communication with our members. People can now get in touch with me via WhatsApp and Nautilus email, and I'm on social media. I have permission to release a bulletin to RFA members that talks about what the Union and the RFA are doing,
Lastly, the RFA does some amazing work and people should be getting more press – the RFA has a lot more diverse roles than the average Merchant Navy company; that means a lot more opportunities and more interesting stories to tell.
---
Tags