Nautilus news
Supporting students – how Nautilus is working to help cadet members through the cost of living crisis
10 January 2023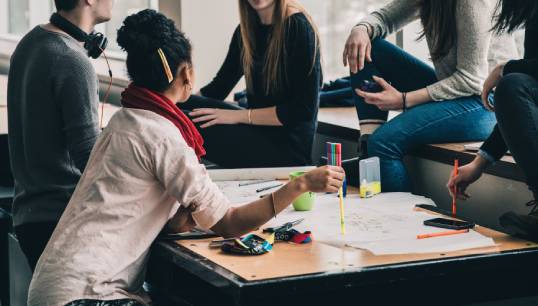 A Nautilus survey has uncovered hidden debt problems among officer trainees, and the Union is looking at how it can help. Helen Kelly reports
Merchant Navy cadets are being crushed by debt as the cost-of-living crisis deepens, with a third considering dropping out of training altogether.
Cadets have told Nautilus of increasingly desperate measures being taken to stay afloat, such as cutting back on food spending and heating. They are also avoiding going out with friends and travelling to see family.
Some cadets report doing part-time work, asking friends and family for money, and taking on loans – and still sliding further into debt. Money worries are directly affecting their health and well-being, including their emotional and mental health, with some considering quitting training as a result.
Money worries
Nautilus asked cadet members about their experience of the cost-of-living crisis in January 2023. Officer cadets are not employed and are not paid wages as such, but receive bursaries from sponsor companies.
Cadets reported receiving monthly payments from as little as £600 to a high of £2,260, with over half of cadets getting paid £750 per month – equivalent to £9,000 per annum.
Most cadets (91%) must pay for accommodation, food and other essentials from their monthly allowance. Under the Maritime Labour Convention (MLC), sponsor companies pay for uniforms, travel to and from ship, and safety equipment. Some also cover ENG1 medicals and short courses.
Worryingly, 52% of respondents said that the cost-of-living crisis is affecting their ability to manage their training requirements.
When asked about personal finances, 16% of respondents said that they do not have enough money for necessities and are getting into debt, with another 30% stating that they only have enough money for necessities.
To make ends meet, nearly 20% of cadets will take on a part time job or other way to supplement their income this year, with over 17% planning to cut back on food spending.
Social activities will be curtailed by close to 14% of cadets, with over 5% stating they could not afford to travel to see family.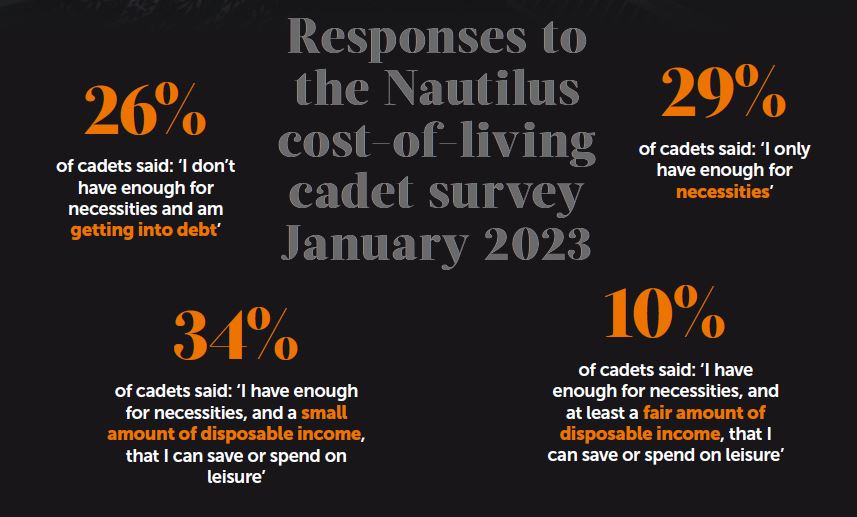 Many cadets are already taking steps to save money. Nearly half reported dipping into money from a savings account to make ends meet, with over 26% shopping in a different supermarket to save money, and 21% borrowing from friends and family. Cadets are also using food banks to help fill their cupboards.
Keeping up the pressure
In the UK, the government's SMarT funding scheme helps shipowners pay for cadet training. In September 2022, this funding was increased from 30% to 50% of the cost of training a cadet, with the sponsoring companies receiving backdated payments for those cadets in the system.
It is expected that this increase in support should translate into higher pay for the cadets. Nautilus understands the Maritime Educational Foundation (MEF) has given its cadets a 25% increase in bursary. However not all sponsor companies have. Nautilus will keep up the pressure on sponsoring companies to do so.
The Union is also campaigning for UK government funding to cover 100% of cadet training – as happens in the Netherlands.
Nautilus cadet lead Rachel Lynch said: 'The MCA is currently investing a huge amount of resource into its Cadet Training and Modernisation programme with the aim of ensuring the industry is able to attract the best STEM students into the sector and retain them. These efforts are likely to be in vain if bursaries remain so low that cadets are not even able to meet their most basic living expenses during their training.'
The Union is also campaigning for UK government funding to cover 100% of cadet training – as happens in the Netherlands.
Nautilus is exploring further ways to help cadets, so if you have been affected by any of these issues please contact: cadets@nautilusint.org
Useful Resources
SAIL provides free confidential advice on benefits, money worries, charity grants, pensions and much more: www.sailine.org.uk
The Safety Net is a one-stop-shop providing bespoke information and support for UK seafarers and their families on personal savings, money management, credit choices, debt advice, and relationship and mental health support: www.seafarersafetynet.org
In the Netherlands, the Foundation Training and Development Fund for Sea Shipping offers educational bursaries and grants:
www.scheepvaartnet.nl
---
Tags