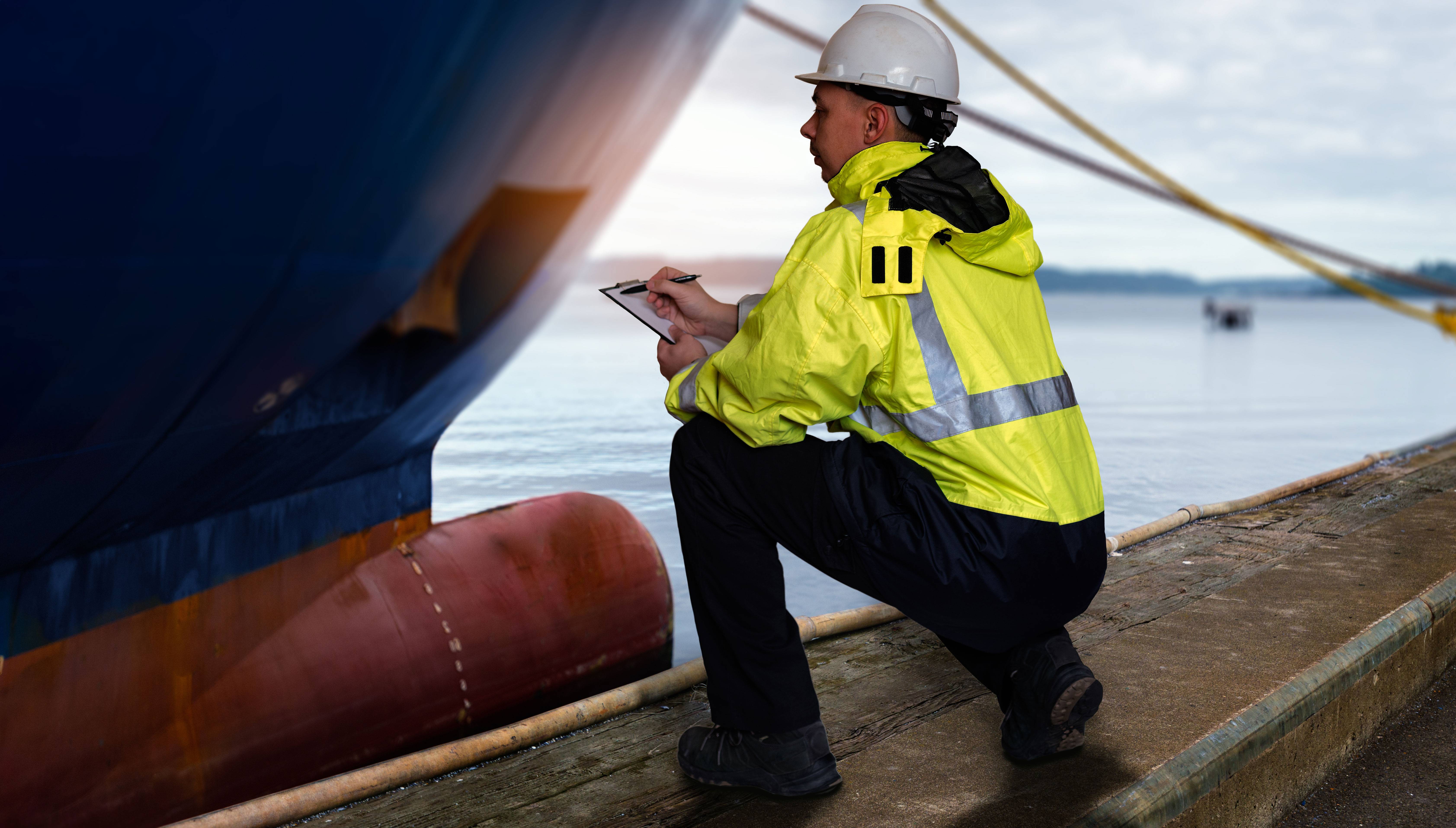 Nautilus International played a prominent part in UK Maritime Safety Week 2022. Taking place from 4-8 July with support from the UK Department for Transport, the focus this year was on safety best practice. Jon Parkin and Rob Coston report
A 2021 study of seafarers published in the British Medical Journal found that, over a four-year period, 6.31 out of every 1,000 seafarers were affected by occupational injuries and diseases. The study's conclusion – that 'workers at sea have high mortality, injuries and illnesses and work in a hazardous environment compared to ashore workers' – will come as no surprise to anyone who has ever found themselves in a maritime workplace.
This year's Maritime Safety Week aimed to do something about the grim statistics by bringing together a range of organisations to share knowledge and learn from each other, from government bodies to maritime employers, charities and membership bodies – including Nautilus of course.
Nautilus speaks at safety week
Port Skills and Safety (PSS), the UK's professional ports health and safety membership organisation, scheduled its annual conference to be part of Maritime Safety Week on 5 July – with panels and speeches from members of the maritime community. Representatives from the Department for Transport and the British Ports Association were present, and UK maritime minister Robert Courts MP said that safety should be at the core of the country's maritime strategy alongside education/upskilling and the government's objectives as laid out in the Maritime 2050 strategy.
Nautilus was represented by general secretary Mark Dickinson, who took the opportunity to stress the importance of proper training and investment into the maritime workforce in order to ensure safe practices.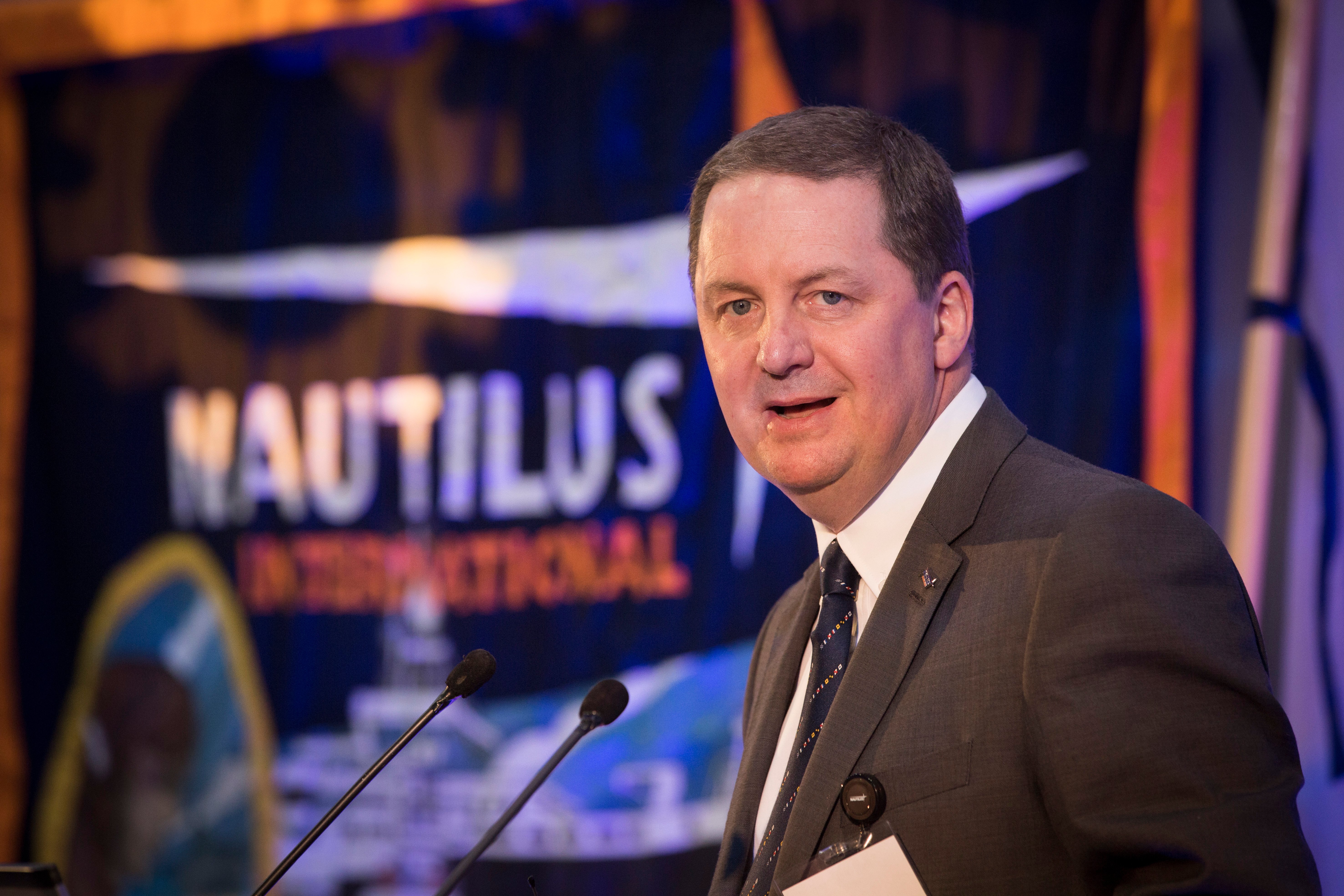 In his speech he also talked about the need for communication between unions and employers, so that maritime workers have a secure channel of communication to share safety issues they have identified. This point was echoed during the week by UK Chamber of Shipping CEO Sarah Treseder, who agreed that good safety practice can only be achieved if shipowners, the MCA and unions work together and share information openly,
'Our industry, while strategically vital, remains hazardous,' Mr Dickinson told attendees. 'Workplace injuries are all too common and sometimes tragically lives are lost. We must commend Port Skills & Safety for its work in bringing together unions, employers and safety experts to tackle these issues. Only through constructive dialogue between stakeholders can we ensure our ports are safer workplaces for our people.
'Our maritime professionals must be given the opportunity to train and learn new skills, so they can be active participants in the future of the maritime industry, an industry they already know, and many will have worked in for their entire lives. Investing in our workforce so more seafarers can transition from sea to shore and vice versa, that allows for all workers to upskill and reskill, is in all our interests.'
The dangers of fatigue
During his speech, Mr Dickinson also flagged up an issue of note: who should be allowed to carry out lashing on containerships?
'Lashing by seafarers creates another safety issue. Nautilus believes that this should be carried out by trained stevedores, not overworked and fatigued seafarers. Cargo work, lashing and unlashing, is dockers' work.'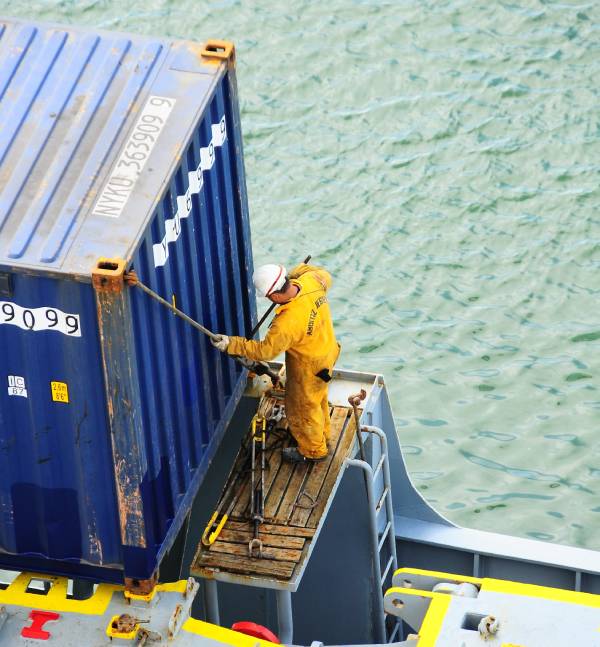 Shortly after the speech, a Dutch court ruled in favour of unions including Nautilus International over a collective bargaining agreement clause around the lashing of vessels. The clause, which applies in all ports worldwide and came into force on 1 January 2020, stipulates that lashing must be done by qualified dock workers. If dock workers are not available, then seafarers may only lash on a voluntary basis and in return for additional pay. Nautilus's Netherlands branch and other trade unions had brought the case after employers, shipowners and charterers refused to comply, but the court has now ordered them to comply in the port of Rotterdam and elsewhere or face hefty fines.
This is an important victory in the greater struggle against seafarer fatigue – which is dangerous as it increases the risk of accidents, as well as being detrimental to mental health.
However, this is a multi-front war. There are, of course, the traditional causes of fatigue – for example, the ever-increasing crew workload which was identified as a serious risk in the latest Seafarers Happiness Index report from the Mission to Seafarers. There are also new issues such as the proliferation of 'safety' paperwork, which some commentators believe can get in the way of actually improving the situation by creating extra work and a tick-box .
Nautilus has long identified overwork and low-cost crewing models as unsustainable and a threat to safety, and can present credible research to back up its case.
The Telegraph has previously covered the Culture of Adjustment report from World Maritime University (WMU), released in 2020, which found widespread malpractices in the recording of work and rest hours with a culture of adjustment – both on and off ship – normalising fatigue among seafarers that could lead to serious casualties, loss of life and environmental damage
Following on from this, WMU is expanding the scope by launching a new survey of seafarers covering crewing levels plus work and rest hours, developed in cooperation with IFSMA, the Nautical Institute, IMarEST and ISWAN and tying in with conversations at the International Maritime Organization (IMO).
Any Nautilus International members that have worked on a commercial ship after 1 February 1997 are encouraged to take part by visiting the WMU survey. The survey should take around 20 minutes to complete and all responses are confidential. The quantitative data that will be collected about seafarers' practices regarding work and rest will be used to strengthen ongoing research, with the ultimate aim of enhance provisions on seafarers' work and rest hours.
Mental health still a key concern
Maritime Safety Week was focused on the practical aspects of safety onboard, but outside of the event itself, charities, employers, unions and governments are continuing to work on the issue of seafarer mental health.
Earlier this year, the UK government collaborated with the Merchant Navy Welfare Board (MNWB) in launching a £2.4 million investment in seafarer training, wellbeing and support – something that maritime minister Robert Courts tied to the government's post-Covid-19 Maritime Recovery Route Map, since the pandemic put a significant strain on seafarers and drew public attention to the fact that even in 'normal' times crew are often expected to endure mental strain.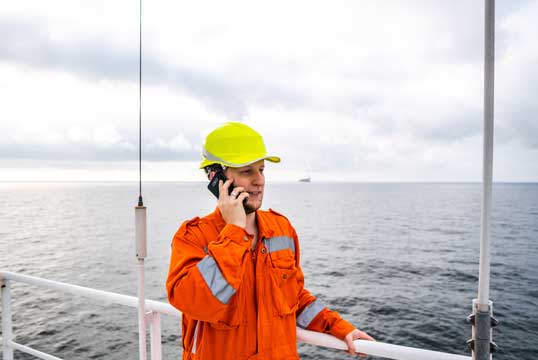 Maritime charities are now able to apply for a share of this funding to create projects that benefit seafarer wellbeing. MNWB chief executive officer Stuart Rivers welcomed the move: 'This significant investment in the maritime charity sector is both timely and extremely welcome. The maritime charities sector has been supporting seafarers through multiple crises over the past two years, despite the difficult fundraising conditions. The Department for Transport's funding will provide a real boost to seafarers' welfare and enable improvements in skills and diversity for the wider sector.'
MAIB involvement
As the UK body which is responsible for investigating maritime incidents, the UK Marine Accident Investigation Branch (MAIB) was keen to communicate key messages during Maritime Safety Week.
'Maritime Safety Week 2022 an important moment when the marine industry comes together to focus on how we can collectively continue to improve safety across the sector,' said MAIB chief inspector Andrew Moll. For that reason, the MAIB took the week as an opportunity to write about current key safety topics: the dangers of work onboard fishing vessels; mooring deck safety; pilot ladders; and CO2 fire extinguishing system blockages that could prevent seafarers from extinguishing an engine room blaze.
The blogs also highlighted the findings of MAIB's annual report for the year 2021, released in June.
During the year, the branch raised 1,530 reports of marine accidents and commenced 22 investigations, 14 of which involved loss of life. This represented a significant increase on previous years – with 1,217 reports in 2020 and 1,090 in 2019, for example – which the MAIB attributes to a rise in leisure craft and small commercial craft notifications and its industry request to report sub-standard pilot ladders.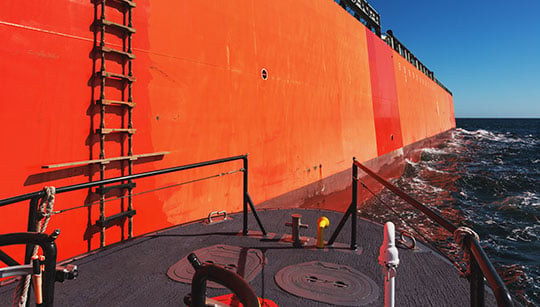 MAIB inspector of marine accidents Bill Evans said that the 200 reports received by MAIB regarding pilot ladders show that even though serious accidents have been rare, 'the potential for injury and even loss of life clearly exists.'
Mr Evans added: 'Marine pilots play a critical role in the safe operation of any harbour, where they guide almost every vessel in and out of the port. However, while the size and technological complexity of ships has increased, marine pilots still embark and disembark moving vessels by using a rope pilot ladder. The pilot transfer is a hazardous operation, so it is absolutely essential that these ladders are correctly rigged and their use properly supervised by the crew.'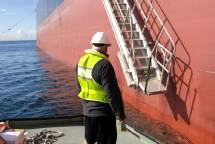 Using pilot ladders
Bill Evans of the MAIB has three pieces of advice for anyone using a pilot ladder:
inspect the ladder before and after use
ensure it is well lit and rigged correctly
supervise its use with a suitably qualified officer at the embarkation point who is in direct communication with the bridge and has lifesaving appliances close at hand, ready to respond if something goes wrong
Image: Getty Images
During Maritime Safety Week, the MAIB also highlighted incidents where seafarers have been struck by mooring lines, sometimes resulting in serious injury or death. Sadly, such incidents continue to occur. Crew should therefore make sure the right equipment is used and kept in good condition.
Planning – including risk assessments, control measures and ensuring there are neither too few nor too many crew to conduct the operation – is important when trying to conduct mooring deck operations safely. Areas where mooring deck operations take place need to be kept tidy, and mooring lines should be closely monitored on all berths.
As with all dangerous operations, crew communication is of the utmost importance when working on mooring decks, because it has the potential to be extremely hazardous if people are not able to interact clearly.
A more positive outlook?
Seafarers may be relieved to hear, however, that there are some signs that a greater emphasis on safety in recent years has improved matters and undoubtably saved lives.
According to Allianz's Shipping and Safety Review, the global fleet was losing 200+ vessels a year in the early 1990s but now this has dropped to between 50 and 75 per year, despite a significant growth in the number of vessels. Annual shipping losses have declined by 57% since 2012, while 2021 represents a significant improvement on the rolling 10-year loss average – something that Allianz attributes to 'the increased focus on safety measures over time, such as regulation, improved ship design and technology and risk management advances'.
This is good news for seafarers as well as shipping companies. When the European Maritime Safety Agency (EMSA) released its Annual Overview of Marine Casualties and Incidents 2021, it found a reduction of 18% in the total number of casualties compared with 2019 plus a reduction in the number of lives lost by 48% and the number of injured persons by 36% – an incredibly positive finding given the impact of the coronavirus pandemic on the shipping industry. This continued an ongoing positive trend since 2014.
As with the MAIB's advice, EMSA's report highlights for seafarers the most common causes of injury and death. Fishing vessels remain the most dangerous. The main causes of death were vessel collisions and slipping/falls (nearly 10% of which involved someone going overboard). It also shows when to be most vigilant: from 2014 to 2020, the departure phase was the safest segment of a voyage and the en route portion the most unsafe, but 41% of casualties occurred in port areas.
However, while many of the threats to life and limb onboard are traditional ones, seafarers will need to remain vigilant. In the 2022 Emsafe report, also from EMSA, researchers identified a number of growing issues that will require different solutions, including fire safety on ferries plus the carriage of battery-powered vehicles on ships, the increased use of potentially hazardous alternative bunker fuels and the novel risks of automation.
MLC amendments affecting safety to come into force
During the pandemic-related crew change crisis – the effects of which are still being felt – many seafarers faced dangerous levels of fatigue because their fundamental rights under the Maritime Labour Convention 2006 (MLC) were not respected.
The UK Maritime & Coastguard Agency has updated three M-notices regarding MLC rights that have now been amended at a tripartite level, due to deficiencies exposed in the Covid-19 pandemic.
These M-notices cover, among other areas, the requirement for seafarers to serve no more than 11 months onboard and what companies must do if this limit is exceeded; the detailed mandatory requirements regarding hours of work; and the entitlement to shore leave and medical care.
Image: MCA ship inspection on safety compliance. M.Crozet/ILO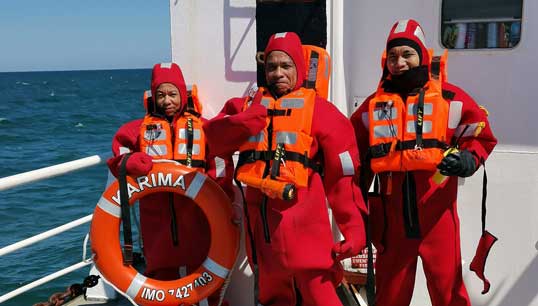 Fishing boat crew wins Seafarers' Charity safety competition
As part of Maritime Safety Week, the Seafarers' Charity launched a competition open to everyone who works at sea, with participants asked to practise and improve their crew muster safety drill. Crews onboard everything from chemical tankers to the UK Border Force submitted photographs and videos of their safety drills. The competition judges included Robert Greenwood, director of The Safety Folder, and Captain Jeff Parfitt, head of safety and environment at The Nautical Institute.
The winner was the crew of the fishing vessel Karima, with a close runner up being the crew on another fishing vessel: the Benaiah IV. The Karima's crew even managed to halve their drill time to 2 minutes and 27 seconds after repeated practices. This was heartening to see, since European Maritime Safety Agency (EMSA) data shows that the number of accidents involving fishing vessels increased between 2014 and 2020, and these vessels remain the type of ship with the most accidents.
The top four vessels were awarded Safety Champion 2022 plaques and gear from Guy Cotton Clothing and XtraTuf.
Image: Crew from the vessel scooping first prize – the Karima/The Seafarers Charity
read the full story
---
Tags