Members at work
RFA first officer Emma-Louise Elgar calls for the removal of the social stigma attached to new parents returning to sea
22 July 2021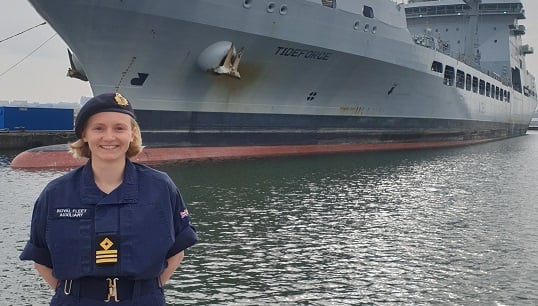 Emma-Louise Elgar grew up in Yorkshire and is a first officer in the Royal Fleet Auxiliary (RFA).
What originally attracted you to a career in maritime?
I was given the opportunity to sail with the Ocean Youth Trust North East on their 70ft ketch when I was 17. This gave me the bug for sailing and being at sea and it was from this that I decided that a career at sea was something that I wanted to pursue.
Do you have any personal or family connections to the sea or inland waterways?
My father worked as a Merchant Navy technician for an oil and gas company during my early teenage years, so I was used to him working away at sea for weeks at a time and loved listening to his stories.
What did you do in your career and/or education before joining the maritime sector?
I studied and completed my A-Levels at Scarborough Sixth Form College. This was then followed by joining the Ocean Youth Trust North East as their bosun before stepping into the role as their project development officer securing sponsorship and booking voyages for young people.
What does your current job involve?
My role over the last few years has predominantly been navigation and operational planning on RFA tankers. During 2020, whilst pregnant, I conducted a special projects role in RFA headquarters researching and writing policy for a change to RFA tanker refits and also the conduct of polar operations for RFA ships. Most recently, since returning to sea, I have been the chief officer onboard RFA Tidesurge and RFA Tideforce. This has involved being the head of the executive/deck department, stability, cargo work, explosive-responsible officer and also the security officer.
Who has helped you the most in your career?
I have not had one individual person who has helped me the most in my career or specifically taught me something; instead there have been numerous people within the RFA and Fleetwood Nautical College who have helped me along the way.
However, it is without doubt that I would not have had the strength and determination to get where I am today without the support from my family and especially my husband, who has taken on the challenge of juggling full time work and primary carer of our 11 month old son to enable me to return to work and continue my career progression.
What is the one change that would make the biggest positive difference to your job as a maritime professional?
It would have to be a change in societal pressure and the removal of social stigma attached to new parents returning to sea. It is challenging in the first place for any parent to spend a period of time away from their loved ones especially dependants, but the added guilt that is placed on parents returning to sea and especially mothers that choose to return can not only be damaging to mental health but adds unnecessary pressure and stress to an already challenging career.
What are your plans for the future/career aspirations?
At this time, I very much intend to continue balancing my work and home life and wish to remain a seafarer with the RFA with the ultimate goal of achieving command.
If you're working at sea now, would you like to take a job on shore in future?
Within the RFA there is the opportunity to take up a shore position at certain points in your career depending on rank and specialisation. Having already completed a 12-month period ashore it is my hope to take up a two-year chief officer posting ashore with the RFA at a suitable point in time and then again once I have reached the rank of captain.
Having had the experience in a varied shore post already I see the great value that an insight into the shore side world has. I found it to greatly helped me to develop a much better understanding of the wider picture and the organisation of the RFA as a whole.
How long have you been a member of Nautilus, and what made you join?
I joined as a cadet in 2010 and have been a member ever since. I believe that in order to make change and have the support to do so then the added assistance by being a member of a union is beneficial. Being part of a seafaring community is important as well as having a union on side for difficult discussions and support.
Are you a member of any Nautilus forums or committees?
I have attended a number of the Nautilus Women's Forums. I also attended and delivered the Nautilus motion at the annual TUC Women's Conference in London in 2018.
What do you like doing in your free time?
The hobby that I enjoy the most is hill walking with my husband and son. Whenever we get the opportunity, being out in the fresh air is great for both the physical and mental health and a great opportunity to engage in great conversation.
Are you involved with any maritime charities or volunteer organisations?
I am signed up to the mentoring scheme with the Honourable Company of Master Mariners awaiting a mentee.
What is your favourite place visited during your career?
Diego Garcia in the middle of the Indian Ocean whilst I was a cadet. It is a place that you would never be able to visit on holiday, so it was a privilege to visit for work.
What is your favourite holiday / travel destination?
I have been lucky enough to travel to many countries in the world both on holiday and through work as well as taking six months in 2009 to travel and volunteer in 5 different countries. This means that it is impossible to choose a favourite, as every country I have visited has memories – some better than others but all equally memorable in their own way.
What is your favourite film?
Robin Hood Prince of Thieves and Pretty Woman have always been my favourite films, as at heart I am a true romantic but value the struggle that sometimes need to be overcome.
What are you watching on TV right now?
In the down time that I have I watch American series based around emergency services such as hospital, firefighting and police-based series. Though not entirely true to life, I find the world of emergency service interesting.
What's your favourite podcast / app / website?
I tend to be an Amazon addict especially since COVID and the birth of my son.
Tell us one thing that people may not know about you.
When I was 36 weeks pregnant, I climbed Yorkshire's highest mountain only to be stopped from reaching the trig point by a narrow gap in the wall that I was unable to squeeze through!
---
Tags