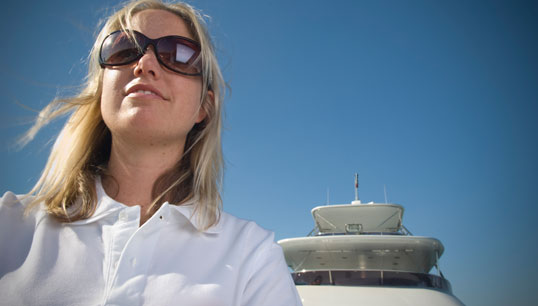 Romantic notions of travel, adventure and seeing the world were the most common themes, alongside money and career opportunities, when members responding to the Nautilus International Social Conditions Survey 2021 were asked what first inspired them to work at sea.
A significant number of members said that a family history in the maritime industry inspired them to undertake their own career at sea. This perhaps illustrates the need to provide inspirational role models and mentoring for young people who are not fortunate enough to grow up in a seafaring family.

Facilities and improvements to life at sea
The survey clearly shows that improved pay and connectivity are key priorities for seafarers, alongside a reduction in the level of paperwork and access to gym facilities.
Given the potential improvements to physical and mental health that could be generated if improved connectivity and greater access to gym facilities were made available, there is a clear case for employers to make further progress.
Thinking about your job, what changes would most improve your life at sea?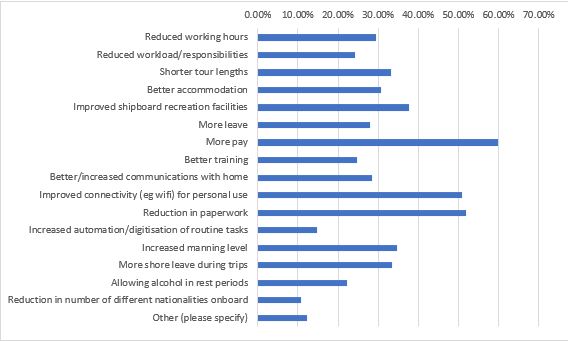 Below is a list of shipboard facilities. How important is each to you?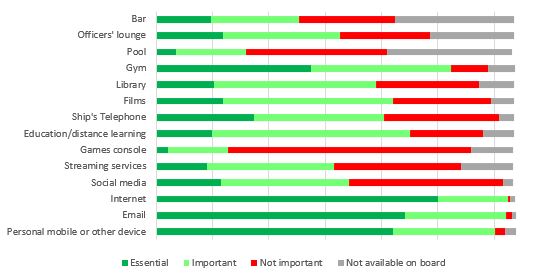 There is no social life onboard. Due to the minimum amount of crew onboard, people are either working or sleeping Nautilus International Social Conditions Survey 2021
Bullying and harassment
There were numerous references to bullying and harassment in the open comment section of the 2010 survey, leading to specific questions being added in 2021.
Have you experienced bullying or harassment onboard from colleagues, managers or others?
| | |
| --- | --- |
| No | 72% |
| Yes (give details if you would like) | 28% |
Have you witnessed bullying or harassment onboard from colleagues, managers or others?
| | |
| --- | --- |
| No | 58% |
| Yes (give details if you would like) | 42% |
It is deeply concerning that such a substantial proportion of seafarers have either experienced (28%) or witnessed (42%) bullying or harassment. This appears to indicate that bullying and harassment are an ingrained part of day-to-day life in a large part of the maritime workforce.
The details that were provided by those who have experienced or witnessed bullying and harassment set out behaviour ranging from deeply unpleasant to illegal, or even life-threatening.
The clearest possible message has to go out from every part of the industry that bullying and harassment will not be tolerated, and that any concerns raised will be appropriately investigated and acted upon.
Comments about the behaviour experienced or witnessed include:
'Senior officer using rank privilege and company connections/status within the company to enable bullying.'
'Homophobia.'
'Sexism and racism.'
'Apprentices were bullied by chief engineer.'
'Male guests harassing female crew.'
'Threatened with a knife (myself), seen someone get stabbed.'
Hours of work and rest
A 2020 World Maritime University (WMU) report found that a systemic underreporting of work and rest hours has normalised fatigue among seafarers.
Shipowners sought to discredit the report, but Nautilus's survey findings substantiate the WMU's research. Despite a significant proportion of respondents working in senior roles on UK- and Netherlands-flagged vessels with higher-than-average standards, more than a third of seafarers told us that they have experienced pressure to alter or adjust hours of work and rest records.
Do you have confidence in the accuracy of hours of work and rest record keeping?
| | |
| --- | --- |
| Always | 33% |
| Sometimes | 45% |
| Never | 20% |
| Don't know | 2% |
Have you ever felt under pressure to alter or adjust hours of work and rest records?
| | |
| --- | --- |
| No | 64% |
| Yes (give details) | 36% |
A culture of adjustment
The WMU Culture of Adjustment report recommends a rethink over safe crewing levels. It calls for a re-examination of the thresholds set out in the Maritime Labour Convention 2006 and the STCW, and of the two-watch system.
Download the report
---
Tags