Nautilus news
Nautilus Social Conditions Survey: In their own words – maritime workers on what life onboard is really like
11 January 2022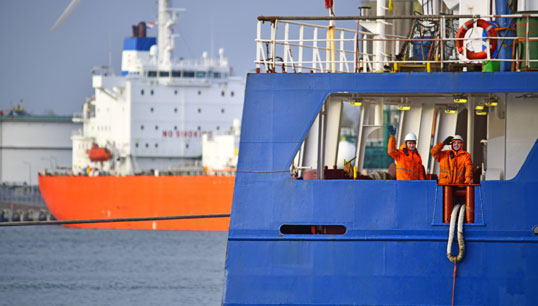 The Nautilus International Social Conditions Survey is a decades-long research project that lifts the lid on how seafarers are treated in the maritime workplace - in the words of Nautilus members themselves. It is the world's largest, independent, survey of seafarers for seafarers, and lays bare the systemic treatment of a global workforce that is mostly 'out of sight and out of mind'
The Nautilus International Social Conditions Survey comes on the back of the biggest global upheaval in the past 100 years, the coronavirus (Covid-19) pandemic.
Covid-19 has exposed the fragility of the global economy in responding to an event that was unexpected and rapidly engulfed the world. It has exposed the weaknesses in the governance, structure and regulation of the shipping industry.
Seafarers are among the many heroes in this crisis. Even in the darkest days of the pandemic, they never stopped carrying the essential goods to keep the global supply chains open.
Seafarers' unions and maritime employers, along with many international organisations, have worked tirelessly to ensure that the professional dedication of our seafarers is recognised.
Through the Nautilus International Social Conditions Survey, now in its third decade, the Union is listening to maritime professionals and learning from them.
It is an opportunity for members to tell their story about the precarious situations they have encountered before, during and after the pandemic. Long contracts at sea and being thousands of miles away from families and friends – often with inconsistent or no internet access – can be incredibly isolating and challenging.
There is isolation, there is bullying, and workers can't go home at the end of the day to get away from it.
This should be an alarm bell for all of us. Seafarers are professionals but they are human beings too – they work to provide their families with a living.
They must not be deprived of the basic human rights that everyone else benefits from. Their contractual rights must be respected, because the line between denial of workers' rights and forced labour is a very thin one.
Members repeatedly report how important staying connected with loved ones ashore is for mental health and wellbeing.
The Union has campaigned for all seafarers to have access to free internet services at sea – connectivity like that enjoyed by those who go home to loved ones every night – because, after all, the ship is a seafarer's home for many months of the year.
Seafaring is a unique and rewarding career that benefits 1.6 million workers across the maritime industry globally. Like many industries, it is experiencing a significant and rapid transition as new technologies emerge and countries seek to achieve environmental and social goals. All seafarers need fair access to training opportunities to ensure there is a skilled maritime workforce in the coming years.
Nautilus urges governments to develop proactive policies to maximise the employment of seafarers and equip them with the skills required to take advantage of future opportunities. This report explains – often in the words of the seafarers themselves – why this is important.
Seafarers are among the many heroes in this crisis. Even in the darkest days of the pandemic, they never stopped carrying the essential goods to keep the global supply chains open Nautilus International Social Conditions Survey 2021
About the survey and participants
This is the fourth time that Nautilus has conducted research into members' views and experiences of conditions at sea, with previous surveys taking place in 1991, 2001 and 2010.
Participation
The survey was completed by 1,623 union members, compared with just under 1,200 members in 2010 – an increase of more than a third.
Some 94% of those who completed the survey were male and 6% were female, which broadly reflects the gender divide amongst the total Nautilus membership and shows a stronger female presence than in the wider maritime industry, in which only 2%-3% are women. A small number of respondents either did not wish to share information about their gender or selected 'other'.
There was a broader representation of ages than in previous surveys, with both younger and older members better represented.
What is your age?
| | | | |
| --- | --- | --- | --- |
| | 2021 | 2010 | 2001 |
| 20 or younger | 15% | 1% | 2% |
| 21-29 | 12% | 16% | 11% |
| 30-39 | 22% | 14% | 14% |
| 40-49 | 21% | 23% | 38% |
| 50-59 | 23% | 37% | 32% |
| 60 or older | 19% | 9% | 3% |
Rank/job role
The 2021 survey gathers data from a wider range of ranks and job roles than the 2010 survey, with 73% of respondents working as ship's officers (including masters and chief engineers) compared with 85% in 2010. This change reflects the Nautilus policy in recent decades of embracing all maritime professionals rather than being the 'officers' union' as it was sometimes known in the past.
---
Tags