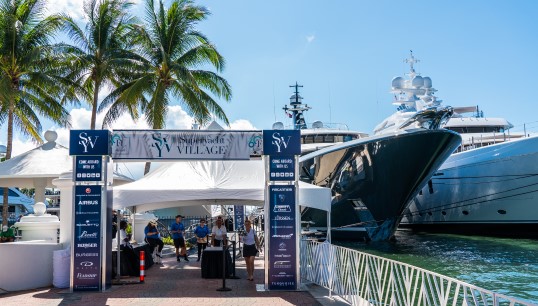 Two of the biggest events of the superyacht calendar are fast approaching. What can crew expect from the Monaco Yacht Show and Fort Lauderdale International Boat Show in the second year of the pandemic? Laura Molineux reports
As the summer season begins, superyacht shows are making a welcome return.
The 2021 edition of the Palma Superyacht Show, which took place from 3-6 June, was the first European event to go ahead since 2020 and represents a step back towards normality. Despite enhanced Covid security, social distancing and PCR tests, it was a success and well attended too. Fewer superyachts were present, but there were still 67 exhibitors and a good number of visitors who braved national travel restrictions.
Now, the Monaco Yacht Show (MYS) is on the horizon.
MYS: back after a break
MYS was cancelled last year – partly because so much of the superyacht fleet was in the Caribbean and US – but organisers Informa promise that this time 'the show goes on' during the 30th anniversary of the event.
Due to be held from 22-25 September, 60 superyachts are expected to attend with 40 new yacht launches. New exhibits are also planned – one dedicated to sailing vessels, the second a design and innovation hub.
An anti-Covid sanitary protocol will be in place during the entire show, from preparation to dismantling. general manager of the exhibition Gaëlle Tallarida explains: 'We are following the evolution of the pandemic very closely, as well as the sanitary constraints applied in each of our visitors' home countries. As organisers of the exhibition, our responsibility is to ensure safe and healthy conditions for each visitor, exhibitor, service provider and member of staff. The MYS will therefore be following the health measures instigated by the principality's government, as well as the AllSecure health security programme, which is mandatory for all Informa Group events.' – more on AllSecure, which was tested last year in Fort Lauderdale, below.
What will these protocols look like? First, visitors will have to meet requirements from the Monaco government for travellers, which can be found at covid19.mc/en/travel/i-come-from-abroad. This web page includes details on documents that travellers need to present – for example, a negative PCR test or proof of vaccination.
Informa is controlling visitor numbers through compulsory online registration, except for holders of printed invitations. While at the show, face masks will be compulsory and hand sanitizing stations will be available throughout. Deep cleaning will take place before, during, and after each day's event.
Social distancing is expected from all attendees in line with local authority regulation. The show will also be following Monaco health authority guidance on detecting and managing anyone who displays symptoms of Covid-19.
FLIBS: no interruption
The Fort Lauderdale International Boat Show (FLIBS) was one of the few superyacht events to take place in 2020. The organisers – also Informa – say this year's version of FLIBS, which runs from 27-31 October, will be bigger and better.
Andrew Doole, president of US boat shows at the event's organising company Informa Markets, says the company is pleased with how things went before from an industry perspective, despite Covid:
'As the largest in-water boat show in the world, FLIBS has historically attracted exhibitors and visitors from every corner of the globe. The travel restrictions put in place due to the Covid-19 pandemic limited the number of international exhibitors and visitors that could attend the show, which resulted in greater representation of US-based exhibitors and customers writ large. The incredible demand for boating products that was catalyzed by the need for safe outdoor recreation allowed our exhibitors to showcase their highly sought-after products, resulting in spectacular sales and new customer prospects – a win-win for the industry.
'Not only did numerous exhibitors report outstanding sales and contracts resulting from the show, but the local hospitality and tourism industry also benefitted tremendously from visitors and patrons.'
But what about Covid safety?
'The 2020 FLIBS was the first major marine event to take place since the Covid-19 pandemic began, which allowed Informa to set the standard for how the trade industry could host safe, socially distant, and outdoor events that prioritized the well-being of exhibitors, staff, and visitors,' Mr Doole says. 'We leveraged our close relationships with government officials, health experts, and regulators to develop the AllSecure standards, which allowed us to provide an event that complied with local Covid-19 regulations and created a safe outdoor event for marine enthusiasts to enjoy.
'With comprehensive AllSecure health and safety standards in place, FLIBS implemented extensive precautions and guidelines that allowed for the five-day outdoor event to attract hundreds of exhibitors and thousands of customers. These measures included mandatory face coverings and social distancing, a contactless ticketing system, added and expanded entrances, widened docks, ongoing cleaning of all areas before, during and after each day's events, plus numerous hand sanitizing stations and CDC signage posted throughout the event.'
This time, Informa plans to continue with the AllSecure approach, but this will be adapted based on the most recent recommendations from local officials and health experts. However, there will be some differences to the show that crew will notice.
For starters, the Superyacht Village, which was cancelled in 2020 because it could not be made Covid-safe at the time, will be making a welcome comeback, with a whole range of exhibits.
Next, with travel restrictions being lifted and vaccination rates picking up, Informa are feeling optimistic about attendance and expect a return to pre-Covid growth. Long-time exhibitors that were unable to attend in 2020 are expected to rub shoulders with new participants. However, all attendees will be expected to follow the event's Covid rules.
'All event participants, including exhibitors, visitors, crew, and staff will be required to follow the recommendations set forth in the AllSecure standards,' says Mr Doole. 'The standards are being constantly reviewed by Informa and will be made available at www.flibs.com to review prior to the show date.'
Crew should be aware of the situation regarding vaccination in the State of Florida. Governor Ron DeSantis signed an executive prohibiting private businesses from requiring that individuals show proof of Covid-19 vaccination, which went into effect on 3 May. Therefore, no proof of vaccination will be required at FLIBS. However, this is now being disputed by in court by Norwegian Cruise Line, so members who travel to the state for work – whether aboard a yacht or in a different sector – should keep up to date with restrictions.
---
Tags