Nautilus news
Members highlight guidance needs at Nautilus Equality and Diversity Forum
7 November 2023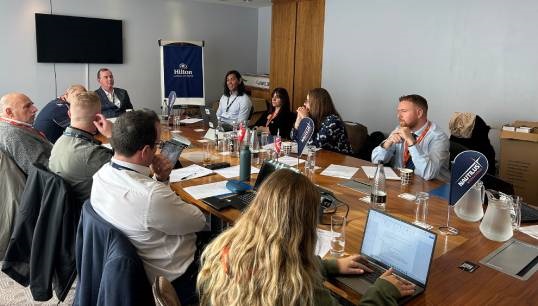 Information for senior officers looking to support colleagues emerged as a key theme of the latest Nautilus Equality and Diversity Forum.
Held in-person in Liverpool in the run-up to the October 2023 Nautilus General Meeting, the session covered a range of issues related to fostering a more inclusive maritime workplace.
Women in maritime
Nautilus official Rachel Lynch gave an update on the Union's work for women members, drawing attention to the guidance Nautilus developed with partner organisation International Seafarers Welfare and Assistance Network (ISWAN) about personal safety for yacht crew seeking work. She also encouraged members to participate in the Safer Waves research into sexual harassment at sea, which is open until the end of December.
take part in the online survey of experiences of sexual harassment at sea. Responses are welcome whether or not you have experienced or witnessed sexual harassment. The research is being carried out by the University of Winchester for the Safer Waves charity, and the survey will be open until the end of December.
Young maritime professionals
Representing young maritime professionals, Robert Murtagh noted that the findings of a Nautilus survey about the cadet cost-of-living crisis are now feeding into the Union's campaigning and lobbying work.
Head of professional and technical David Appleton added that a UK Maritime Skills Commission study of the sea time experience of cadets is also starting to bear fruit, with a recommendation likely to emerge that cadet training should be 100% state funded and sea time centrally administered to even out the quality of onboard training.
Sanctions may be considered for UK tonnage tax companies who do not provide good onboard training, and International Transport Workers' Federation inspectors around the world are starting to check cadets' training record books.
Members at the Forum said that it would be useful if each cadet 'came onboard with a set of instructions' making it clear what senior officers were supposed to do for their training. Mr Appleton reported that the UK Merchant Navy Training Board is working on just such a guide, and there are plans for an international version produced by the International Chamber of Shipping.
Pride in Maritime
The issue of onboard support for colleagues also arose in the section of the Forum dedicated to LGBT+ matters. Senior officers said they would appreciate more guidance on challenges such as colleagues fearing discrimination because of their sexual orientation or gender identity.
Equality and Diversity Forum secretary Danny McGowan said that Nautilus would look into this, but it would be a very complex issue that would need to involve employers and acknowledge different legal positions around the world.
He also encouraged members looking to share ideas and experiences on the issue to attend the Nautilus Equality and Diversity Forum and the Maritime UK Pride in Maritime events.
He noted that the industry as a whole is waking up to the need to recruit from as wide a pool of talent as possible, and a paper on this had recently been submitted to the International Maritime Organization. The paper had been developed as part of a project called I Exist Too, led by Nautilus member Gustavo Aguilar-Miranda, who was present at the Forum.
the next meeting of the Nautilus Equality and Diversity Forum will take place in April 2024. Members can look out for their email invitation to take part nearer the time
---
Tags