Welfare
Maritime charity column: seafarer solidarity strengthened in conflict, by the head of the ITF Seafarers' Trust Katie Higginbottom
1 March 2023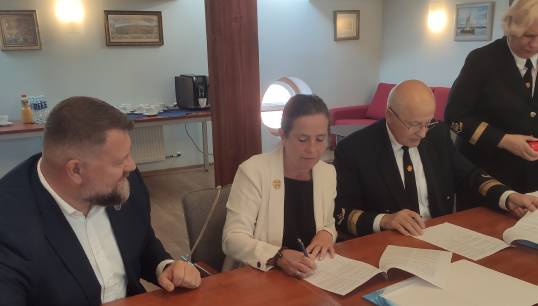 Head of the ITF Seafarers' Trust Katie Higginbottom hears of transport workers' war bravery during her visit to Ukraine as part of an ITF/ETF solidarity delegation.
On a bleak evening in January, I found myself making the road trip from Budapest to cross the border into Ukraine to meet up with the ITF affiliate unions from both the maritime and railways sectors.
I had the privilege to be part of an ITF/ETF solidarity delegation to discuss our collective efforts to support Ukrainian transport workers and their families. During an emotional but focused meeting we heard of the extraordinary bravery and commitment of the 'iron men' of the railways working under fire to transport displaced people and deliver essential supplies in the midst of ongoing hostilities. For seafarers caught up in the conflict, the challenges are different but no less severe.
Together with the Marine Transport Workers' Union of Ukraine (MTWTU), the ITF Seafarers' Trust has been able to deliver a number of targeted projects – from emergency medical support at the outbreak of war, to transportation for family members seeking a safe haven outside of the country, and most recently providing scholarships for Ukrainian cadets.
In August last year we signed contracts with the Lithuanian Maritime Academy and Kherson State Maritime Academy to enable 50 cadets to complete their studies in the Lithuanian port city of Klaipeda. We followed this with funding for an additional 30 cadets from disadvantaged backgrounds to continue their studies at Odesa Maritime Academy. This is, of course, a drop in the ocean, but for those benefiting from the programmes, it is life changing. All credit must go to MTWTU for managing the complex logistics in ever changing circumstances on the ground.
Donations can be made to the Ukraine solidarity fund.
The maritime charity column is a regular feature in the Nautilus Telegraph. Submissions are invited from a range of organisations by the Telegraph editor.
---
Tags