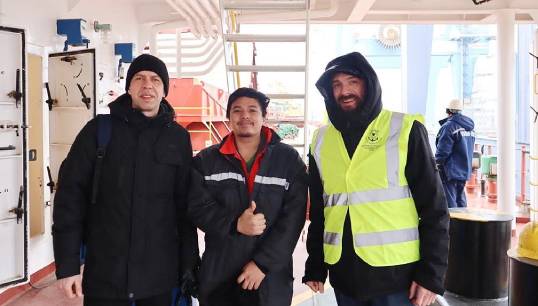 Regular ship visits have been resumed by maritime chaplains in the war-torn Ukrainian port of Odesa, after almost a year of not being able to do so due to safety concerns.
Global charity Stella Maris Odesa port chaplain Alexander Smerechynskyy and assistant chaplain Rostyslav Inzhestoikov were granted special permission to go onboard ships from 24 January 2023 . With a military escort at all times, they are able to once again provide a friendly face to seafarers who had been alone on their vessels in the port for many months.
During the months that they were not allowed to visit ships, the chaplains ensured the practical delivery of food parcels to seafarers trapped on ships in the Black Sea as well as using social media for remote pastoral support.
Through Stella Maris' Centenary Emergency Fund, the chaplains also provided tens of thousands of pounds of urgent life-saving grants to hundreds of needy Ukrainian seafarers and their families. They also ran a soup kitchen and helped organise safe places of refuge for Ukrainian seafarers finishing contracts overseas and their families fleeing the country. The charity also launched a psychological support service for seafarers and their families in Ukraine.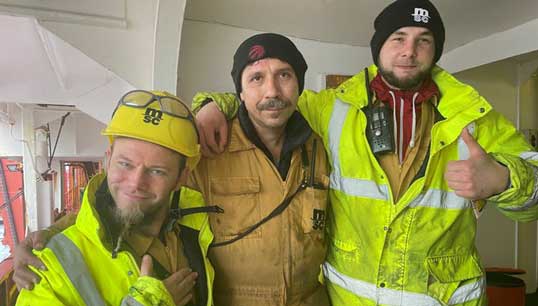 MNWB updates its ship visitor course
The Merchant Navy Welfare Board has updated its popular ship visiting course with a renewed focus on rights at sea and security.
The course is aimed at all employees and volunteers of charities within the maritime sector, from port chaplains carrying out ship visits to volunteers driving the local seafarer centre minibus. It equips ship welfare visitors with a basic appreciation of protocol, security, safety, and other issues related to port facilities and ships.
Image: Merchant Navy Welfare Board/sim card distribution on a ship visit
Register here
---
Tags