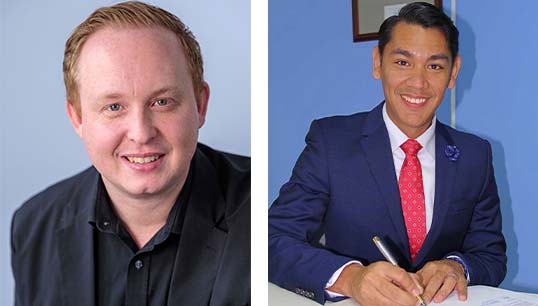 Inclusive national policies don't necessarily translate into global protections for LGBT+ seafarers, so how can the maritime workplace be made safer for maritime workers? Deborah McPherson asked the question of Nautilus diversity official Danny McGowan and researcher and former shoreside maritime worker Gustavo Abdiel Aguilar-Miranda ahead of the first UK Pride in Maritime Day on 28 February 2022
Towards the end of 2021, a Maritime UK Pride in Maritime network meeting heard that countries where human rights are under assault may pose difficulties for LGBT+ maritime professionals.
There is understandable concern about how to protect crew or other workers who must travel for their careers to countries with poor records on treatment of LGBT+ workers. The International Lesbian, Gay, Bisexual, Trans and Intersex Association (ILGA World), a global federation of LGBT+ organisations, conducts work in various United Nations forums and publishes regular mapping data on 'state-sponsored homophobia'. In 2020, it found that around one-third of UN member states still criminalise same-sex consensual sex between adults, including several countries where the death penalty may be applied.
Nautilus official Danny McGowan is secretary of the Union's Equality and Diversity Forum and chair of the Maritime UK Pride in Maritime Network. He points out that assaults on some rights are an assault on all our rights:
'LGBT+ maritime professionals face specific concerns in the shipping industry, and raising the issues is about protecting the rights of all seafarers. It is about enabling LGBT+ maritime professionals to work without fear of discrimination or ill treatment and ensuring they can be their genuine selves at work.'
Harassment and discrimination are key considerations for some crew, he added, in that LGBT+ maritime workers are likely living onboard with seafarers of different nationalities, who may or may not have similar societal beliefs or similar levels of respect for LGBT+ people – perhaps because of the laws in their home countries.
'Nautilus wants to see companies offering reassurance to LGBT+ seafarers that the company has their back when and if they have to travel to different jurisdictions with different laws and different beliefs,' says Mr McGowan.
Having diversity policies is also important in ensuring reassurance and protecting employees, he says.
'A company doesn't necessarily need to know who all its LGBT+ seafarers are, but it can have a diversity policy in place that references support. That would communicate to LGBT+ maritime professionals that they are safe when they are at work; that a company recognises it works globally; that there are different needs for different people; that it values LGBT+ employees; and that it can offer ways to address concerns about postings or itineraries.'
Whether a Union member's employer is responsive on these issues or not, Mr McGowan is clear that Nautilus is ready to help: 'We want LGBT+ seafarers to come and speak to Nautilus openly about any concerns they have, and they will receive support from their industrial organiser. If they want to speak to somebody else directly on diversity, I'm there to assist members who have specific concerns.'
'LGBT+ maritime professionals face specific concerns in the shipping industry, and raising these issues is about protecting the rights of all seafarers' Danny McGowan, secretary of the Nautilus Equality and Diversity Forum and chair of the Maritime UK Pride in Maritime Network
---
Tags