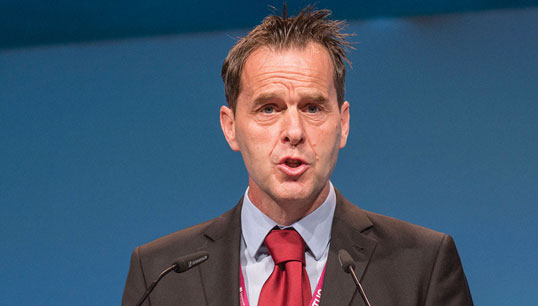 Garry Elliott comes from a seafaring family. His grandfather was on the Arctic Convoys from Liverpool to Russia between 1940 and 1945, and his father served in the Royal Navy for 21 years. Garry was born at Faslane (Clyde) naval base in Scotland, and himself joined the Royal Navy as a weapons engineer aged 16.
However, most of his adult life has been devoted to the trade union movement, with 20 years working for the Communication Workers Union and another two decades with Nautilus International.
He joined Nautilus in 1999 as an industrial officer, working in the offshore and ferry sectors. As his career with the Union progressed he was promoted to national secretary, taking responsibility for recruitment and membership. This was at an interesting time when the Union was first seeking to grow membership in 'greenfield' sectors without a tradition of union membership among their workers – particularly the superyacht sector.
It wasn't always plain sailing, but Garry felt he had the support of the Union management. 'Both Brian Orrell and Mark Dickinson as general secretaries gave me the opportunity when others questioned the worth of using resources to go and develop an untouched maritime sector,' he remembers. 'And now, 15 years on, we have a strong presence in yachting and offer a world-leading Commercial Yacht Service Record Book administered for members on behalf of the Maritime and Coastguard Agency. I am very proud of everyone in our team who helped to make that happen.'
Garry's next promotion was to senior national secretary, and he took on responsibility for the Organising department, which had merged recruitment, membership, industrial servicing, and training into one. 'And now, as head of organising, I also take responsibility for Union governance,' he says, 'which I find interesting, and I am exploring the opportunities that lie ahead as we look to bring more young members into the decision-making bodies of the Union.'
He continues: 'My current role makes me responsible for the Union's organising activity in the UK, Netherlands and Switzerland. We aim to grow the Union through recruitment both in traditional areas and within the yacht sector, windfarms and the fisheries, whilst ensuring we maintain our high levels of industrial service to members.'
This industrial service has had to rise to some particular challenges this year related to the Covid-19 pandemic. 'Members have faced issues with repatriation, tour lengths and amendments to terms and conditions of employment, and in some cases redundancies. The Organising team has worked vigorously to resist job losses, whether on the basis of voluntary or compulsory redundancy, whilst also engaging with employers to ensure they do not go into administration.'
However, the pandemic has provided the Union with membership growth, he notes, 'as existing and new members have seen the worth of having a professional body look after their interests at such a trying time.'
It's an unexpected silver lining that has given Garry hope for the future of the Union and the Nautilus Federation. 'We have strength in numbers and some great young people coming through in the Union staff and membership who will pick up the baton and take our work forward in all sectors.'
Meanwhile, Garry will continue to lead the way from his base at the Union's Wallasey office in Merseyside, keeping fit for the challenges ahead with some pretty serious competitive sport. 'I played semi-professional football for Ashford, Folkestone, Canterbury and Dover in my earlier years, and now still play 40 years later for Warrington Town vets in the mid-Cheshire league.'

---
Tags