Nautilus news
Face of Nautilus: Jane Davies, registered manager Mariners' Park Care Home and Nautilus Care
20 July 2020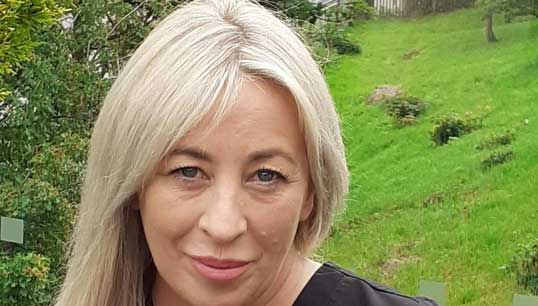 As the manager of care services at the Nautilus Mariners' Park retirement estate, Jane Davies found herself in the eye of the storm during this year's coronavirus pandemic.
'We locked down earlier than most care homes in the Wirral and followed all guidance available at the time,' she says. 'Unfortunately, it is now widely known that staff may have had the infection without symptoms, which is so hard as we were dealing with something we couldn't see. Despite locking down earlier than most, wearing medical-grade PPE and mass-testing as soon as tests became available, this deadly virus still invaded our lovely home.'
As the long, difficult weeks of the spring and early summer went by, staff developed marks on their faces from wearing masks and red raw hands from washing and alcohol gel, and everyone was scared and emotionally drained. Jane moved into the home to be on site full-time, and says she drew strength from her team.
'Every department pushed themselves to the limits to care for and keep residents safe. We are completely there for each other like nothing I've ever known. This must stay this way beyond Covid-19, and has changed my leadership style so much.'
Now, thankfully, the infection rate in the UK is dropping, and it is possible to ease some of the strictest pandemic restrictions. Residents at the Mariners' Park Care Home and the Park's independent housing are able to leave their rooms, as long as social distancing is observed, and spend time in communal lounges and the estate's beautiful gardens.
It's a moment for Jane Davies to pause for breath and reflect on her 15 years working for the Nautilus Welfare Fund.
She joined the Union's registered charity in 2005 with a background in care home nursing, child protection work and as a local authority support officer for residential homes.
At that time, Mariners' Park had been offering sheltered accommodation for retired seafarers and their dependants for nearly 150 years, and had a respected nursing home on site, but modernisation was needed to introduce recent developments in good practice. This included 'extra care', a term which means providing as much support as possible to help older residents stay in their own homes.
I feel that my work at Mariners' Park is like visiting my second family each day Jane Davies, registered manager Mariners' Park Care Home and Nautilus Care
Leading the modernisation in 2005 was Liz Richardson, the Nautilus welfare director at the time. 'I remember the conversation with Liz about how beneficial extra care would be to residents,' says Jane, 'and she felt my previous work in that field was useful. Liz really believed in me. The Nautilus Care service and team developed from two staff and two residents, and we're now delivering housing support and over 150 domiciliary care hours for residents living in the Trinity House Hub and the wider park.'
Other highlights of Jane's career with the Nautilus Welfare Fund have been researching and developing the Nautilus Caseworker Service, a system offering financial and healthcare support to ex-seafarers around the UK which is now overseen by welfare services manager Mick Howarth. Mick and Jane have also worked together with colleagues to introduce a dementia wing at the Mariners' Park Care Home and improve disability access throughout the Park.
But the best thing about Jane's job? 'I feel that my work at Mariners' Park is like visiting my second family each day. I've never known this in any other workplace. I love hearing about our seafarers' lives and the tales – some I wouldn't repeat! I think you have to be very open-minded and a good listener, as residents can come to you with a whole range of issues.
'I have sat all night with a gentleman having a psychotic episode and supported couples to look after one another at home until their loved one has passed away peacefully and with dignity. Sometimes we are their only family, and that makes the job my life, not so much the nine-to-five. I love this job, these amazing, selfless colleagues, these people, this place.'
---
Tags