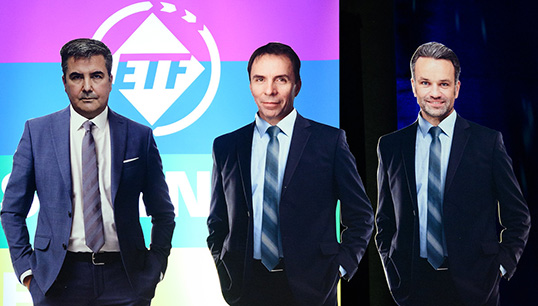 Did you know that you are a member of the European Transport Workers' Federation? Nautilus is an affiliate of the ETF, so individual Nautilus members are part of the Federation too.
Sometimes, international collaborative work can seem a little remote to our everyday experiences as Union members, but the ETF brings massive strength in numbers to tackling issues that affect us all.
Climate change, decent jobs, precarious work, health and safety at work, automation, digitalisation, globalisation. These are all challenges where unions can often create change more effectively through working together as a federation.
So what maritime issues were on the agenda at the 6th ETF Congress in Budapest in May 2022? Here are some snapshots of the event from the ETF maritime team.
Worst employer in Europe
After stiff competition, this year's ETF Congress awarded P&O Ferries CEO Peter Hebblethwaite the accolade of Worst Employer in Europe in recognition of his actions in firing 800 seafarers over a Zoom call without any consultation with workers or their unions – a clear violation of the UK's labour legislation.
Over 500 delegates voted in the Worst Employer competition, representing over five million transport workers from across Europe. Mr Hebblethwaite triumphed over two other famously unscrupulous employers in the European transport sector: Wizz Air CEO József Váradi, and Nemlig.com founder and CEO Stefan Plenge.
European Maritime Space
The unprecedented sackings at P&O Ferries were the last straw for Europe's seafarers. It's time for Europe to get serious about enhancing seafarers' working conditions and protecting maritime jobs. Seafarers working in European waters should be treated the same way as shore-based workers. There must be a well-regulated European Maritime Space, with no social dumping and unfair competition in Europe.
ETF Maritime chair Kenny Reinhold said: 'We need to ensure employment conditions onboard a ship operating between different states are those of the country that applies the most favourable standards and achieve a level playing field among shipping companies and seafarers.'
Inland waterways
Climate change is affecting workers on Europe's rivers, canals and lakes. ETF Inland Waterways chair Joris Kerkhofs said: 'The dramatic pictures of the shrinking glaciers are famous; these glaciers feed our rivers, and without sufficient precipitation, there are no inland waterways. And we all know possible solutions require vast investments: investments in new fuel technology, new engines, new vessel designs to navigate on shallow waters and automated processes. The big question remains unanswered: who will pay this bill?'
Dockers
Automation and digitalisation are generally considered life changers, and there have been widespread concerns that these will lead to losses of jobs and skills among dock workers. But after a lot of work to recruit more union members and improve solidarity, ETF Dockers chair Terje Samuelsen said that dockers are now on solid ground when demanding, in unity, 'no automation without negotiation'.
Fishers
The fishing sector must reach a balance between environmental sustainability and economic/social sustainability. ETF Fisheries chair Juan Manuel Trujillo Castillo said: 'The Common Fisheries Policy needs to develop a strong social dimension, focusing on fishers' working conditions, training, qualifications, safety and decent pay.
'This would enable the sector, the workers and coastal communities to offer perspective to a new generation of fishers. We do not want to end up in the situation that Europe is forced to import fish products from third countries where environmental and social standards are likely poorer.'
---
Tags