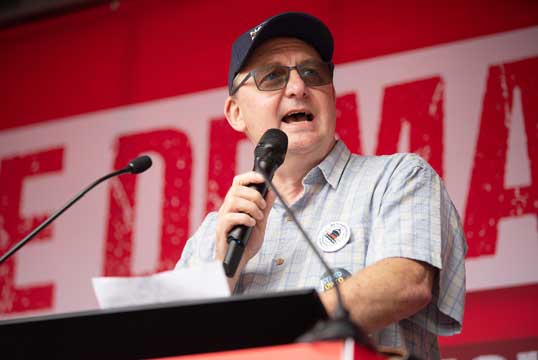 Nautilus general secretary Mark Dickinson led calls for stronger collective bargaining rights and an end to exploitative employment practices at the We Demand Better March and Rally, organised by the Trades Union Congress (TUC).
He was asked by the TUC to address a crowd of thousands of union supporters in Parliament Square on Saturday, speaking on behalf of maritime workers following the actions of P&O Ferries in firing its entire UK onboard workforce.
'A little over three months ago, 786 loyal and dedicated seafarers were disgracefully and illegally sacked by P&O Ferries. 786 people with families to care for and bills to pay saw their jobs cruelly taken from them in the space of a three-minute pre-recorded video message,' Mr Dickinson told the crowd.
He described the illegal behaviour of the company, which is currently under criminal and civil investigation by the Insolvency Service following union pressure. He highlighted that the company is now leading a 'race to the bottom' in pay and conditions, and that working people must stand together to resist such actions.
'P&O Ferries should be a warning to every single one of us. This isn't just one bad apple. The weak employment laws in this country and the further restrictions on the work of unions must be addressed,' he said.
'P&O Ferries must be a turning point. We need a new deal for workers in this country. We must join forces across the trade union movement and demand stronger collective bargaining rights and an end to exploitative employment practices like fire and rehire.
'We can only do this together. We demand better.'
An estimated 30,000 people turned out for the rally, including Nautilus members and staff. The TUC organised the rally as an opportunity for union members and allies to demand a new deal for working people, including better employment protections, help with energy bills and a real pay rise for every worker to address the cost of living crisis.
The full speech can be viewed on the Nautilus International YouTube channel.
---
Tags