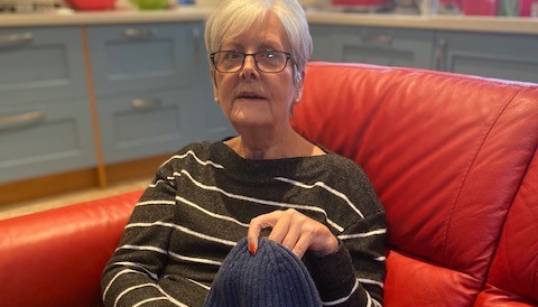 A Nautilus member has revealed how a chance meeting brought him face to face with a woolly hat knitter – one of the many welcome gifts seafarers often receive at Christmas via maritime charities with contributions from generous but anonymous donors.
'Christmas has always been a time when you wanted to be home with family and friends. However, to maintain the transfer of goods around the world we continue to work 24/7 for 365 days of the year,' he said. 'You can never rely on shipping companies or oil majors to do anything to help celebrate festivals onboard.'
Acknowledging Christmas onboard recognises the diversity of celebration for 'all our colleagues onboard from different cultures and religions', the member paid tribute in particular to gift boxes from charities such as The Mission to Seafarers.
'The gift boxes, wrapped in colourful Christmas paper, were in fact recycled shoe boxes containing all sorts of treats. Sweets, toiletries, pair of socks, a Christmas card…. a real collection of goodies. Also, of course, there was always the ever so welcome knitted woolly hat, multi coloured and worn with pride at the Christmas dinner table, making everyone feel appreciated and happy.
It cannot be over emphasised how well received these items from various anonymous donors were.'
A chance encounter finally brought the member face to face with a woman known as 'Aunty Pauline', who told him she had been knitting woolly hats to go into the Christmas boxes for 10 years and has produced 1000 hats!
'Fairly impressive for someone who knew no seafarers and didn't live by the sea', said the member. 'Finally, someone I could, on behalf of us all, thank for the contribution made to seafarers wellbeing at Christmas.'
'Too often seafarers are cynical and often a little grumpy, but I want to tell you that those Christmas boxes made us all feel so good. We were happy that someone ashore, who we would never meet, cared about us.
'On behalf of all my colleagues at sea a very big thank you from us all. Merry Christmas.'
---
Tags