Gothic
---
Vessel type
Passenger and cargoship
Cargo type
Passenger and cargo
Country of build
United Kingdom
---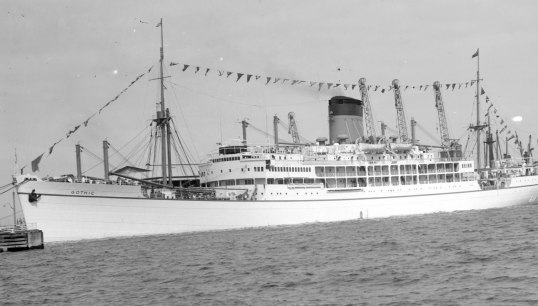 Explore
The build
Built at Swan Hunter's Wallsend yard, Gothic was the last in a series of four Corinthic-class liners ordered by the Shaw, Savill & Albion Line in 1946 for the service between the UK, Australia and New Zealand.
The 15,902grt vessel could carry up to 85 passengers, 95 crew and some 10,000 tons of cargo, with much of its 668,000 cu ft of cargo space refrigerated. Powered by six steam turbines, the ship had a service speed of 17 knots.
Royal selection
Gothic entered service in December 1948, and in 1951 was sent for a refit at the Cammell Laird yard after being chosen to serve as the royal yacht for a tour which had to be cancelled after the death of King George VI.
Gothic returned to the yard in 1953 for the completion of the refit work – which included modifications to the accommodation, the installation of special Marconi communications equipment, and painting the black hull white.
Royal engagement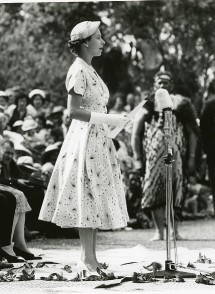 The Queen and the Duke of Edinburgh joined the ship in Jamaica on 22 November 1953, along with two ladies-in-waiting, three private secretaries, a press secretary, an acting Master of the Household, two equerries, 20 officials and staff, 72 naval staff, nine members of the press and a band of the Royal Marines.
Gothic sailed via the Panama Canal to Fiji and Tonga, before spending three months visiting New Zealand and Australia. The return trip included calls at Cocos Island, Colombo and Aden, arriving there on 27 April 1954 to enable the royal party to disembark and join the now commissioned Britannia for the last leg home.
The final years
Gothic returned to normal service later in the year and continued on the UK-New Zealand run until a devastating fire broke out onboard in August 1968, killing four crew members and two passengers. The ship's master, Captain Brian Agnew, was awarded an OBE for helping to save the ship but the company decided repairs would not be viable and Gothic was demolished in Taiwan in August 1969.
Gothic fact file
How long was Gothic?
Gothic was 561ft overall
What engines did Gothic have?
Six geared steam turbines, generating 14,000shp and driving twin screws
For which monarch was Gothic selected as the royal yacht?
Gothic was meant to take King George VI on a royal tour
---
Contribute
Are you knowledgeable about this vessel?
Submit your contribution to this article to our editorial team.
Write to us
---