Esso Ulidia
---
Country of build
United Kingdom
---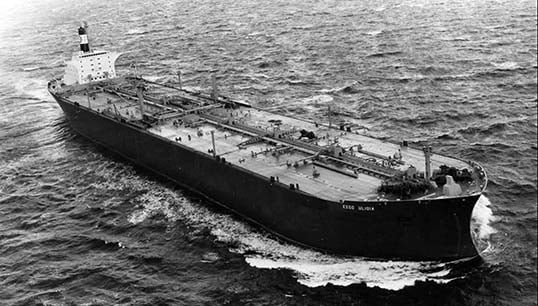 The build
Esso Ulidia was one of eight 250,000dwt-plus ships that were constructed for Esso's red ensign fleet between 1969 and 1973.
The Ulidia was the first ship to emerge from Harland & Wolff's new building dock – claimed to be the largest in the world and still under construction itself when work on the VLCC began in March 1969.
Built on the site of the old outfitting area in the Musgrave Channel, the new dock was 1,825ft (556.26m) long, 305ft wide and 27ft 6in deep. It had been designed as part of a major modernisation programme at the yard with the £13.5m cost partially covered by government grants.
Work on the dock project had begun in late 1967 and was completed – with 24-hour working under floodlights in a bid to comply with contract timescales – while the Esso Ulidia was taking shape.
The ship's construction was slower than planned, with the yard affected by industrial unrest, and the float out in My 1970 had to be delayed for a couple of days because of strong winds.
The first sections of sistership Esso Caledonia were already laid out at the head of the dock and that vessel was completed in the following year.
Esso Ulidia was 1,43ft 3ins (348.4m) loa and weighed 254,011dwt. The vessel was powered by a nine-cylinder geared steam turbine built by English-Electric-AEI Turbine Generators, developing a service speed of 16 knots.
Esso Ulidia had 20 cargo tanks, three of which were reserved for the carriage of clean water ballast. Four turbine-driven cargo pumps were fitted, capable of discharging up to 10,000 tons of oil an hour.
Crew accommodation was in the after superstructure and was air conditioned. All the officers and ratings had separate cabins with a private shower and toilet, and other crew facilities included a permanent swimming pool, a hobbies room and a dark room.
Deployments
Esso Ulidia's maiden voyage to the Persian Gulf proved very eventful. While off the coast of Namibia in October 1970, one of the ship's superheated steam lines on the boiler burst, filling the engineroom with steam and seriously injuring one of the engineers.
The nearby Port Line refrigerated cargoship Port Nicholson responded to the distress call and sent a doctor and medical supplies across in a lifeboat before the crewman was evacuated ashore by helicopter.
At the start of 1983, after just over a dozen years in service – mainly operating between the Gulf, the Mediterranean and western Europe – Esso Ulidia became one of many victims of the company's massive fleet restructuring programme.
After a few months laid-up in the Johore River, the ship went on to be scrapped at Kaohsiung, Taiwan, in April 1983.
Esso Ulidia Fact File
When was Esso Ulidia launched?
Esso Ulidia was launched in 1970 leaving for its maiden voyage in October
How much did Esso Ulidia weigh?
Esso Ulidia had a dwt of 254,011
When was Esso Ulidia scrapped?
Esso Ulidia was scrapped in April 1983 at Kaohsiung, Taiwan
---
Contribute
Are you knowledgeable about this vessel?
Submit your contribution to this article to our editorial team.
Write to us
---