Hildebrand
---
Vessel type
Passenger liner
Country of build
United Kingdom
---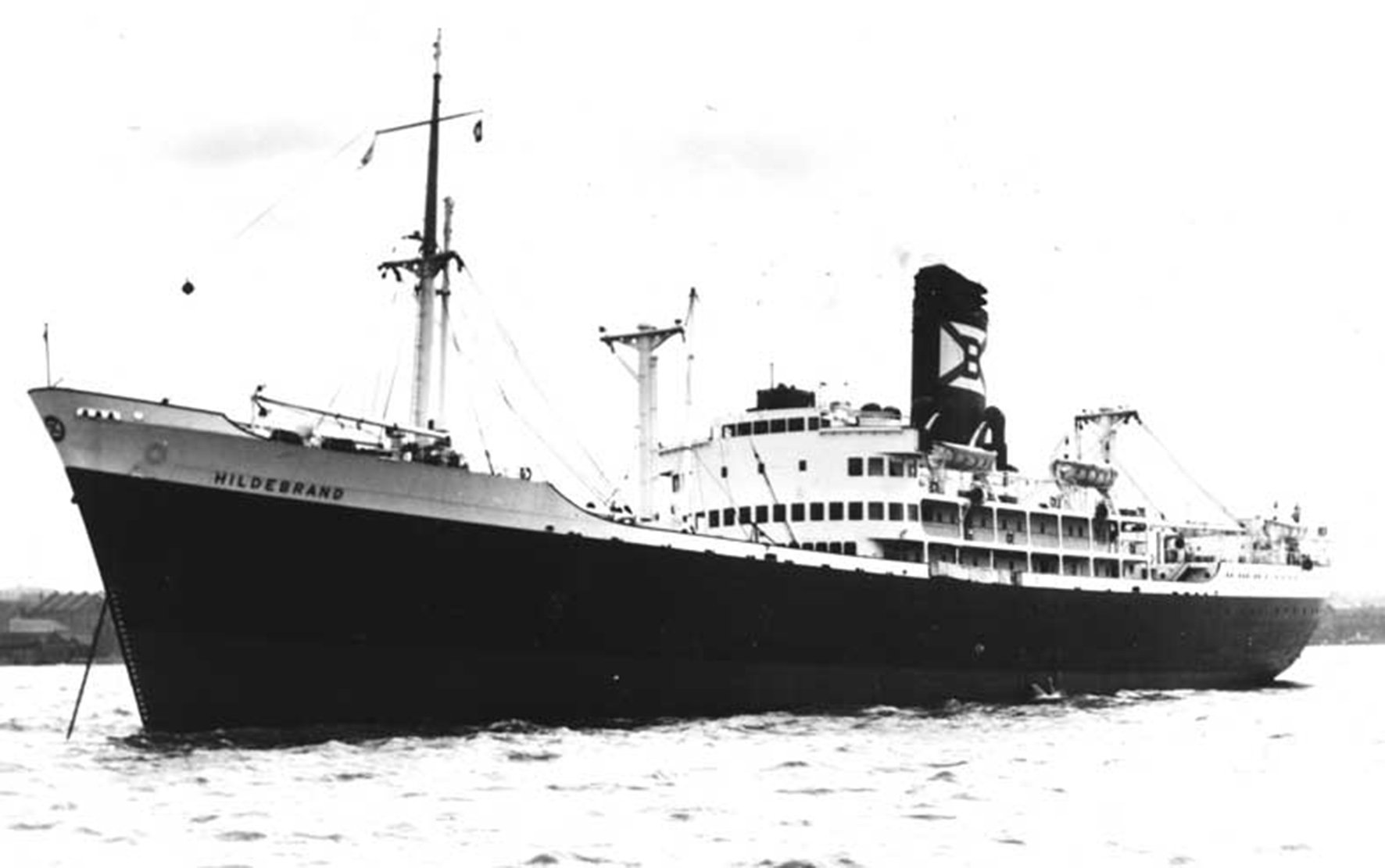 The build
Built in Birkenhead by Cammell Laird, the 7,735grt Booth Steamship Company vessel was 133.8m (439ft) loa and could carry up to 170 passengers and 98 crew on a regular service between Liverpool, Lisbon, Belem and almost 1,000 miles up the Amazon to the river port of Manaus.
Hildebrand was powered by a double reduction geared steam engine driving a single screw. On its maiden voyage to Brazil on 28 December 1951, Hildebrand reached a service speed of 15 knots.
Loss of Hildebrand
On 25 September 1957, during its regular voyage from Liverpool to Manaus, Hildebrand ran aground on rocks near Cascais Point while approaching the port of Lisbon in a thick fog at a speed of around 9 knots.
Two tugs unsuccessfully tried to free the vessel, whilst the 164 passengers and all but 14 crew were evacuated to smaller vessels alongside. Salvage efforts were finally abandoned on 28 October and Hildebrand was declared a total loss, eventually breaking in two.
Legacy
A UK Board of Trade inquiry into the loss was held in Liverpool between 3 and 5 February 1958. The master, Captain Thomas William and second officer, Horace Goulden were represented by solicitors from the Merchant Navy & Airline Officers Association (MNAOA).
Capt Williams told the hearing he fully accepted responsibility for the accident and said he had been over-confident in his abilities. However, his solicitor pointed out that the master had been unable to sleep in the three days and nights leading up to the grounding.
The inquiry concluded that the accident was due to the 'complete failure of the master to appreciate the position of his ship,' but accepted that he was a 'tired man.' Noting his good record and wartime bravery, it decided to suspend his certificate for only 12 months – with a recommendation that he be given a first mate's certificate to enable him to stay in work.
The court was critical of the master's decision to not use the ship's patent log – 'one of the most useful aids to establishing a ship's position' – but also pointed out that it was Booth Line's policy not to equip its ships with radar.
The inquiry report argued that, had Hildebrand been fitted with radar and the equipment been properly used, 'the vessel could hardly have closed the shore in the disastrous manner in which she did.'
The court said it was aware of the reasons why some owners chose not to fit radar to their ships. But, it added, 'whatever may be the pitfalls of radar in the sphere of danger of collision, it does present a very good picture of a coastline such as that in the neighbourhood of Capes Roca and Raso, and would no doubt have helped the vessel to feel her way into Cascais Bay.'
Hildebrand Fact File
When was Hildebrand launched?
Hildebrand was launched in 1951
How big was Hildebrand?
Hildebrand had a grt of 7.735 with a loa of 133.8m (439ft)
When did the Hildebrand run aground?
Hildebrand ran aground on 25 September 1957, and was eventually lost on 28 October
---
Contribute
Are you knowledgeable about this vessel?
Submit your contribution to this article to our editorial team.
Write to us
---