Ruahine
---
Vessel type
Passengership
Cargo type
Passenger and cargo
Country of build
New Zealand
---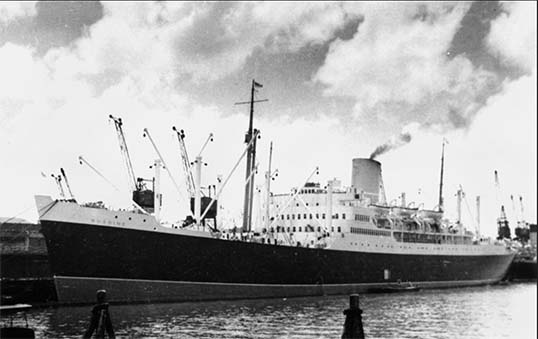 The build
The 17,851grt vessel was the third passenger-cargo liner constructed for NZSC, as part of a fleet re-development programme following the loss of eight ships in the Second World War. It was a slightly smaller version of the 21,000grt 1949-built sisterships Rangitoto and Rangitane.
The Ruahine was powered by two six-cylinder Doxford diesel engines driving twin screws and had a service speed of 16.5 knots. At 584ft (178m) loa, the ship could carry up to 310 passengers, 200 crew and some 12,000 tonnes of cargo in six holds. NZSC ships had been equipped with refrigeration since the 1880s, with meat and butter from New Zealand being a valuable export. Ruahine's refrigeration capacity totalled 444,250cu ft.
The passenger accommodation on the Ruahine was of a high standard with a mix of cabins, a large main lounge, library, writing and reading room, a bar and smoking room and a lounge and dancefloor, a pool and sun deck, a sports deck and a children's nursery.
Deployments
The Ruahine was deployed on the London-Wellington-Auckland service in May 1951. The London-registered vessel's addition to the fleet enabled NZSC to re-establish its pre-war schedule of monthly services between the UK and New Zealand.
On the outward 34-day voyage from London – usually carrying a large number of emigrants – the vessel normally called at Curacao, Balboa and Tahiti on the way to Wellington, while return voyages to Southampton and London were via Tahiti, Panama, Miami and Bermuda.
Following its sale to C.Y. Tung Company, Ruahine departed from Auckland in 18 June 1968 for a final voyage between New Zealand and the UK, sailing via Tahiti, the Panama Canal, Kingston, Miami and Bermuda before arriving in Liverpool on 23 July.
After being renamed to Oriental Rio, the vessel underwent a refit in Hong Kong and was redeployed with the other two ex-NZSC ships on Orient Overseas Line (OOL) cruise services.
The Oriental Rio departed from San Diego in February 1969 for a maiden voyage in the new role. Between 1969 and 1972, Oriental Rio made two round-the-world cruises for OOL, with calls including Acapulco, Cristobal, Port Everglades, Rio de Janeiro, Santos, Buenos Aires, Cape Town, Durban, Lourenço Marques, Dar-es-Salaam, Mombasa, Singapore, Hong Kong, Kaohsiung, Keelung, Kobe, Yokohama, Vancouver, San Francisco and Los Angeles.
Towards the end of 1973, OOL decided to sell Oriental Rio for scrap and the ship was broken up in Kaohsiung early the following year.
Ruahine Fact File
How big was the Ruahine?
Ruahine had a grt of 17,851 with a loa of 584ft (178m)
When did the Ruahine enter service?
Ruahine entered service in May 1951
What does Ruahine mean in Maori?
Ruahine means 'wise woman' in Maori
What was the Ruahine renamed to?
Ruahine was renamed Oriental Rio after being purchased by C.Y. Tung
Ownership
Following the merger of the NZSC and the Federal Steam Navigation Company in 1965, Ruahine was repainted and refitted with the main mast removed and the accommodation upgraded.
Although Ruahine was a very popular ship, the rise of air travel meant that its passenger accommodation was rarely full by the mid-1960s and in 1967 NZSC decided to sell Ruahine, Rangitoto and Rangitane to the Hong Kong-based C.Y. Tung Company. Ruahine was renamed Oriental Rio and sent to Hong Kong for a refit.
---
Contribute
Are you knowledgeable about this vessel?
Submit your contribution to this article to our editorial team.
Write to us
---